Lakeside Shopping Centre in Thurrock, Essex, is home to over 200 shops and some 40+ food and beverage outlets, so when it comes to waste management, recycling and sustainability are high on the agenda.
The centre is part of the Savills property portfolio, and it is Savills who set bronze, silver and gold sustainability targets for each location's management teams.
In September 2021, Ross Crook, Lakeside's Environmental Services Manager, started working with Grundon Waste Management, with the aim of achieving bronze status in the first year.
Since then, a raft of changes has been introduced, delivering results that include major improvements in recycling figures; newly-segregated waste streams; and – above all – far greater engagement with tenants and retailers.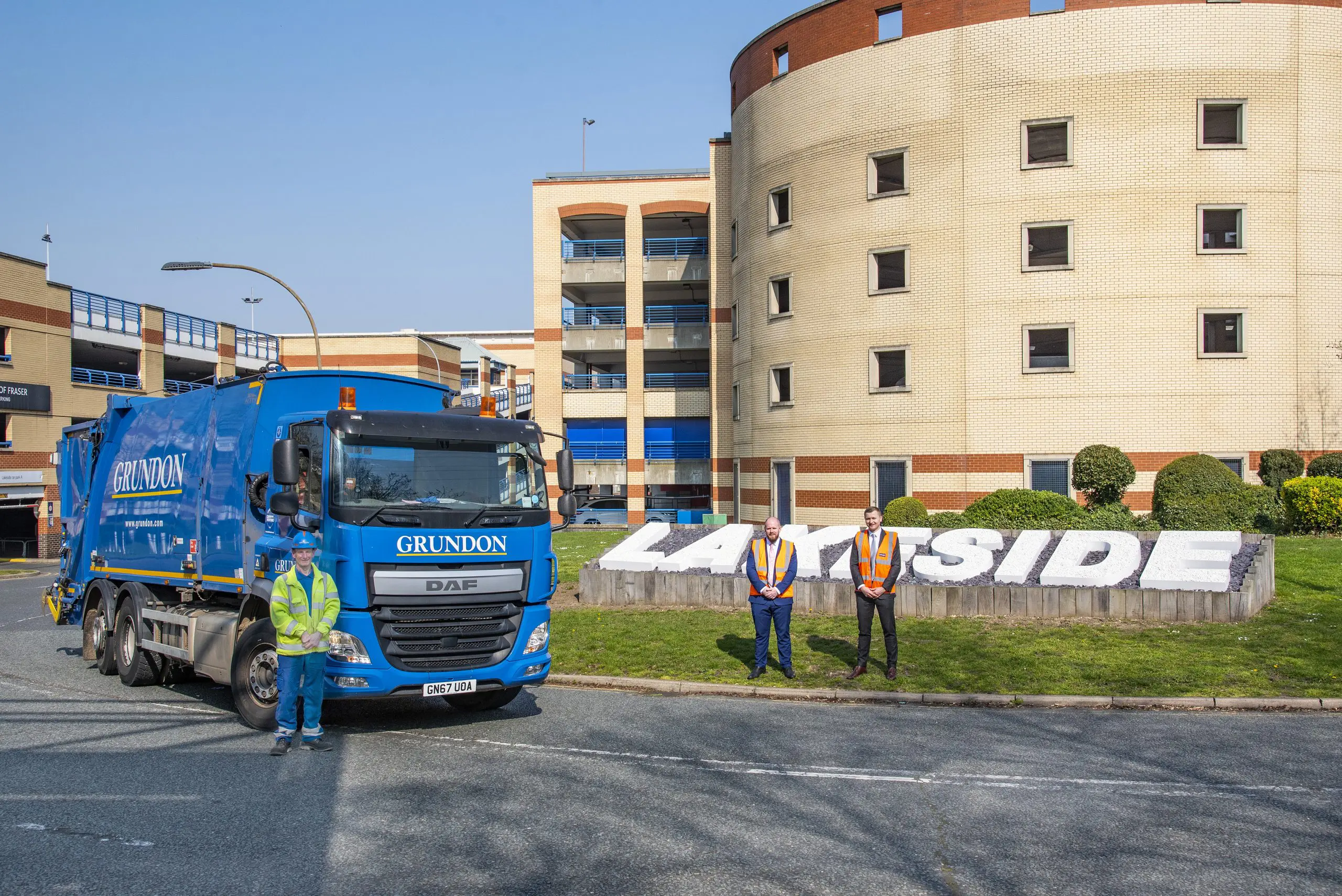 Not only does this put Ross and his team on the right road, but he says what has been most eye-opening is the sheer volume of sustainability opportunities that have opened up as a result.
"We knew previously that we wanted to change the way we managed waste on site but at the same time, there was always a little voice saying 'is this the right thing to do'," said Ross.
"Savills helped us through the tender process and Grundon has been very, very supportive in making it easy for us. When I look around at what has been achieved already, it makes me feel proud.
"What we're realising is that, especially on a site of this size, the opportunities for recycling and reusing what we have here are endless – not everything has to go in a bin, there are so many other options available."
Among the major success stories so far are:
Achieving zero waste to landfill by sending general waste to Energy from Waste facilities, which generated 25 MWh of power between September 2021 and February 2022
An initial increase in recycling over the first six months from 25.7% to 34.1%
On target to reach a 50% on-site recycling rate by end 2022
Grundon-organised tenant engagement days
Introduction of a dedicated food waste collection service
Over £24,000 earned in cardboard recycling rebates in the first six months with more than 415 tonnes of cardboard sent for recycling
Over 92 tonnes of glass recycled since Grundon took over the contract
Dramatic reduction in the number of vehicle waste collection journeys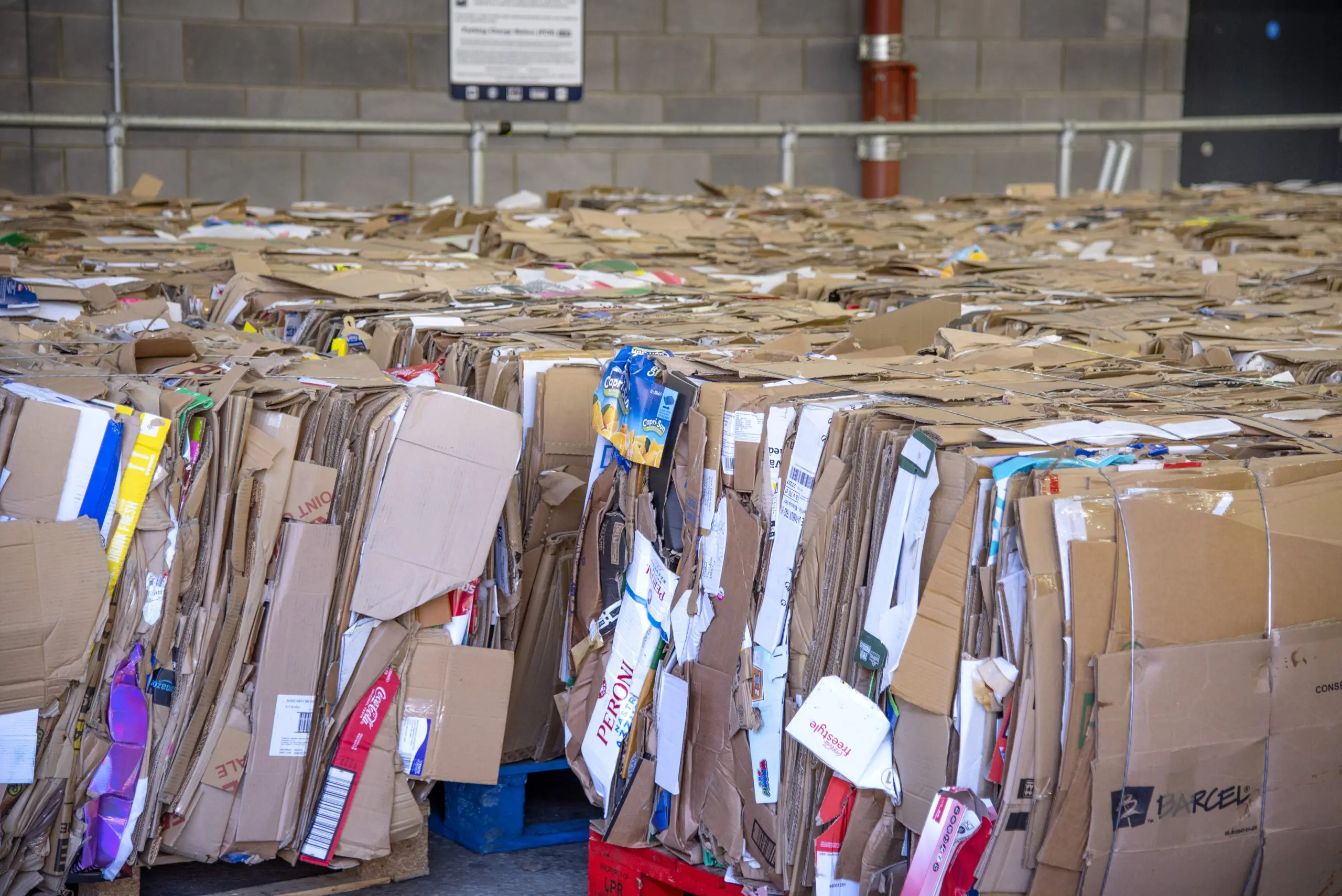 Tenant engagement
Grundon's James Luckett, who works with Ross and his team, says a combination of adding new equipment, support from the management team, and being able to engage tenants has been really important.
"When we started we could see that an awful lot of good recycling was going into the centre's general waste, so the starting point was to talk to retailers and explain what we were trying to do," he said.
"We organised an engagement day, handing out our waste guides, answering retailers' questions, explaining the importance of increasing recycling and what the benefits would be."
It was this approach, says Ross, that made sure the new waste management service got off to a positive start.
He continues: "The engagement day was brilliant, to have someone go round individually to each unit and spend time with them was excellent. It helped retailers and their staff to understand why changes were being made, the direction we are heading in with recycling improvements etc.
"Beforehand, the view was 'chuck your waste in the bin and don't worry about it', this event was about wanting people to understand what we are looking to achieve, to make the commitment to segregate waste, to get them involved and give them responsibility, to take pride in improving recycling.
"It's one thing for me and my team to explain it, but the fact that as an outside company, Grundon took the time to visit them spoke volumes to the retailers and I think that's why we had such positive feedback. Without that approach, I don't think things would be going as smoothly as they are."
Ross also makes sure that success stories are shared within the centre's internal newsletter and he takes every opportunity to shout about good news, such as the rebates earned and the new equipment being installed.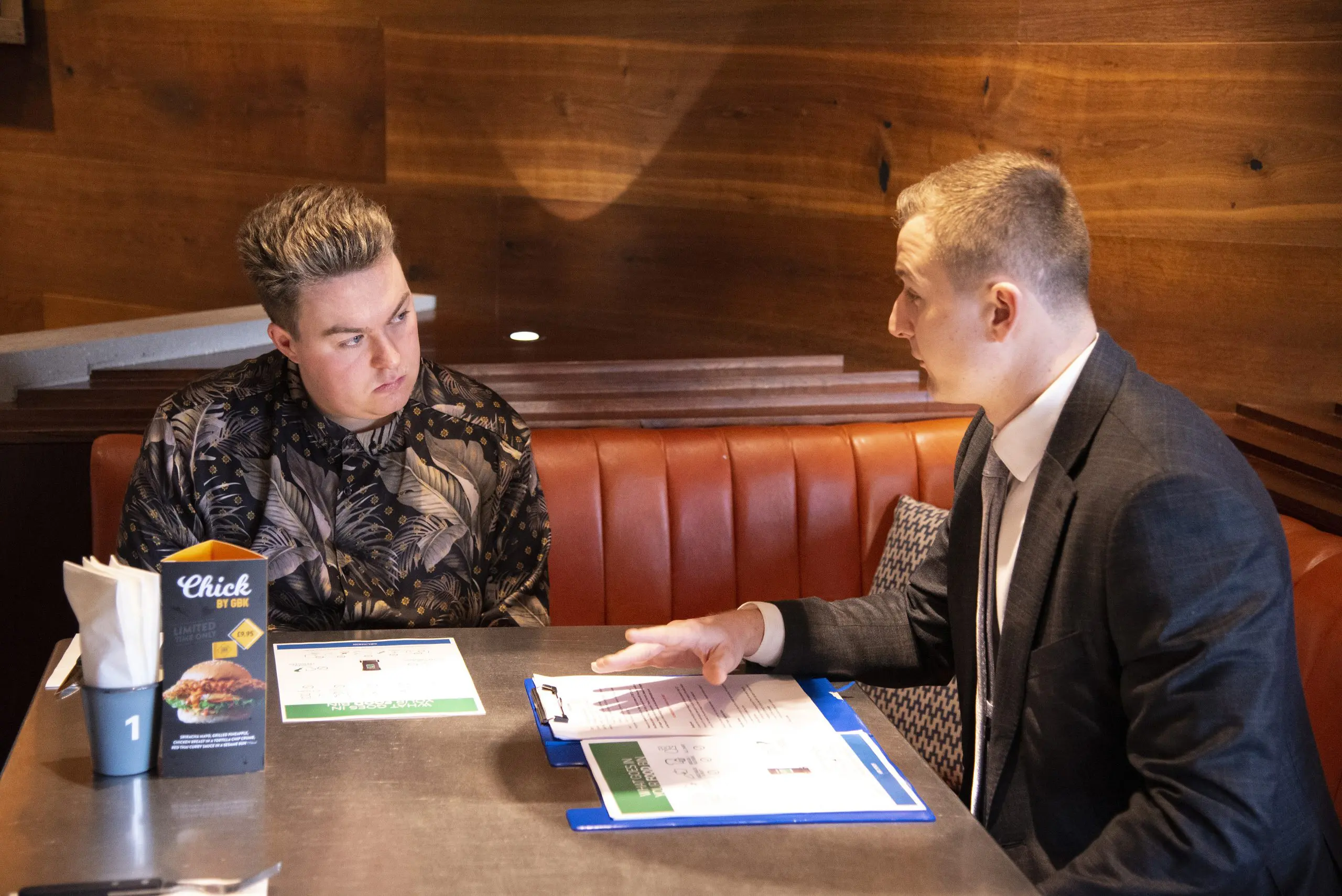 Winning with cardboard rebates
As with many similar shopping outlets, the amount of cardboard produced is substantial and, until Grundon came on board, Lakeside had to pay to have it taken away.
The arrival of a brand new horizontal cardboard baler in the service yard has transformed the process, now enabling some 50 tonnes of cardboard a month to be baled on-site before being sent for recycling – and earning rebates worth thousands of pounds.
Pallet stackers have been installed to increase storage room and, in addition, by reducing manual handling requirements, the operational time spent loading the baler has been cut by 50%.
Ross says: "It still feels strange to receive money for something that we used to have to pay to get rid of. We are now investing those rebates back into the centre's waste management services, it's allowing us to invest in potentially more staff and better machinery, to increase cleaning standards and improve signage, so everyone is seeing the benefits."
Installing the new baler has also released the existing smaller baling machines for the next recycling phase of baling, this time looking at polythene and plastic coat-hangers, both of which may also potentially earn rebates.
Cleaning up and cutting collections
By replacing skips with compactors, balers and dedicated containers, and introducing easy-to-read signage, Ross says it has made a real difference to the cleanliness and organisation of the entire service yard area, something he has been very pleased about.
With health and safety always a top priority, Grundon's engineers also went the extra mile by making a bespoke cage around the compactors, creating a secure compound area and helping ensure it cannot be accessed by members of the public.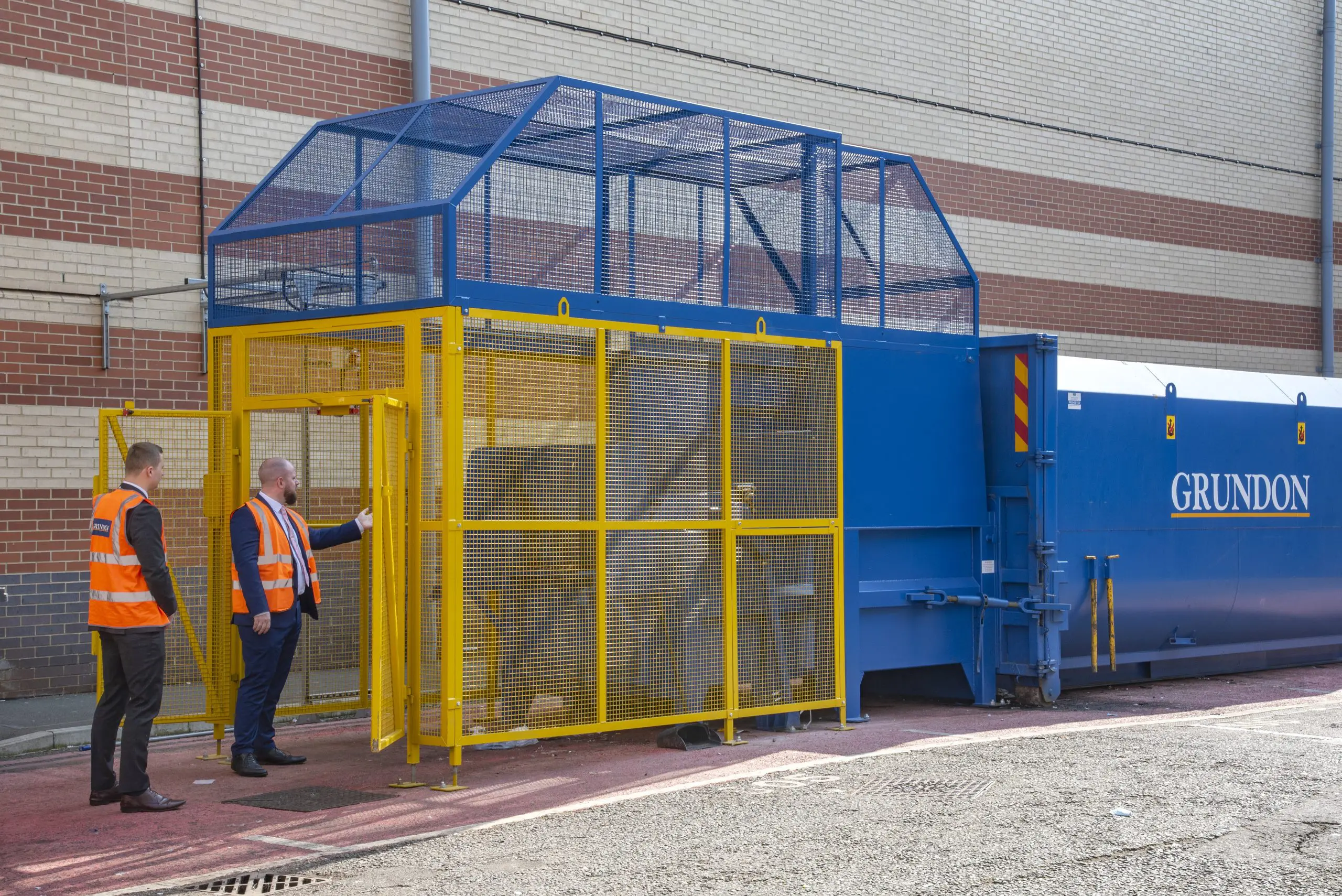 Furthermore, by facilitating more on-site recycling, the number of waste vehicle collection journeys has now dropped significantly.
Previously, multiple collections were needed from 6am through to midday every weekday, now there are just two Grundon collections a week, plus a flexible schedule for the collection of cardboard bales when required.
A further plus is that because Grundon's fleet of waste vehicles is certified CarbonNeutral®, so are all its collections – meaning these don't impact on Lakeside's own carbon footprint.
Food waste
Having introduced retailers to the benefits of recycling over the first few months of the contract; by March this year, Ross and James jointly agreed that the next target would be to launch a new food waste recycling campaign.
Food waste is traditionally very heavy, so when it is added to general waste bins (as was happening at Lakeside), it not only makes the bins heavier to move, but also increases the cost of disposal because collection fees are based on weight.
Taking out the food element reduces the cost of general waste disposal – which is generally 5 x more expensive than disposing of segregated food waste – and provides a much more sustainable approach. If correctly segregated, food waste can be sent to Anaerobic Digestion facilities where it produces renewable energy and a nutrient-rich biofertiliser.
Ross adds: "We already knew we wanted to tackle food waste as it is likely to make the biggest difference to our overall recycling rates and costs.
"Because we have so many different types of food outlets it's easy to think that it may only be three or four bags of food waste per small unit, but when you add that up with all the other food retailers too, it becomes a lot."
Ross was concerned that retailers may find it challenging, so ahead of the rollout, the Grundon team spent a day in March visiting all food outlets and explaining how the new system would work.
James said: "It was a really good day. The idea was to look at their back-of-house area, how much space they had for new bins and the type of bin that would suit them best. We also wanted to see what sort of food waste they were producing, whether it be in the preparation, such as potato peelings, plate scrapings, or things like coffee grounds.
"The day was very much geared around making sure they were ready for the launch, could install the right equipment, and understood that, by segregating food, they would further help to reduce waste costs."
Grundon's range of food waste bins includes under-the-counter 120 litre wheeled bins and small kitchen caddies, ensuring that no matter how big or small the space available, there was a suitable solution.
The new service, which includes a food waste compactor in the service yard and dedicated vehicle collections, is due to launch in May and James says retailers are already making a real difference.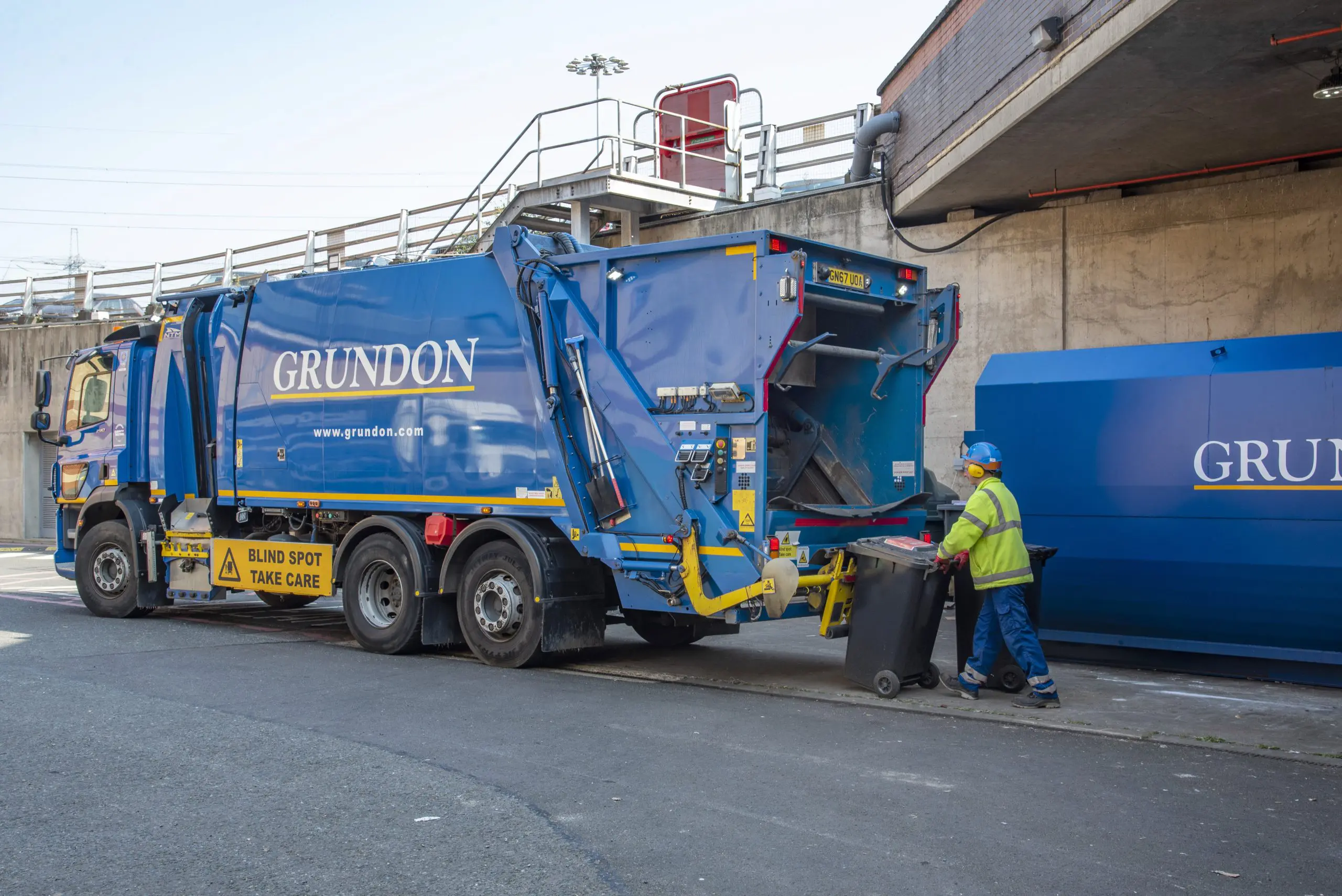 Future plans and goals
Month-on-month recycling statistics are provided by Grundon via a specially-designed dashboard and the two organisations meet regularly to work on setting new goals for the future.
James says: "When we first came on board, it was about getting recycling figures up, adding new waste streams and reducing costs, as well as the number of vehicle collections.
"Having achieved those goals we are now setting more specific targets and looking at further opportunities. We're delighted that the Lakeside team has found the whole process very easy and we can't wait to get started on areas such as polythene and coathanger segregation and baling."
Other plans for public areas include introducing reverse vending machines, where the public are rewarded for recycling plastic bottles, cans and other items, and there are even plans to compost coffee grounds to be used across the extensive grounds.
Ross concludes: "As a shopping centre, we want to be known as a place that people can come to and say, 'they care about recycling, they care about the environment and they are doing everything possible can do to improve things'. We can't wait to move forward with so many more ideas."