Ascot Racecourse has taken huge strides forward in the sustainability stakes, including increasing overall recycling at its prestigious Royal Ascot event by 20% year-on-year and setting itself on the track to achieving net zero.
The successes come after the racecourse appointed Grundon as its waste management provider in Spring 2022.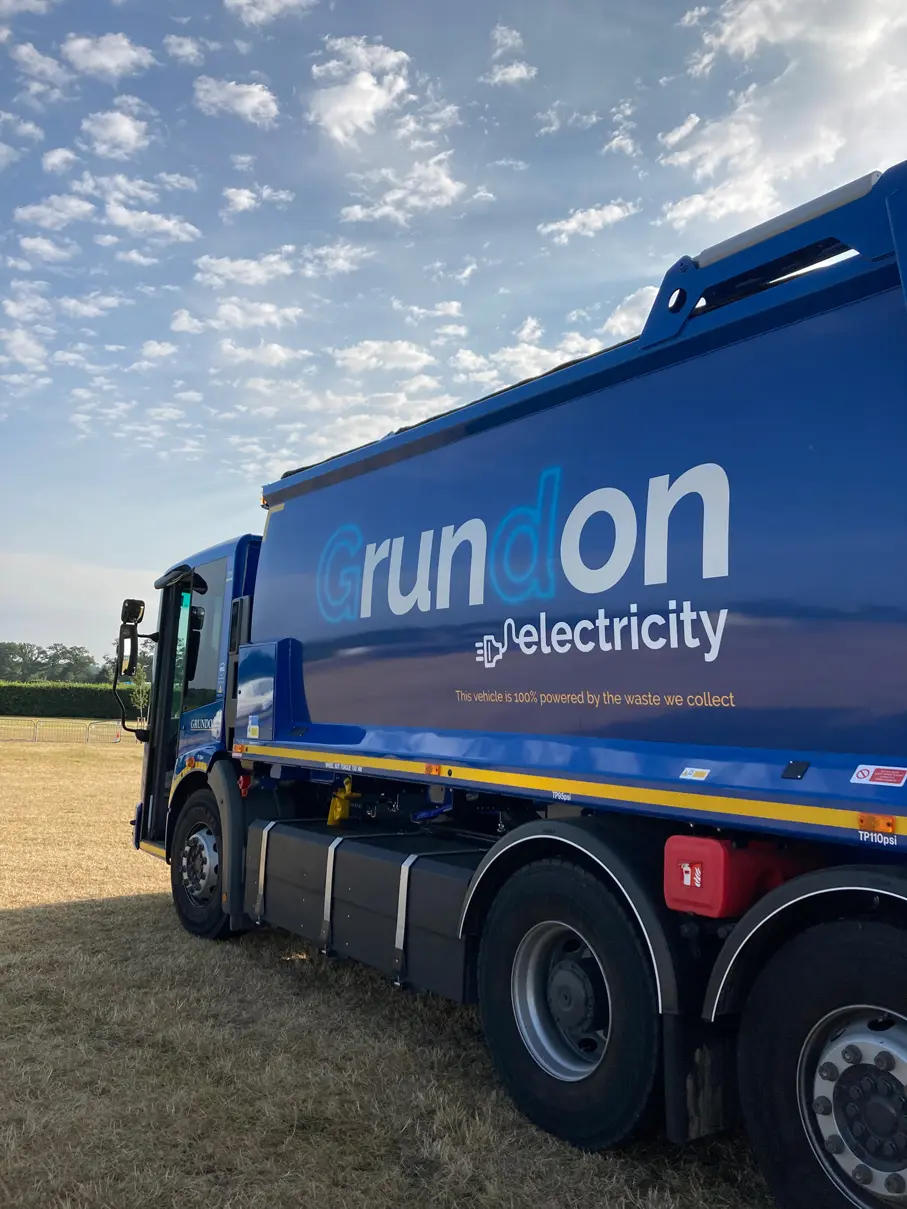 Now, with the experience of managing waste at two Royal Ascot events – attended by some 300,000 people over a five-day period each June – the Grundon team has been able to compare sustainability statistics between June 2022 and June 2023, demonstrating some impressive results.
These include:
Hospitality is managed by 1711 by Ascot, a joint venture between Ascot Racecourse and Sodexo Live, including on-site catering and fine dining. Keith Field, Head of Soft Services (Sodexho), oversees waste management, working with Rockvolt, a specialist consultancy for stadia, venues and events.
"With Grundon, we saw an organisation that wanted to work with us, to challenge us rather than just do what we wanted. They came up with solutions that enabled us to start pushing boundaries, they understood what could be achieved, and have continued to demonstrate new ways of working that exceeded our goals."
Peter Watts
Rockvolt
Grundon's targets (below) were all accomplished:
Education
A key starting point was the waste education training sessions held for managers, cleaning staff and vendors.
Keith Field said: "Education has been one of the biggest drivers of our recycling success this year. We attended briefings for managers and back-of-house teams and it was clear that correct segregation of waste had been taken on board, which was down to the Grundon team.
"This was the first time we had tried to achieve net zero for a large enclosure and Grundon's aspirations were far greater than ours. It was a real learning curve to see the results that could be achieved."
Keith Field
Head of Soft Services, Sodexo
To deliver the 20% increase in the overall recycling rate, a series of measures was introduced both front and back-of-house.
For the first time, general (non-recyclable) waste bins were removed from public areas in the Village Enclosure and instead, a team of sustainability champions was on hand to show racegoers where to put their waste.
New recycling signs and posters reinforced the messaging and any waste which was incorrectly thrown away was 'caught' by cleaning teams operating a waste sorting table behind-the-scenes.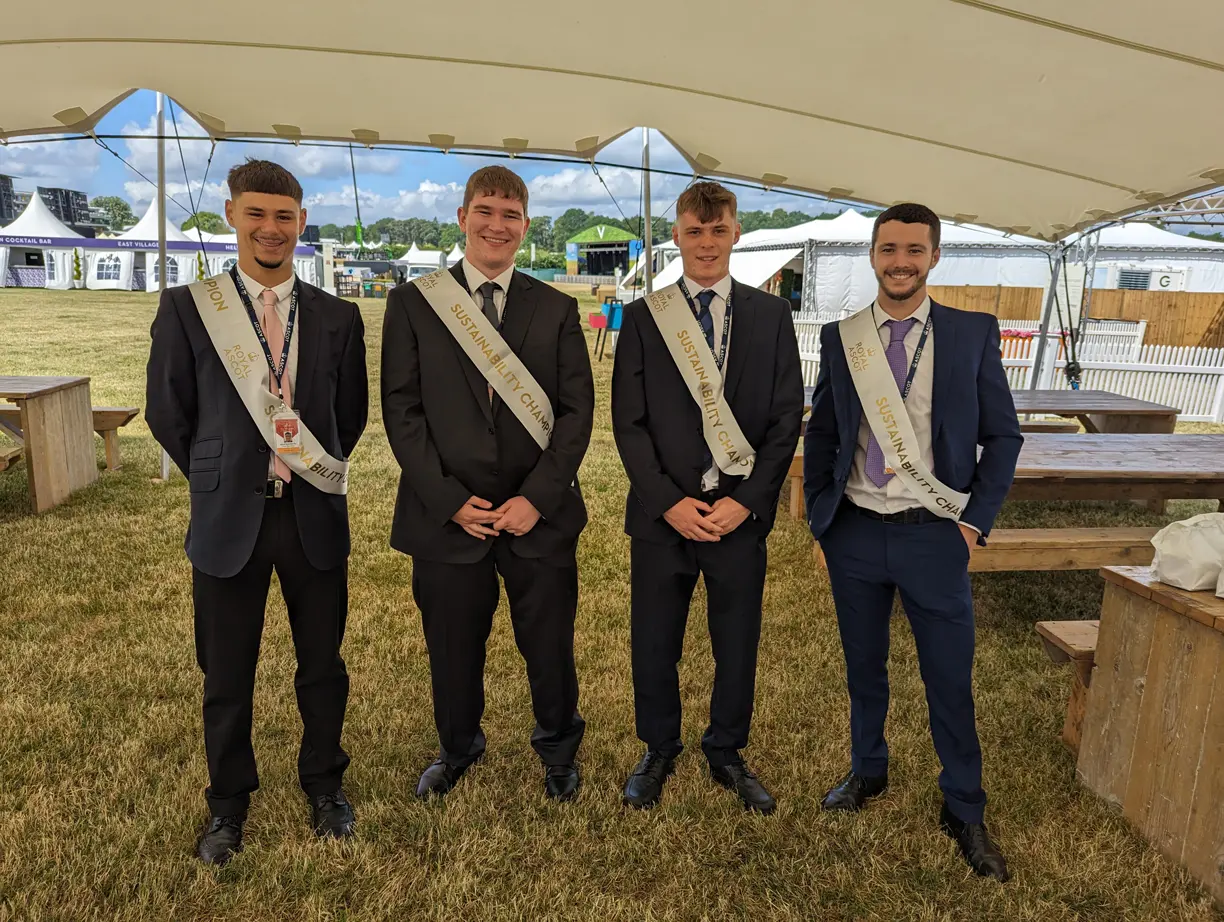 Grundon installed new bottle banks, together with an additional 450 waste containers. Restaurants were offered nightly bin swaps to ensure clean bins were in place for the following day's food preparation waste.
As the racecourse already utilised reusable cups and glasses, Grundon ensured any fruit from cups went into food bins and in turn, received clean plastic bottles from the recycling stream.
The racecourse's preference for compostable plates, napkins, cutlery etc., was put under the spotlight as Grundon's Shaun Workman explained that not all compostable materials are the same.
To maximise compliance, Grundon advised which products to buy in order to meet required European Standards (EN) and provided a dedicated compactor, as well as identifying a suitable disposal outlet.
Food waste segregation
The ability to segregate food waste properly for the first time was a major success story, with the percentage of food waste collected rising by a staggering 809%. This year, Grundon sent 25,460 kgs of food waste to Anaerobic Digestion facilities for processing into bio-fertiliser and electricity.
Previously, food which could not be redistributed went into general waste bins, not only increasing disposal costs by an average £40 per tonne, but also making it almost impossible to accurately monitor.
"Without being able to measure our food waste we would never have known how much there was. We see this as a positive because it has given us a target for the future. "
Keith Field
Head of Soft Services, Sodexo
"We are asking questions such as 'is the salad bowl too big', it is about learning lessons and not being wasteful, whilst also ensuring that patrons are well served with the food they enjoy."
Surplus food was donated to the charity City Harvest, a relationship that Royal Ascot has fostered for the last six years. This year's donation equated to 5,026 meals delivered.
Sustainability is a year-round mandate for the racecourse which, in addition to Royal Ascot, also hosts more than 20 race-days and numerous non-racing events.
Another of its priorities is reducing emissions, which is why the contribution made by Grundon's own electric waste collection vehicle was so important. Every day, the vehicle would deposit non-recyclable waste from Royal Ascot into Grundon's Energy from Waste (EfW) facility at Colnbrook, near Slough.
There, the EfW process creates electricity which directly powers the electric vehicle via a dedicated charging point, leaving a further daily 2,820kW of electricity for export to the National Grid.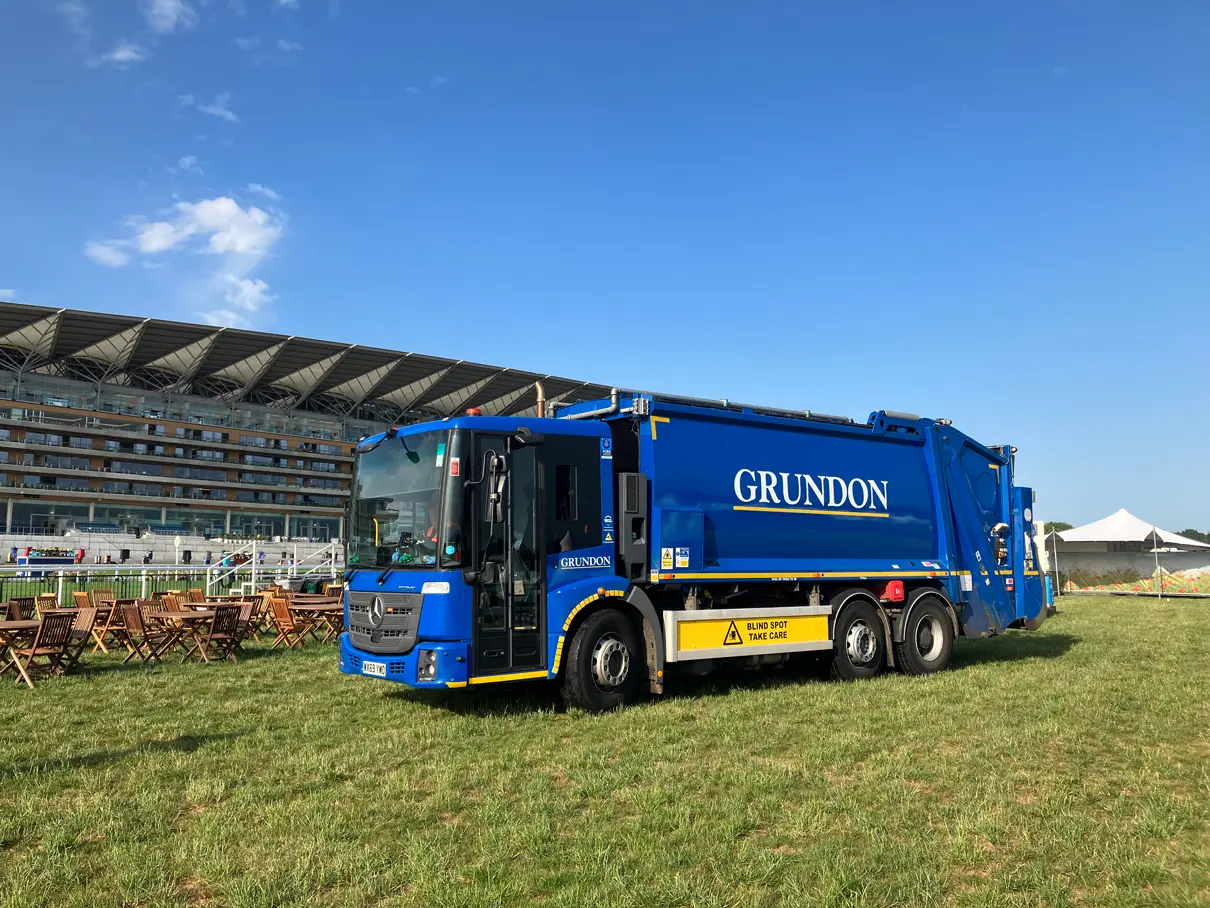 Measuring data
Peter continues: "Measuring the data has been key. We achieved net zero for one restaurant last year and worked out that if it had been run 'normally' we would have doubled carbon usage. We have run the same forecasts for the Enclosure this year, including Scope 1, 2 and 3 emissions, and would expect similar results.
"The big thing to take away is to understand that data collection is really important and should be celebrated. The granular information we now have from Grundon – and our wider information around reducing carbon emissions – means we can present hard facts to our colleagues, providing the necessary impetus to effect change for the future. "
Peter Watts
Rockvolt
"Previously we relied on anecdotal evidence and that doesn't have the same impact. We are now in a much stronger position in terms of motivating teams to make a difference.
"These lessons will take us through the rest of this year and beyond. I would urge anyone focusing on how to save carbon emissions, improve recycling etc., to work with a waste supplier that is really engaged with thinking outside the box and coming up with practical ideas and solutions."
Peter says the Village Enclosure will achieve net zero status, with any residual carbon emissions offset via a UK certified carbon offsetting programme.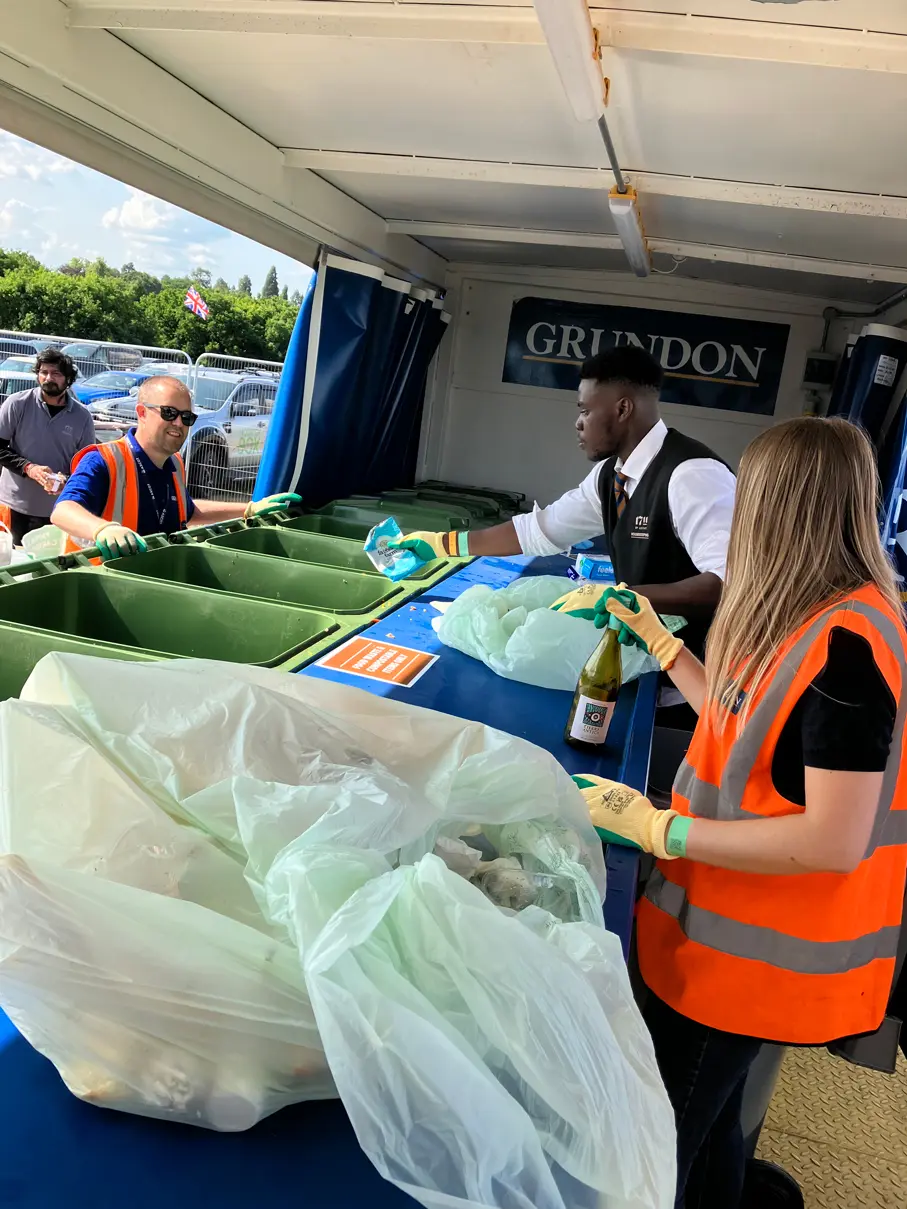 Grundon's Shaun Workman, says: "When we first won the contract, it was just two months before Royal Ascot 2022, so it was a question of hitting the ground running for that first event.
"Royal Ascot is undoubtedly the jewel in the racing calendar crown and we worked hard to identify where improvements could be made moving forward for 2023. As the racecourse employs its own cleaning teams, we knew one of the priorities was waste education, making sure people understood why segregating waste is so important for successful recycling. Spending time with managers and teams, we were able to implement big changes this year across the hospitality areas, kitchens and vendor stalls."
Looking ahead, Grundon is already working on a waste training video to be incorporated into mandatory staff training, and waste success stories from 2023 will be rolled out across other areas.
Ascot Racecourse is a member of BASIS (the British Association for Sustainable Sport) and a signatory to the UN Sports for Climate Action Initiative, which has five principles including promoting greater environmental responsibility and promoting sustainable and responsible consumption.
Waste management aside, activities have included utilising electricity from renewable sources and planting wildflowers for biodiversity.