Ideally situated in Ewelme, Oxfordshire, our Hazardous Waste Transfer Station is within easy reach of the M4, M40 and A34. It provides a convenient site where hazardous waste materials can be treated or bulked up, prior to being sent on to specialists re-processors for further treatment, recycling, recovery or final disposal.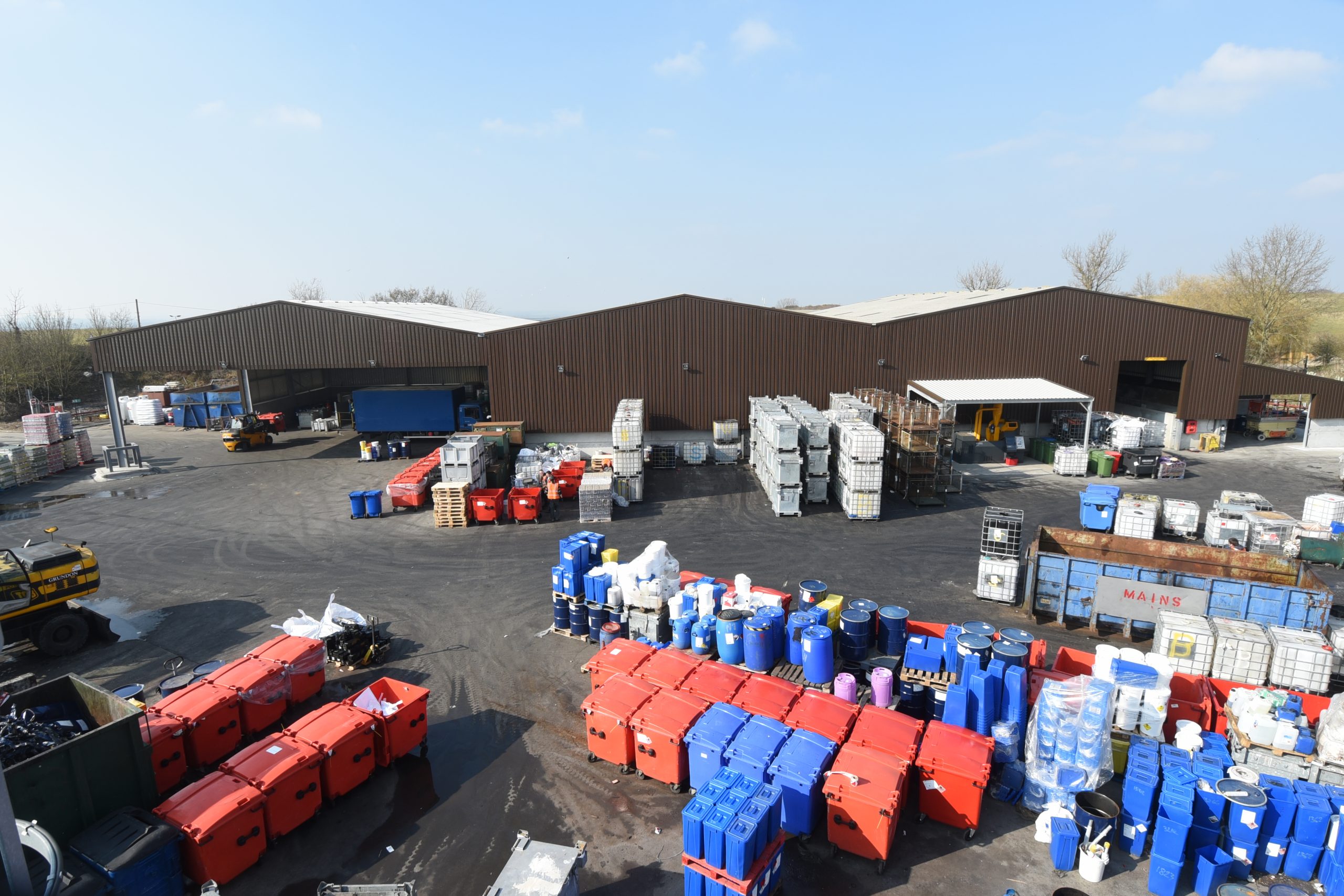 Our Hazardous Waste Transfer Station is fully licensed to accept a wide variety and quantities of hazardous wastes.
The facility excels at accepting mixed loads of hazardous waste, with the emphasis on the recycling and recovery of materials where possible.
We typically accept the following hazardous waste streams:
Acid waste
Aerosols
Alkali waste
Asbestos
Batteries – we segregate and recycle individual cells and power packs including NiCd, NiMH, Lithium-ion Wet Cells and Lead Acids
Contaminated packaging and drums
Contaminated PPE
Contaminated rags, absorbents and wipes
Flammable liquids and solids
Fluorescent tube and lamp recycling – our facility provides filtered crushing for the recovery of components
Gas cylinders and bottles
Ink and ink contaminated waste
Packaged waste – our facility provides a de-packing of all liquid wastes up to 25 litres, including paints, adhesives, pesticides and low/non-hazardous liquids (such as alcohol). We accept this waste packaged as drummed, IBC and bulk tanker waste.
Laboratory smalls – we provide a service for the segregation and disposal, by the most appropriate method, for laboratory chemicals and reagents
Oil and oil contaminated waste
Oil filters
Oily rags
Out of date chemicals
Paint and paint tins
Pharmaceutical waste – we provide a service for the sorting, segregation and disposal of all components by the most appropriate method, including high temperature incineration
Solvents and resins
Water based ink
Water based paint
Waste Electrical and Electronic Equipment (WEEE) – including computer equipment, TVs, fridges and freezers
In recent years, we have invested in the expansion of or Hazardous Waste Transfer Station, introducing new state-of-the-art, industry-leading processing and recycling technologies.
The real jewel of Hazardous Waste Transfer Station is our £3 million aerosol recycling and reprocessing plant – the AeroPak.
Setting new standards across the industry, the AeroPak is capable of recycling around 9,000 aerosols an hour, making it the world's most advanced closed loop aerosol recycling system.
With a throughput of around 72,000 aerosols a day, based on an average eight hour shift, this technology provides our customers with a cost efficient, safe and environmentally friendly way of recycling and reprocessing aerosols; transforming the way aerosols are disposed of in the UK and Europe.
Employing Best Available Technology (BAT) for the disposal of waste aerosols, the AeroPak uses specialist compaction technology within an inert nitrogen atmosphere. This means that every single component is recycled or reprocessed in a completely sealed and safe oxygen free environment, with zero emissions released into the atmosphere and minimising the risk of fire.
Our Hazardous Waste Transfer Station also features a cable granulation facility, which effectively granulates standard electrical cabling, in addition to thin hair-like cables such as data and telephone wires.
The cable granulation facility strips the plastic or rubber sleeves from the cable and granulates it into a fine pellet-like state, whereby it can be reconstituted. The real value of the facility is its ability to granulate remaining copper into a coarse powder which is sent on for metal reclamation.
Our Hazardous Waste Transfer Station is operated by our highly skilled, experience and fully trained team, including degree qualified ChemPack chemists. On site, our Chempack chemists inspect and assess every type of waste that the Transfer Station accepts. They are ably supported by our team of skilled plant operators and experts from our Technical services team, who have a wealth of knowledge and experience in hazardous waste legislation. This ensures that not only is our Hazardous Waste Transfer Station an industry-leading facility, but it is also offers flexibility and the ability to adapt to the ever changing hazardous waste regulations.
We are fully committed to the use of Best Available Technologies (BAT) for the management of all hazardous wastes, and we always focus on the recycling and recovery of hazardous waste materials. Our Hazardous Waste Transfer Station is complemented by our other specialist treatment and disposal facilities such as our High Temperature Incinerator and our fully licensed Hazardous Waste Landfill.
You can rest assured that we all hazardous waste will be treated and disposed of in full compliance with hazardous waste legislation.