Described as the 'beating heart of East London', the International Quarter London (IQL) is a new development on land in Stratford which once hosted the London 2012 Olympic Games.
Blending office space with entertainment, retail and sporting complexes, alongside new homes and open spaces; once completed, it will be one of Europe's largest mixed-use estates.
Appointed as managing agents for the IQL estate, JLL determined from the start to make sustainability a top priority for tenants, who include the British Council, Cancer Research UK and UNICEF UK.
It created a Sustainability Charter and among the objectives was – unlike other similar developments – to appoint one waste management provider for the entire estate, helping to streamline collections, reduce carbon emissions and improve waste education among tenants.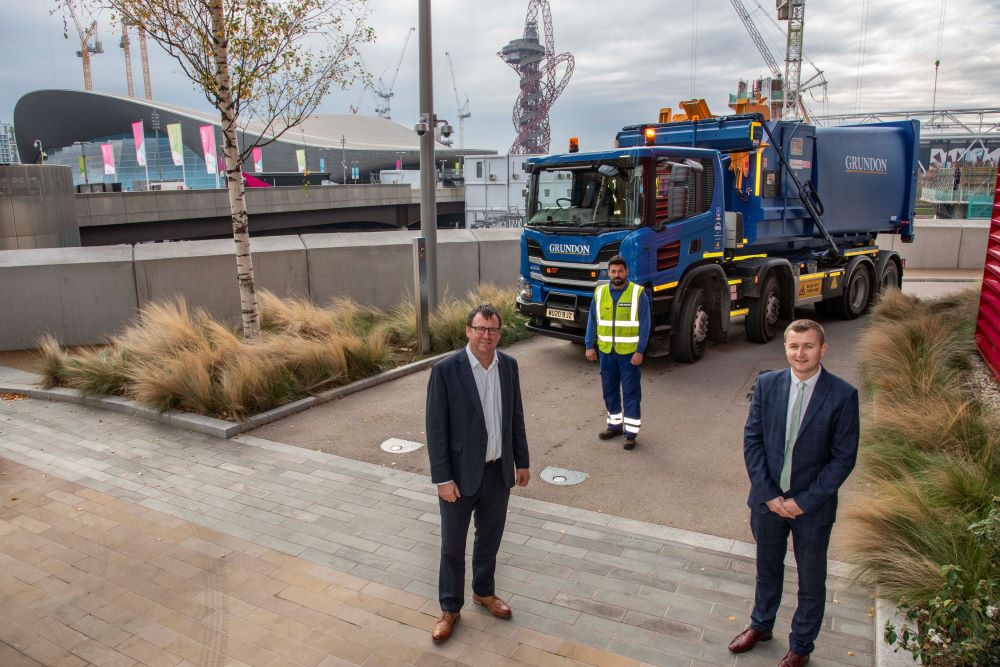 In late 2017, Grundon Waste Management was awarded the preferred waste partner contract by building contractor Lendlease, starting work alongside JLL, with collections beginning in early 2018. JLL and Grundon have successfully worked together on previous projects, including JLL's flagship location at 20 Gresham Street, London, and First Central 200 (FC200) in Park Royal, West London.
Adam Craig (Senior Estate Manager) for JLL, says: "Grundon has successfully delivered a joint, open platform for IQL occupiers, residents and managing agents to discuss waste awareness and sustainability, demonstrating the real benefits of appointing one single supplier.
"In turn, by providing IQL with monthly recycling data, we are able to pinpoint strengths and weaknesses and encourage information sharing between commercial and residential units to constantly improve recycling rates and look at further innovation."
As an independent, family-owned waste management provider, Grundon's experience and expertise lies in its ability to manage all types of waste under one roof including:
Mixed recycling
General (non-recyclable)
Food
Hazardous (inc batteries and WEEE)
Confidential
Clinical
Another plus is the fact that Grundon owns its own facilities, including Energy from Waste (EfW) plants and Materials Recovery Facilities (MRFs), together with dedicated clinical waste and hazardous waste facilities; and it has the ability to handle other materials, including paper cup recycling, food waste and confidential waste.
In addition, it also has a certified CarbonNeutral® collection fleet, which means when waste collections are made, these do not add to customers' carbon footprint.
Another JLL objective was to launch an estate-wide Sustainability Forum to foster and promote best practice moving forward. The first of these was held in February 2019, with representatives from all the occupiers sharing ideas and setting future waste goals, including the target of achieving closed loop recycling.
Grundon's James Luckett, contract manager for the IQL project, says: "The focus right from the start has been very much around having one supplier who could not only meet all the existing waste requirements, but also introduce new technologies to help with the goal of continuous improvement.
"We have been able to deliver exactly that through a combination of innovative ideas and taking a tailored approach to the services we provide.
"Together with JLL, we host quarterly Sustainability Forums, inviting tenant representatives to review the waste data, share ideas and success stories and look at where further improvements need to be made.
"It's also an opportunity to share information about how the waste is produced and treated – we use animated videos which are incredibly popular, the emphasis is on education, innovation and collaboration, something the JLL team say is a real USP for tenants."
Grundon currently looks after three main buildings, working closely with managing agents Savills and CBRE, as well as at the adjacent TfL building.
Whenever new tenants move in, the Grundon team will be briefed on the likely number of employees and uses its experience to install the necessary number of waste and recycling stations on each floor.
Once the company has moved in, James and his colleagues will meet with them to carry out a more in-depth audit on the type of waste produced and, if necessary, provide specific guidance.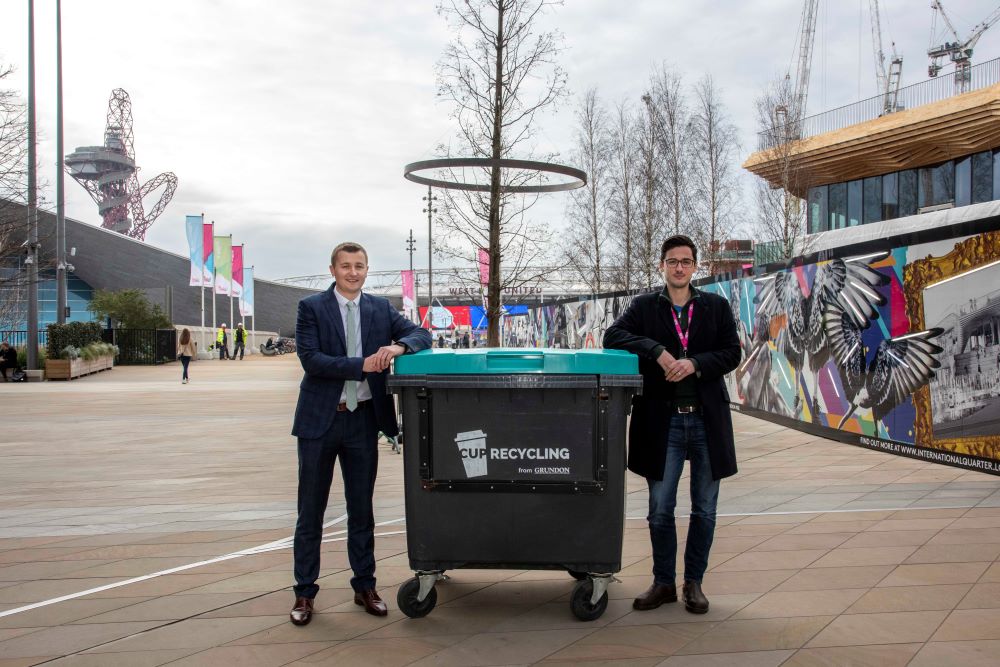 Exclusively for Savills' building at 2 Redman Place, Grundon has produced a Waste Strategy guide, setting out regulatory and compliance information, explaining how the waste hierarchy works, good practice ideas, information on different waste streams and how they can each be handled. It is hoped that this guide will in turn be rolled out across the rest of the IQL estate.
Savills' Sarah Gray (Assistant Building Manager), said: "Grundon has been employed by 2 Redman Place for the past year as our waste service partner. From the point they conducted the initial site survey to determine what would best suit site, to the more recent request for skips for fit out waste; Grundon have been very responsive and proactive in recognising the needs of a new build smart building.
"The equipment utilised on site such as the compactor and waste weighing scales are very user friendly, combined with the accurate reporting of waste data we are in a strong position to achieve our recycling targets.
"Another aid to achieving our recycling target is the waste training provided by Grundon. Not only do they provide onsite training in the operation of all equipment and explanations of where all waste streams should be placed; they also provide an interactive presentation explaining why recycling is so important, how the waste is processed and the operative role in the process. We have recently had a couple of new tenants move in and Grundon have been very flexible and proactive in ensuring that all cleaning staff have had an opportunity for training.
"As a lot of issues around achieving recycling goals are due to a lack of information for staff or segregation facilities, the combined approach provided by Grundon is leading the way."
With innovation a main driver, one of the first new services to be introduced was Grundon's Paper Cup Recycling service, which was launched on site at a Waste Awareness Day in May 2019.
The service, run in partnership with CupCyclingTM by James Cropper, one of the UK's leading cup recycling facilities, encourages people to recycle single-use paper cups rather than simply throw them into general waste bins.
Specially-designed paper cup recycling bins were installed both inside and outside 2 Redman Place. These have a central reservoir to contain excess liquid, an area for the cups and a special side pod on each bin for the disposal of lids. Once collected, they are sent for recycling before being reprocessed into printer paper, which is then delivered back to IQL by Grundon – successfully achieving closed loop recycling.
James continues: "The Waste Awareness Day gave us a good opportunity to talk to as many people as possible, both those working in the offices and the general public passing through the area.
"We explained about how single-use paper cups are now being recycled and turned into paper for everyday use in the offices and why this is such a great example of innovative recycling in progress, something which was very well received by everyone we spoke to."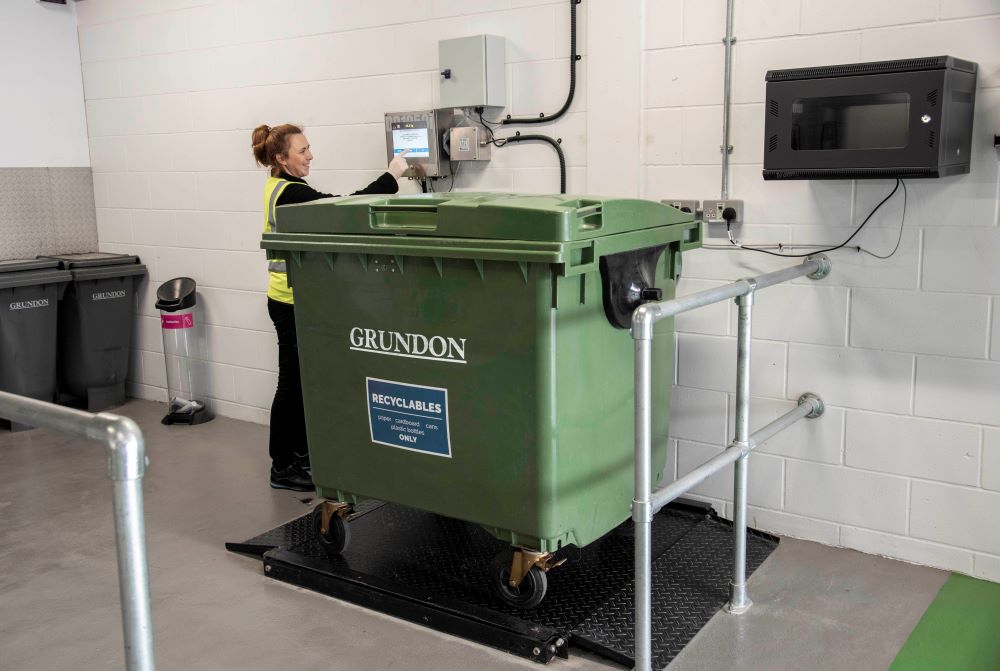 Another recent innovation has been Grundon's introduction of a specialist industrial waste management system from Weightron Bilanciai which has revolutionised the way tenants are charged for their waste.
Instead of being billed for an average cost based on the overall amount of waste taken away, the new system's specialist weighing facilities allow each tenant to be charged for only the exact amount of their own waste.
When the cleaning team brings a tenant's waste down to the loading bay, the cleaner inputs that tenant's individual PIN code onto a screen and selects the type of waste (ie mixed recycling, food, general waste etc) which has been collected. This enables the waste to be accurately weighed and recorded, with the information sent to the managing agent.
Key benefits of the new system include:
Ability to track the type and amount of waste produced on site and by which tenants
Helps identify where waste savings can be made
Encourages best practice in disposal of waste
Monthly reporting and analysis sent to managing agents for review and recharging
Charges based on individual recycling rates for each tenant
Ability to tailor collections around specific requirements
Grundon has provided detailed training for cleaning teams and provides guides on how to operate the scales.
James adds: "The cleaners have been really great. We held a series of cleaning sessions and presentations to demonstrate how the waste should be processed and it has been going very well. The tenants really appreciate the fact that they can directly influence the amount they are charged for waste disposal, it really helps them to think about how they can do things differently to reduce their costs and we have definitely seen improved recycling figures as a result."
Another area where Grundon's expertise comes to the fore is at regular meetings where the team can help with education, training and advice around issues such as supply chain decisions and setting future key performance indicators (KPIs). Even though the pandemic has currently put paid to many of the face-to-face meetings, the Grundon team has still been involved in KPI meetings and providing online training, making sure no opportunities are lost.
James welcomes discussions with tenants about if particular products they are thinking of buying can easily be recycled, explaining: "We're always happy to share our advice on sustainability in the supply chain. For instance, there is currently a big drive towards embracing compostable and/or biodegradable food packaging – including takeaway trays and cutlery – yet some of these items can be harder to treat because currently the UK doesn't have the correct infrastructure to fully treat them.
"That can lead to problems as these items can then contaminate other plastic packaging streams. We would much rather talk to tenants before they make these decisions and advise them on the best sustainable solutions."
Another tick in the innovation box has been the introduction of a cigarette waste recycling service for JLL, which has responsibility for collecting waste from litter bins placed in and around the buildings and open areas.
Grundon has teamed up with fellow specialist TerraCycle to provide bins with a separate space for cigarette butts and ash so that when the cleaning team empty the bins, these items are segregated out instead of going into general waste. TerraCycle then reprocesses them into other products.
With a number of retail food outlets on site, including Pret, Heavenly Desserts, itsu and Tonkotsu, there is also a big emphasis on preventing unnecessary food waste and Grundon works with in-house teams to ensure food waste is segregated out to be sent for Anaerobic Digestion (AD) rather than disposed of in general waste.
Not only does this help keep costs down (food waste is heavy and therefore adds to the cost of a general waste collection), sending food to AD is a greener approach as it generates bio-fertiliser and bio-energy.
With more tenants set to move into the building over the coming months and years, Grundon has set a firm waste management foundation in place and is continuing to look at new ideas, including new ways of recycling food waste and reducing carbon emissions still further.
Key stats
Recycling highlights
The overall recycling rate has increased from average 35% to 67.4% for the entire estate and there was a particular focus on diverting more materials from general waste into recycling
Feb 2019 – Feb 2020 (before the impact of lockdown)

Overall general waste was cut from 23.2 tonnes to 18.5 tonnes
Mixed recycling increased from 7.2 tonnes to 12.1 tonnes
UNICEF UK increased its recycling rate from 55% to 76.6%
FCA increased its recycling rate from 46.2% to 70.6%

In the 12 month period from March 2019 – February 2020, the estate's drive to cut carbon emissions and increase sustainability saved the equivalent of 1,476 trees and generated over 160 MWh of power by sending waste to Energy from Waste (EfW) facilities