Grundon Waste Management has won a landmark 10-year contract to provide waste management services at Silverstone, home of British Motor Racing.
The contract will see Grundon working with the Silverstone team to deliver a raft of sustainability and recycling innovations and a new dual-branded specialist waste collection vehicle.
Silverstone's Procurement Manager, Lee Thomas, said: "We host some of the most prestigious motorsport events in the world, so we need to know we can match their excellence on the track with a high-level waste management service."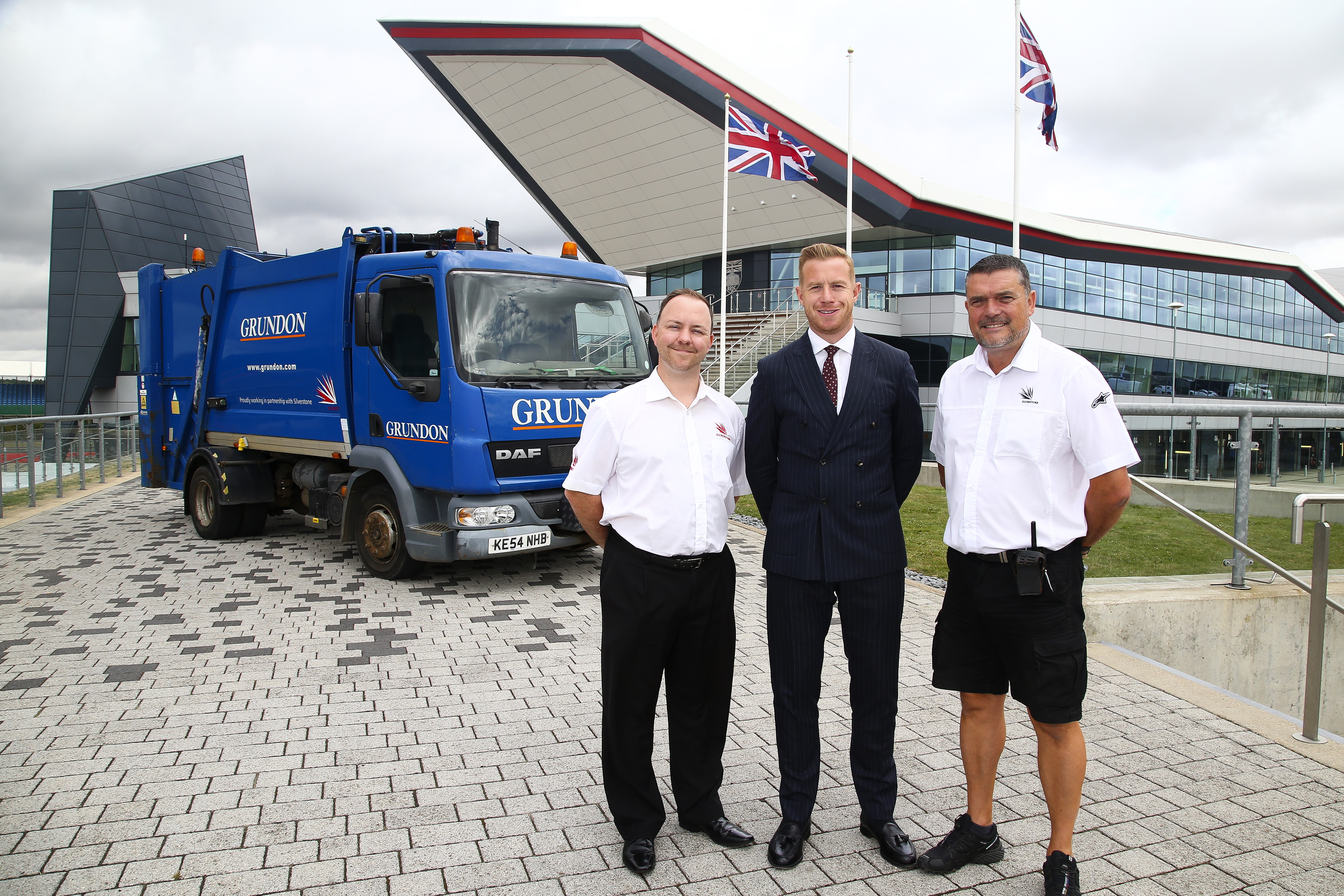 "Grundon's partnership approach does exactly that and the support they have given our own in-house waste teams, especially on issues such as compliance, has been invaluable.
"Now we are ready to move up a gear and we are delighted to have Grundon on board as we work even harder to meet new sustainability targets."
Stephen Hill, Grundon's Head of Sales, said: "We're delighted to be continuing our partnership with Silverstone. Our new 10-year agreement is a real milestone and enables us to make long-term plans and really focus on sustainability, as well as set new shorter-term targets for improving recycling."
Plans include a deposit return scheme for plastic cups and introduction of other new recycling services, including Grundon's recently-launched paper cup recycling service and new dual-branded waste bins.
Additionally, Grundon will be working with the venues' caterers on a project to eliminate single use plastics, whilst offering expert guidance on the procurement of green consumable products which will further boost recycling and drive sustainability.
Grundon's relationship with Silverstone goes back more than 20 years, with the waste company working alongside the circuit's own waste team, providing advice on issues such segregation of different waste streams; identifying the best locations for waste bins and compactors; and undertaking education and training programmes for employees, tenants and other on-site suppliers.
Grundon also maintains Silverstone's own waste vehicle fleet, which will now include a new certified CarbonNeutral® waste collection vehicle.
This year, Silverstone Circuit celebrates its 70th anniversary and welcomes over a million people through its gates every year.
On Grand Prix weekend crowds generate over 300 tonnes of waste – more than 140,000 fans packed into the circuit on this year's race day alone – and by 11pm that night, 90% of the waste will have been collected by Grundon and sent for recycling or reprocessing at its own facilities.
Although the race is Silverstone's jewel in the crown, throughout the year the Northamptonshire venue hosts a variety of other events, including the British MotoGP weekend, driving experience days, corporate hospitality, conferences and exhibitions.
In addition to providing waste management services for all these sporting events, Grundon will continue to be responsible for managing waste at a wide cross-section of companies based at the on-site business park.
Back to news