Some of the brightest young talents of the waste world were recognised at RWM (Resource & Waste Management Expo) on Wednesday, 13 September.
The 35 Under 35 awards programme, organised by Letsrecycle.com in association with Grundon Waste Management, celebrates professional excellence, industry innovation and those who give back to their company or community.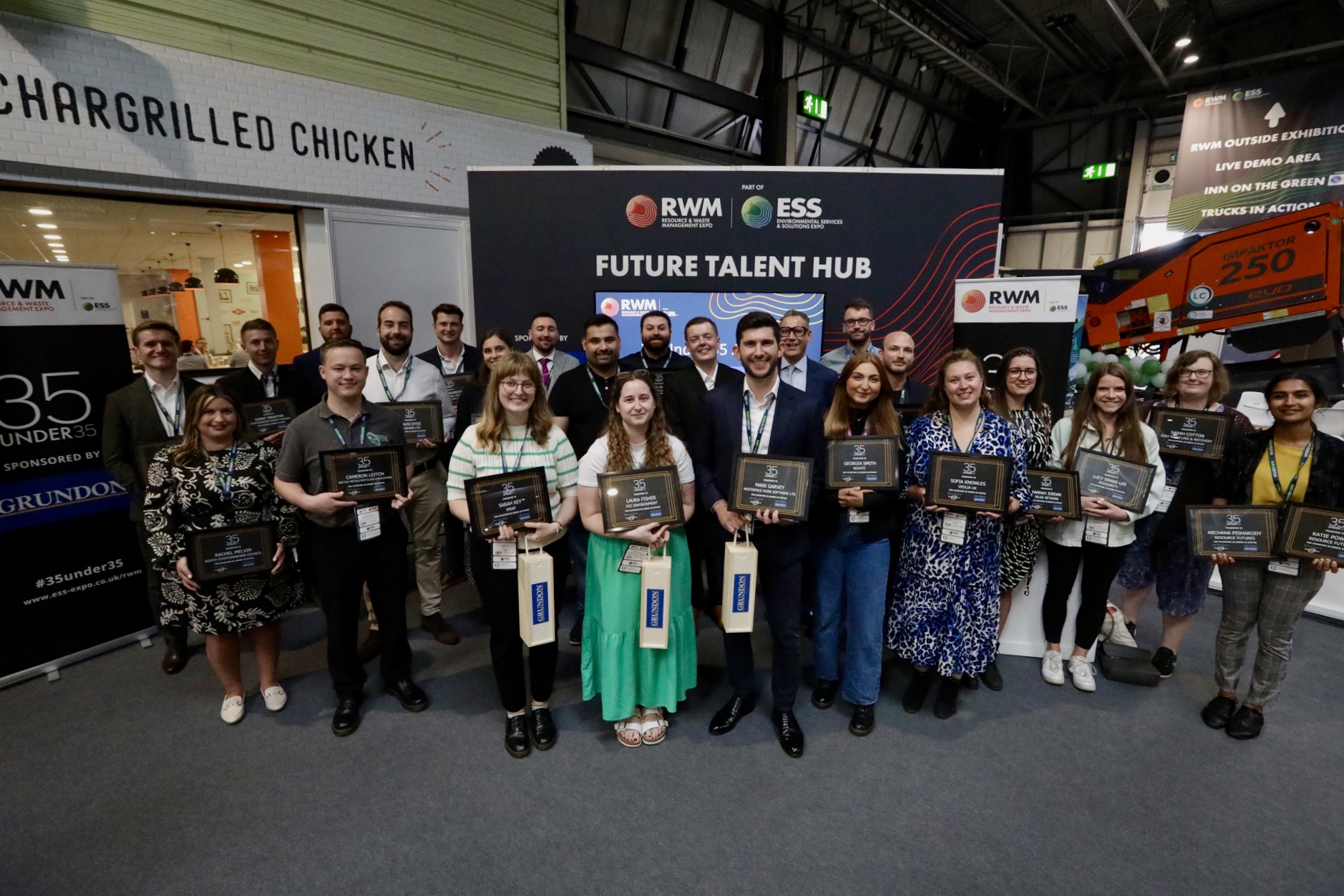 The names were announced at the RWM Future Talent Hub, sponsored by Grundon and hosted by Joshua Docherty, editor of LetsRecycle.com.
Company chairman, Neil Grundon, said: "We are very pleased to support these awards once again. I think we should do anything we can to recognise young talent, we owe it to all of these young people to support them in making a name for themselves in the waste industry.
"Our heartfelt congratulations to each of them and we look forward to following their careers with interest."
With some 80 entries this year the judging panel, which included Lorraine Milburn, Grundon Waste Management's Head of HR, had some tough decisions to make.
Named in the top 35 Under 35 were successful candidates from across all sectors of recycling and waste disposal, including private companies, large corporations, local authorities and industry bodies.
Of those 35, three were chosen as the standout top three stars:
Sarah Key from WRAP
Laura Fisher from FCC Environment
Mark Garvey from Whitespace Work Software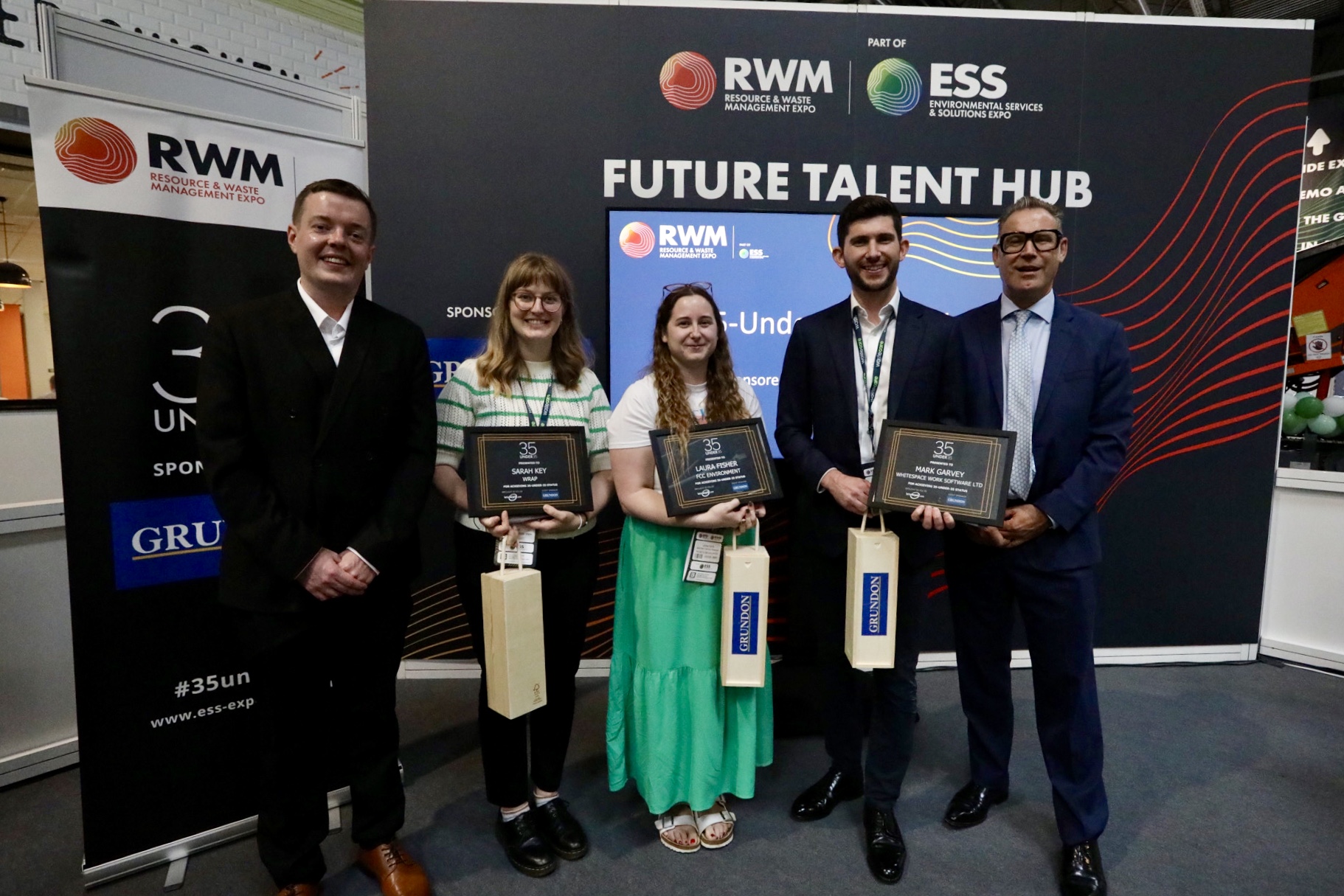 Sarah is a research analyst at WRAP, responsible for measuring progress on environmental targets and works on analysis and research for reports and publications, as well as for WRAPs voluntary agreements. She is currently involved with WRAP's Textiles 2030 initiative, encouraging the industry towards circularity and system change in the UK and beyond.
Sarah said: "I was very surprised and very appreciative of the award and would like to thank my previous line manager, who nominated me, and everyone at WRAP who has supported me. I'm looking forward to meeting more people early in their careers and learning about their experiences."
Laura declared herself "over the moon" with her top three placing and said it was a "lovely surprise". As a graduate, she studied the impact of new technologies (such as Artificial Intelligence) within the recycling industry and, having presented to the FCC Environment board she played a leading role in the installation of the first retrofittable AI-powered robotic arm at the re3 Material Recycling Facility (MRF) in Reading.
A fellow technology specialist is Mark Garvey who, as CEO of Whitespace Work Software, is the second generation of his family to run the business. The Godalming-based company provides waste management software solutions to local authorities and public sector contractors, enabling them to use technology to maximise value for taxpayers.
"We're focusing on the huge opportunities for automation in an industry that is largely driven by manual processes," said Mark, who confessed he has ambitions to follow in Neil Grundon's footsteps. "If technology can improve the services provided, then everybody wins."
The event also included a panel discussion hosted by Josh Docherty where previous winners Sioned Thomas, now Head of Commercial Content and Business Development at Recorra, and Tom Giddings, Executive Director of Alupro, talked about the importance of taking on feedback, having confidence in your own skills and taking opportunities when they are offered.
For a full list of the 35 Under 35, please click here