Xscape Milton Keynes is a haven for sports fans and thrill seekers, shoppers, cinema goers and those looking for a fun day out. Every year, it attracts some 6.8 million visitors, many keen to enjoy thrills and spills on the ski slope or trying their hand at indoor skydiving courtesy of iFly, while others just want to relax with some retail therapy and a good meal.
Not surprisingly, combining millions of visitors with a retail and leisure centre creates a great deal of waste and it is down to Grundon Waste Management to handle its disposal.
The partnership has been so successful that last autumn, Xscape won a gold Green Apple Award in the Retail and Wholesale Wastes Management category of the annual awards run by The Green Organisation.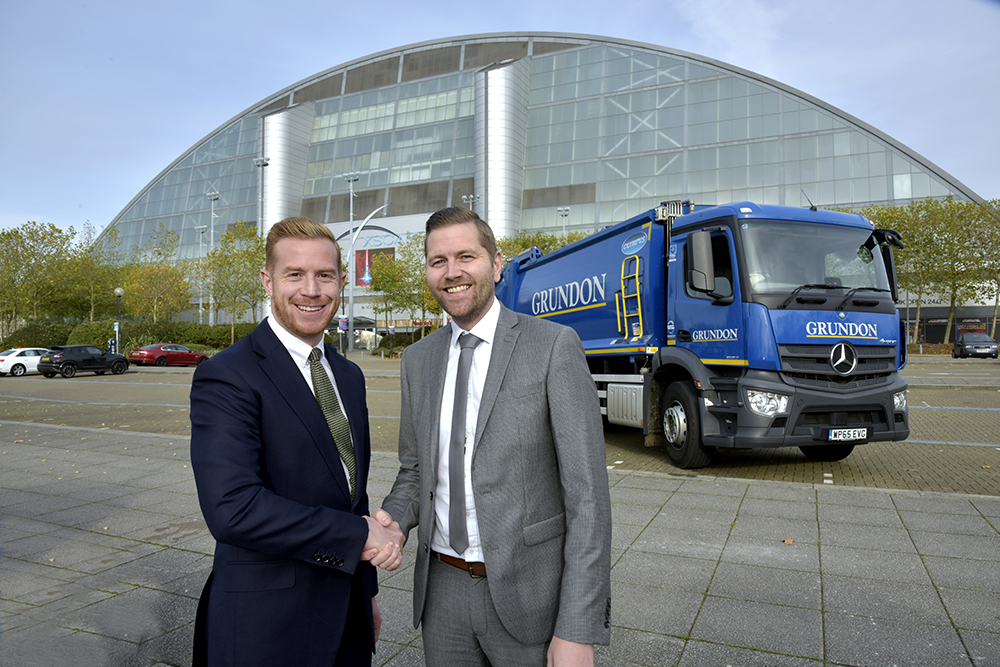 "Highly-successful" waste management partnership
The Grundon team works closely with General Manager Carl Meale from Savills, the managing agent which runs the centre on behalf of owner Landsec. Elsewhere in the south east, Grundon also looks after waste management for Landsec's leisure and retail portfolio, including the O2 Centre and West 12 shopping centres.
As Carl explains, it's a highly-successful partnership: "What I like about Grundon is their honesty and their very proactive approach, I think that's very rare and I haven't really come across it before," he says.
"In an industry like ours, where we are always reviewing budgets, it's good to have a service partner who comes to you with money-saving solutions and indeed, who even makes you money.
"I always feel they have our best interests at heart and there is a real element of trust in the way we work together."
A typical example, says Carl, is how Grundon has helped increase the money Xscape makes on sending baled cardboard for recycling. Simply by introducing more storage space and reducing the number of collections, the amount of cardboard baled and sent for recycling has more than doubled, from 7.7 tonnes at the start of the contract to 15.6 tonnes by December 2018. Grundon has more than quadrupled the amount of money the centre returns to the service charge budget from its cardboard collections.
Xscape and Grundon have been working together since the start of 2017. In the first nine months of the contract alone, the mixed recycling tonnage tripled and, by the end of 2017, the average recycling rate stood at 46.4%. Latest figures show that by the end of 2018, the average recycling rate had reached 65.8% and the team is now aiming to reach 75%.
There was what Carl calls a "massive reduction" in the amount of general waste sent to Energy from Waste facilities, where it is used to generate electricity for the National Grid.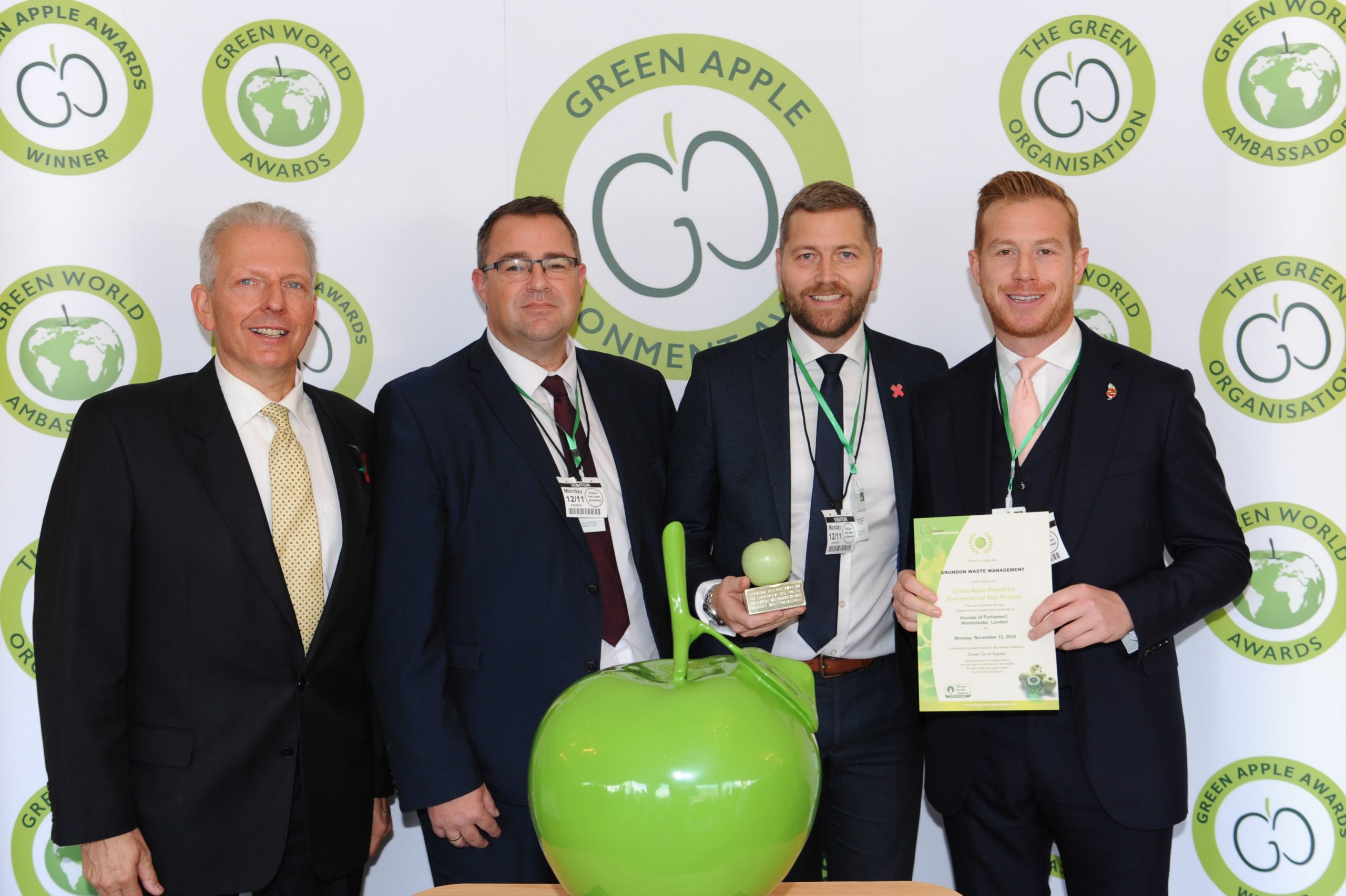 Food waste service boosts recycling and financial savings
Over the same period, the tonnage of segregated food waste which goes to Anaerobic Digestion (AD) almost trebled, as did the amount of glass sent for recycling.
The drive on food waste continued and by early 2018, an additional tonne of food waste per week was being sent to AD. This follows a concerted campaign by Grundon and Xscape to engage directly with individual restaurants and their staff, encouraging them to pay more attention to segregating food waste and making sure plenty of signage and posters were in place as reminders.
This paid off, as the average weight of food waste increased dramatically from 8.7 tonnes per month in 2017, to 26.44 tonnes per month in 2018.
As a result of taking food waste out of the general waste bins, general waste collections have halved to just one a week and the centre is now saving an estimated £300 every week.
In addition, better segregation of glass has seen from 6.8 tonnes in January 2017 to nearly 14.5 tonnes by November 2018.
With more waste now being recycled, there has been an overall drop in general waste sent to Energy from Waste facilities, falling from 443 tonnes in 2017 to 326 tonnes in 2018 – a reduction of well over 25%.
Retailer engagement and education reduces waste contamination
A key part of a newly-introduced waste management strategy has seen Grundon working closely with everyone involved in the waste process, including staff and managers at the leisure facilities and occupiers such as McDonald's and Nando's; WHSmith and Sweatshop; as well as Cineworld Milton Keynes.
This, says Carl, was important because Grundon's expertise in the retail sector enables them to really understand the issues retailers face in dealing with their different waste streams and to come up with solutions, such as alternative types of bins which are easy to manoeuvre and store.
And, by embarking on an education campaign with the centre's facilities management company ABM and its cleaning staff, in addition to individual retailers, Grundon has also helped to streamline disposal and tackle contamination.
Stephen Hill, Grundon's Head of Sales, who oversees the account, says the ongoing awareness campaign is critical to future success.
"Our team visited every single retailer at Xscape and it's something we continue to do on a regular basis," he said. "We looked at their premises, what bins and waste bags they were using, we carried out waste audits and devised a simple handbook for every single retailer. This helps them understand how they can better manage their waste and educates staff about what they should be doing in terms of segregation between mixed recycling and general waste.
"We also did a 'train the cleaner' day, taking them on a tour of the centre and showing them how important it is to search through bins to identify potential areas of contamination which can affect recycling rates.
"It was a very successful exercise as many of them had different ideas about waste management and contamination, and we also provided a series of posters to make it as easy as possible."
Now, instead of individual retailers having to separate out items such as plastic, paper and metal on their own premises Grundon has installed colour coded mixed recycling and general waste bins. This allows all recyclables to be disposed of in one container, which Grundon then removes and sorts back at its own Materials Recovery Facility (MRF).
Continuing the contamination theme – which will affect both the route and cost of disposal – Carl says if the cleaning team who manage the waste on a daily basis now find the wrong waste in the wrong bins, they will report it to the centre's operations manager.
In turn, he will alert the retailer and advise that staff need to take more care when throwing waste away. If the issue continues, then after three warnings the problem will be escalated to the retailers' own head office.
The way cardboard collections are managed has also changed, as a result of sending full loads, rebates have increased and the annual service charge for waste disposal has been reduced by £7,000.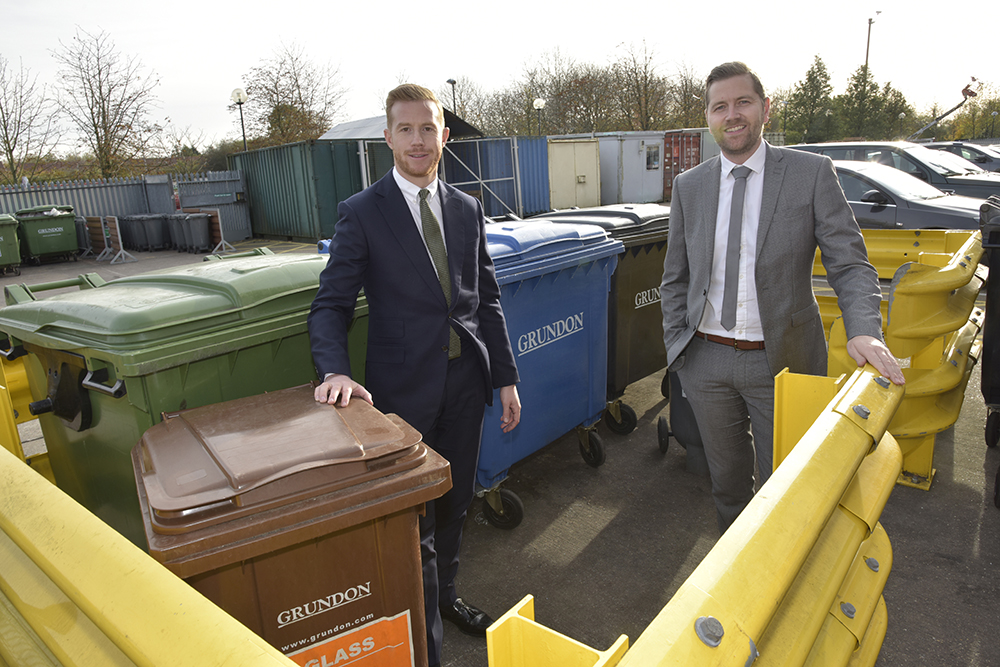 'Doing the best job for their customer'
Monthly recycling statistics are sent to Carl, who in turn feeds the information to Savills and Landsec businesses' sustainability teams. They keep a close watch on waste management across the entire portfolio and Carl also says added benefits, such as Grundon's decision to go CarbonNeutral® across its whole vehicle fleet also add value to the relationship by helping Savills' and Land Sec's own green credentials.
"There's no doubt Grundon has introduced a number of changes here which have made the whole waste management process easier, both for ourselves and our retailers and other occupiers," he concluded.
"They are also very good at being flexible and helping us to scale up for particularly busy periods, such as the Christmas holiday season, when we know footfall will increase considerably and it's really important that our recycling improvements don't slip through the net.
"I feel for Grundon it is not just about making the most money, it is about doing the best job for their customer. We still have some way to go but I know they are doing all they can to help us achieve our objectives and they have the ideas and innovative ways of working to make that happen."
Back to news