Colnbrook History Museum threw open its doors as part of the recent Colne Valley Festival Fortnight and taking pride of place was its historic fire engine, built in 1832.
The festival provided the perfect opportunity for both Kirsti Santer from Grundon Waste Management and Michelle Jones from Groundwork South – both organisations have been involved in supporting the museum project – to try their hand at some vintage firefighting.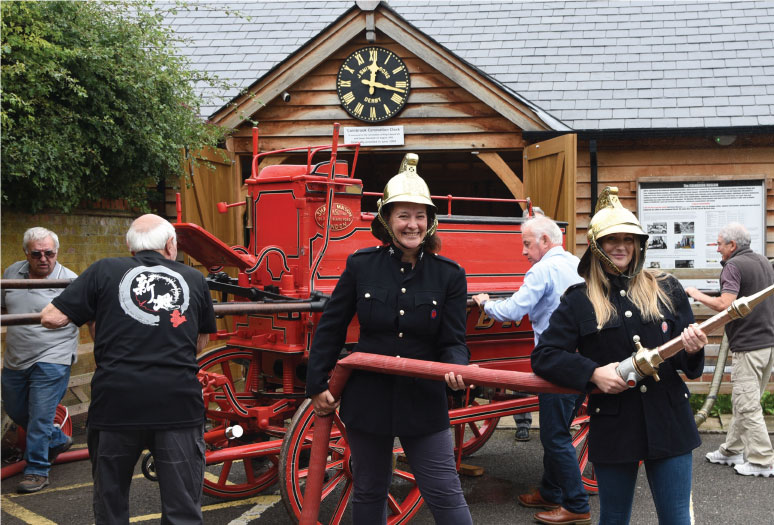 The museum, which is run by volunteers, opened in July 2021 in the grounds of Colnbrook Village Hall. It chronicles the village's history through storytelling and is home to a host of exhibits which have been attracting plenty of visitors.
Peter Hood, who has been a key figure in the museum project, said: "It was great to be able to show off our working fire engine and tell visitors about its history. We even offered a car cleaning service – using our 1832 'jet washer' – to help raise funds.
"We always describe the museum as small on the outside and big on the inside. There is so much history and storytelling for visitors to see and read about, it has a vast amount of treasure to explore."
Exhibits chronicle everything from the days when James Hunt won the Formula One World Championship for Colnbrook-based McLaren; to the history of the Cox's Orange Pippin apple, bred in the local orchards; a Coronation clock; and the original Town Charter signed by Henry VIII, marking its place as one of the most important towns in England at the time.
Many of the items came from private homes, stores and garages around the village.
Once the idea of the museum was mooted, a major fundraising campaign collected £111,000 and grants were provided by organisations including Grundon, which donated over £16,000 for the building works via the Landfill Communities Fund (LCF).
After her visit, Kirsti Santer said: "We had a fun day going back in time to see how the original fire engine worked. This is such a brilliant little museum which really shows off the heritage and stories of the village over the centuries.
"As a Colnbrook-based business, we are really proud to support the local community so to help fund this treasure trove of history on our doorstep has been a real treat."
Kirsti Santer
Marketing Manager
Michelle Jones, Project Officer at environmental charity Groundwork South, which managed the grant project, said: "Groundwork is always pleased to work with local communities on projects such as this and we hope visitors to the museum will gain a great deal of pleasure from the exhibits on show."
Colnbrook Village Hall Trust, Colnbrook Residents Association, The History Group, the Community Partnership, two churches and two primary schools and the Parish Council were all local groups involved in the project.
As a volunteer-run project, Peter says the museum is currently recruiting for more supporters to join the team. See www.facebook.com/colnbrookmuseum for more details.