A major new waste and recycling campaign has been launched this week by Southside Shopping Centre.
Centre General Manager, Pieter Strömbeck, unveiled a raft of new measures to boost recycling and cut waste, including a new paper cup recycling service and dedicated waste handbooks for all retailers and other outlets.
The campaign has been launched with industry specialist Grundon Waste Management, which has been busy installing new bins and containers across the site and undertaking a tenant and employee-wide education campaign.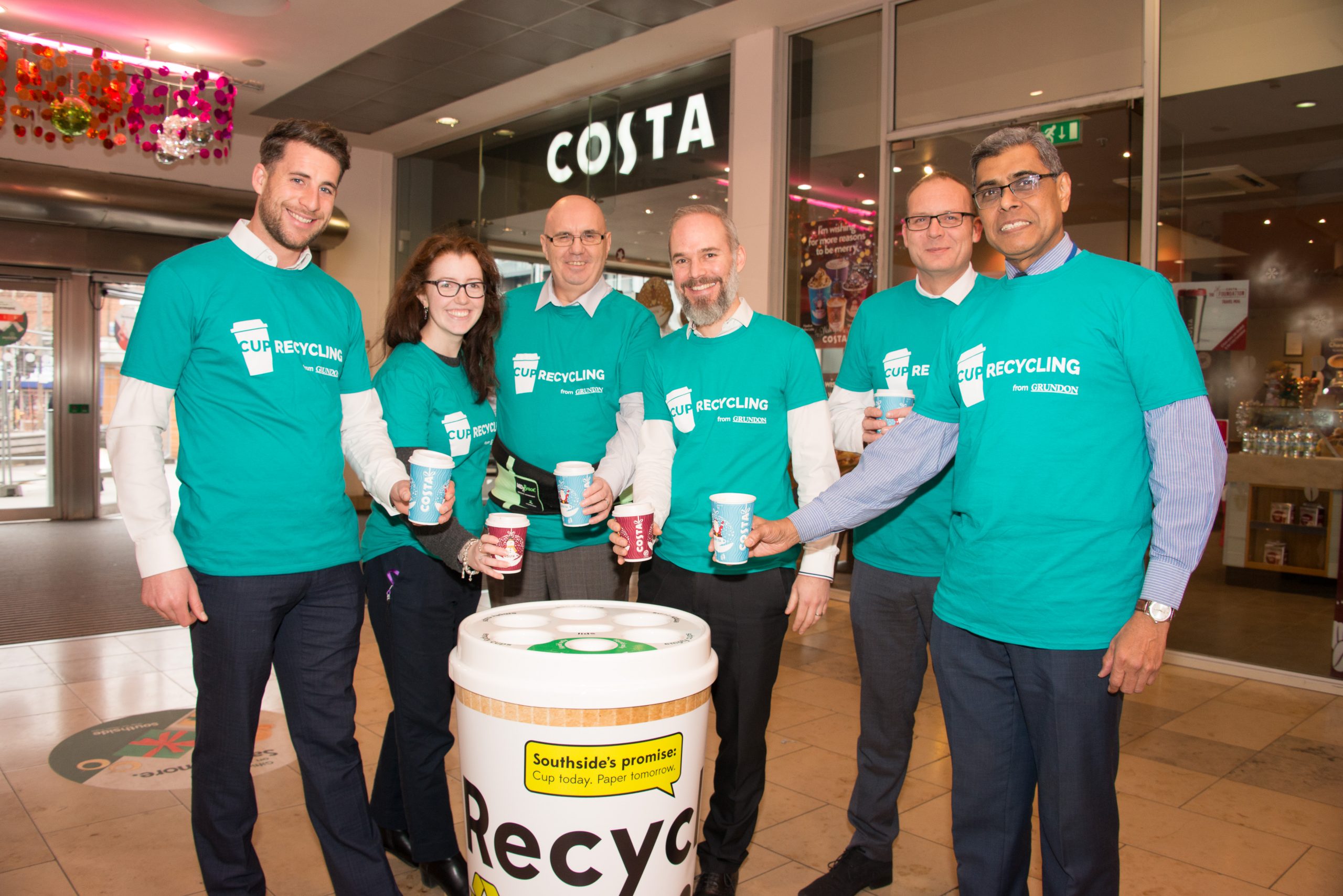 Southside, a joint venture between Invesco and Landsec, is located in the heart of Wandsworth Town, and is home to over 90 retailers including Waitrose, Debenhams, Cineworld, Decathlon and Planet Organic.
Setting targets
As Pieter explains, strict new recycling targets demanded intensive action to tackle the waste issue.
"Landsec set us the target of recycling 70% of our waste on site by 2020 and until now much of our waste has been taken to an off-site facility for reprocessing," he said.
"With our large number of retailers and food and leisure outlets, plus the fact we have nine different service yards, making these changes was always going to be operationally challenging.
"We needed new bins, compactors and balers, so understanding how that would all work, as well as getting all our tenants on board, was very important. However, having worked with Grundon previously, I had confidence in their ability to deliver. They are helping us to achieve our ambition and I believe we will do it."
Improved segregation
The Grundon team, headed by Jack Yarrow, audited each retailer separately to find out the types of waste being produced.
As a result, eight different waste streams were identified, including coffee cups, cardboard, polythene, coat hangers, food and mixed recycling.
Retailers now take responsibility for making sure each item is disposed of in the correct bin at the back of their premises, before the centre's cleaning team transfers the waste to the service yards for compaction, baling and/or collection.
Several new compactors and balers have been installed in the service yards, including for mixed recycling, general waste, cardboard and food waste. Pieter says this is a real benefit for retailers such as Waitrose and Planet Organic, who previously had to outsource their food waste collections.
The segregated food waste is collected by Grundon and sent to specialist Anaerobic Digestion facilities, where it is recycled into green energy and bio-fertiliser.
Higher quantities of cardboard being baled means the centre will now earn larger rebates from sending cardboard for reprocessing, while a rebate will be due on large quantities of polythene for the first time.
A large holding area means most items can be baled and stacked for monthly collections, which will replace more frequent visits. The fact Grundon's fleet of collection vehicles is certified CarbonNeutral® means journeys do not add to the centre's carbon emissions.
Driving engagement
Fulfilling Pieter's goal of ensuring all tenants were engaged with the new programme, Grundon produced a detailed recycling handbook for each one, outlining the different types of waste and acting as a reminder of the importance of good segregation. Posters and new signage have also been installed alongside bins and containers, and training programmes implemented.
"This has been a massive recycling drive and everyone was really supportive and keen to understand how they could do more," said Jack. "Encouragement and education has been really important, people needed to understand the how's and why's of recycling and that's why we've made a concerted effort to ensure they have been given the tools and information to really make this work."
Paper cup recycling boost performance
In the main shopping mall area, eight new paper cup recycling bins have been installed alongside general waste bins to encourage visitors to recycle their coffee cups – a move Pieter describes as the 'icing on the cake' of the recycling programme.
Guaranteeing 100% recycling, Grundon's dedicated Paper Cup Recycling service was launched earlier this year and on launch day both Pieter and the Grundon team were out and about in the mall to promote recycling.
In an added benefit, Grundon customers can buy back paper made from cups which have already been recycled – something Pieter says he is already planning to do.
Positive response from retailers
Having taken a major step forward towards meeting the new recycling targets, Pieter says the response from retailers has been extremely positive, and he concluded: "Everyone, including our tenants and our cleaning teams have told us they wanted to see more recycling and they are very excited about the new campaign we have put in place.
"Grundon has worked day in, day out to get this programme ready and once we start to see the results we will make sure to share them on our community walls so everyone can recognise the benefits of their achievements."
Back to news