This July, more than 500,000 tennis fans walked through the gates of Wimbledon's famous All England Lawn Tennis Club (AELTC) to see the stars in action at The Championships 2019.
Who could forget the nearly five-hour, five-set epic battle between tennis legends Roger Federer and Novak Djokovic; the arrival on the world stage of 15-year-old Cori Gauff; or the dynamic and fun Mixed Doubles partnership of Sir Andy Murray and Serena Williams?
Away from the courts however, the AELTC had a target of its own – to increase recycling as part of its sustainability initiatives – something it achieved with a winning performance and support from Grundon Waste Management.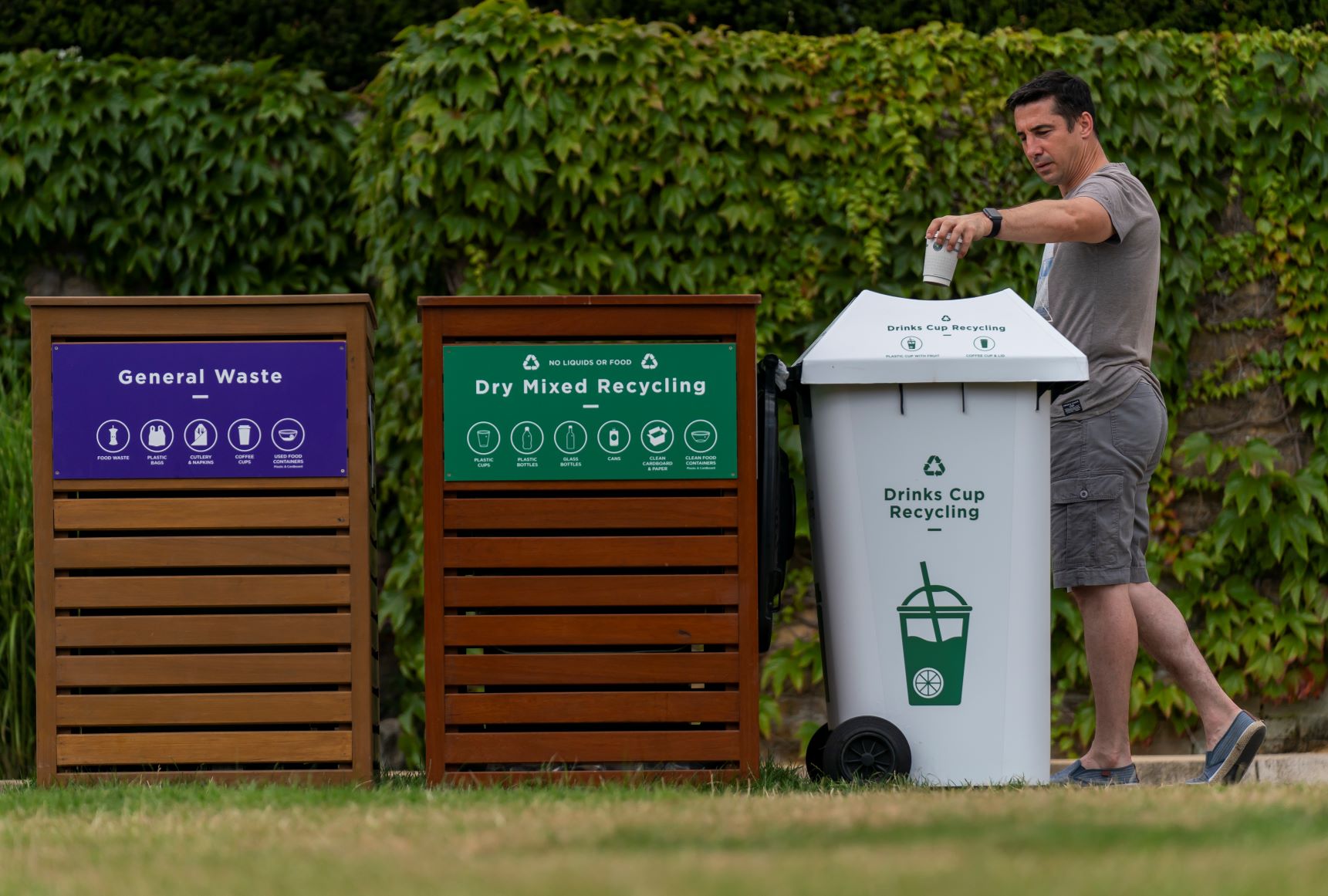 Key highlights were:
Launch of a team of Eco Champions to man recycling bins and promote recycling to visitors
All waste 100% recycled or recovered
Achieving zero waste to landfill for the second year running
Introduction of on-site sorting of drinks cups to capture more recyclable materials
Introduction of new recycling bins for plastic cups and coffee cups
The targeting of empty plastic drinks cups discarded with fruit still inside them
Informative educational visits to Grundon facilities prior to The Championships
Statistics successes:

A 20% increase in the amount of mixed recycling collected
A 4.98% reduction in general waste collected – which, through Grundon's Energy from Waste facilities, still generated enough renewable electricity to power 112 homes for a month
An increase of 8.22% in glass sent for recycling
And in a perfect example of the circular economy, Daisie Goode, from the AELTC's Sustainability Working Group, says they will be buying an equivalent weight of recycled paper and card to match the tonnage of paper cups sent for reprocessing as part of Grundon's Paper Cup Recycling service.
Grundon's partnership with CupCyclingTM by James Cropper, one of the UK's leading cup recycling facilities, enables them to offer its customers the chance to buy back paper made from cups which have already been recycled.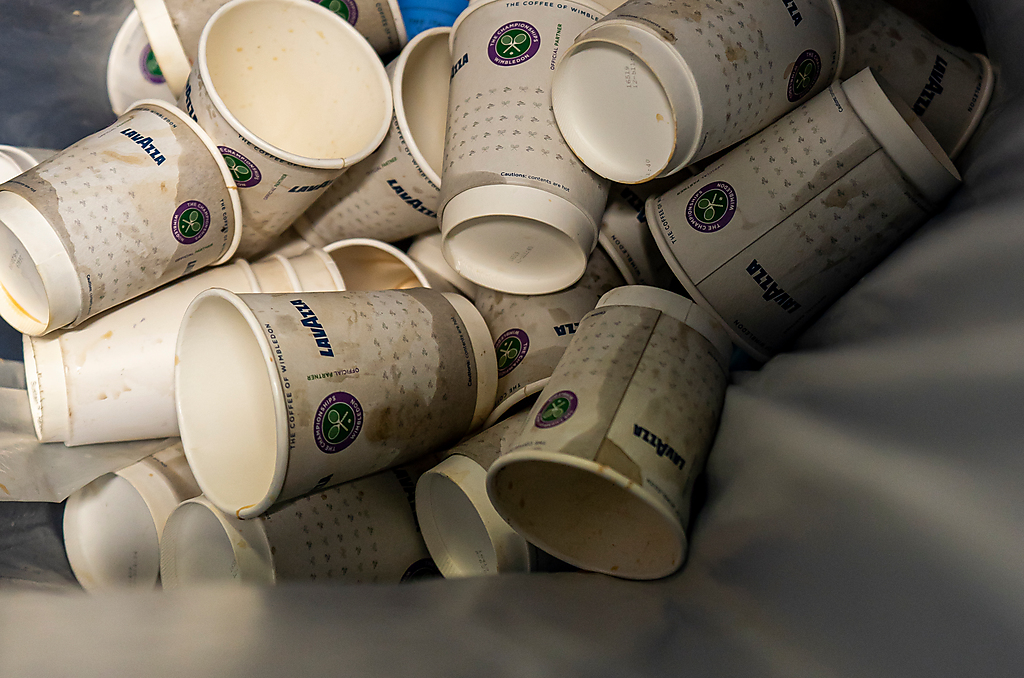 Reducing contamination
Together with Hattie Park, the AELTC's Sustainability Manager, Daisie works closely with the Grundon team, led by Shaun Workman.
"Thanks to our focus on reducing contamination, the recyclable materials recovered were also much cleaner this year, so the volume increased as well as the weight," said Daisie.
"We were very pleased with the results and Shaun was amazing. Having our Eco Champions in place definitely made a big difference, as did visiting Grundon's facilities, because it ensured everyone understood what they needed to do and were able to answer questions from the public."
All nine Eco Champions were recruited from the wider group of temporary staff taken on each year by the AELTC and Daisie says they were chosen for their interest in the environment and eagerness to engage with the public on the topic of recycling. The scheme worked so well that the AELTC has plans to increase the number of Eco Champions for 2020.
Daisie says it was her own visit to Grundon's Materials Recovery Facilities (MRFs) after last year's Championships, which made her realise that the leftover fruit contained in the some of the drinks sold at the event was causing a recycling challenge.
"Shaun showed me that the issue is the drink is served in plastic cups which are of course recyclable, but if the fruit isn't removed at the point of disposal, then they have to go into general waste as they cause contamination of the recycling," said Daisie.
The solution was to install 10 new white recycling bins which could take both coffee cups and the plastic cups with the fruit still inside.
As soon as these bins are full, they go to the loading bay area where two dedicated members of staff go through them on a sorting table. The fruit is separated out into food waste bins and sent for reprocessing at Anaerobic Digestion facilities, while clean coffee cups go into one waste stream for specialist recycling, and the clean plastic cups go into mixed recycling.
As with the Eco Champions, the success of the scheme means more recycling bins for drinks will be added next year across the entire site.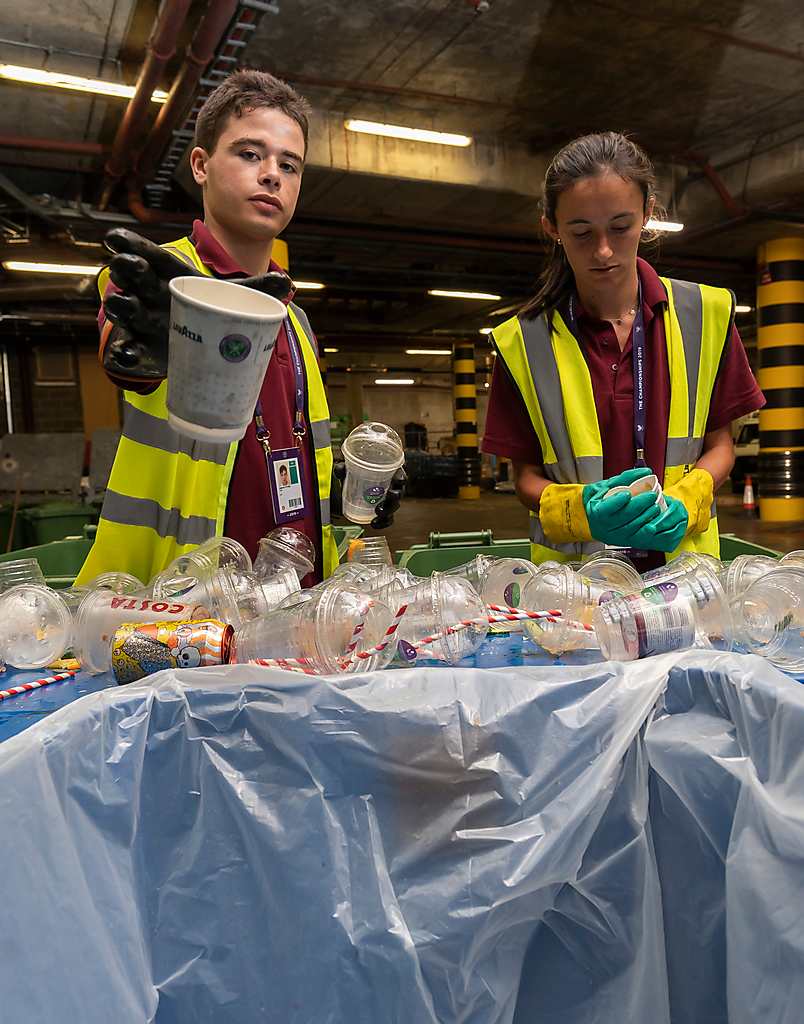 Shaun says: "It was clear after The Championships 2018 that recycling and sustainability was an important talking point for the AELTC and we were extremely pleased to be part of those discussions.
"This was a great team effort with Hattie and Daisie discussing ideas and innovation to help the AELTC increase recycling and setting a very high standard to be at the forefront of sustainability.
"Education and training was really important and I believe being able to take part in Waste Awareness Days and showing key personnel around our facilities had a great benefit, as it enabled us to share our knowledge with the AELTC and their teams.
"We were able to increase awareness of what happens to waste once it is collected and highlight the importance of keeping recyclables clean and separate, something which the Eco Champions really helped with this year."
Discussions are already under way for 2020 in terms of how to further improve waste management and recycling, and this includes enhancing the education programme by including recycling information in an online training video for all staff.
Back to news