Lakeside Shopping Centre in Thurrock, Essex, has been rewarded for its commitment to sustainability and recycling, winning a prestigious Silver Green Apple Award in the International Green Apple Environment Awards.
The award, presented for Environmental Best Practice in Wastes Management, follows a successful year where the Centre has achieved zero waste to landfill, reduced general waste and increased recycling, as well as earning rebates by separating out different types of waste.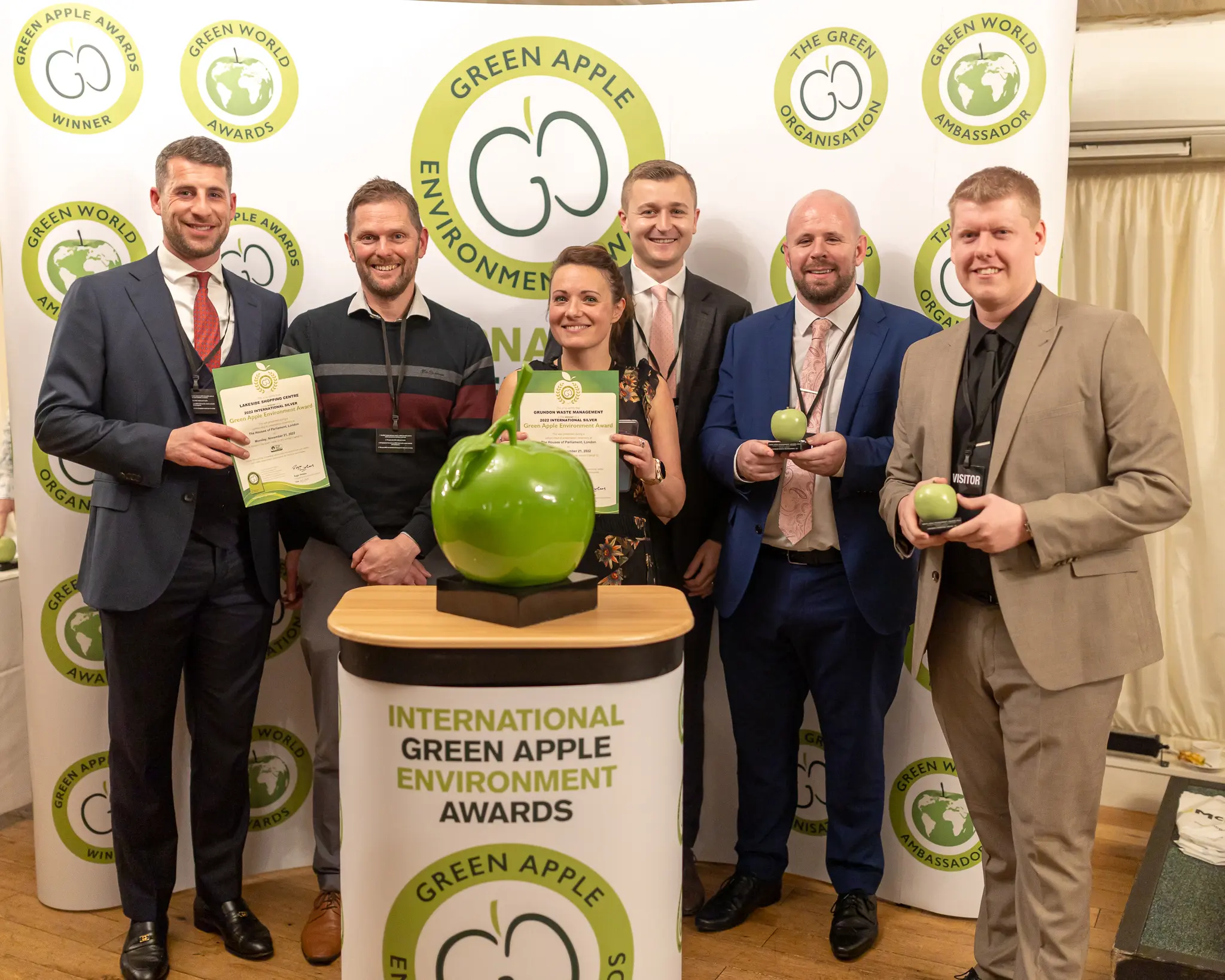 The award was presented to Ross Crook, Lakeside's Environmental Services Manager on 21 November in a special ceremony at the Houses of Parliament in London.
Part of the Savills property portfolio, Lakeside is home to over 200 shops and some 40+ food and beverage outlets. Its sustainability team began working with Grundon Waste Management in September 2021.
A delighted Ross explains: "As a shopping centre, our goal is to be known as a place that cares about sustainability and the environment, so we are absolutely thrilled and very proud that our efforts on improving waste management and recycling have been recognised by this award.
"We always knew that the opportunities for recycling and reusing are endless and that not everything has to go in a bin. What we didn't know, until Grundon came on board, was how we could do better.
"They have been very, very supportive and made the whole process easy for us, our retailers, tenants and cleaning teams. It has been a real team effort and this accolade is for everyone – thank you."
Among the improvements have been the introduction of segregated waste streams, including cardboard, glass, food, polythene – some of which now earn rebates to offset against monthly waste bills; a dramatic reduction in the number of vehicle waste collection journeys, helping to cut carbon emissions; and a series of waste engagement days to help promote the benefits of recycling.
Grundon's James Luckett, who joined Ross at the Houses of Parliament, said: "This award has been a real joint effort, with a lot of hard work from the Lakeside management team and retailers, and it is richly-deserved.
"The successes achieved have been a combination of investing in new equipment and recycling methods, tenant engagement and, above all, a willingness to embrace change. It just goes to show what can be achieved when everyone works together to get the best results – well done to all of them."
The Green Apple Environment Awards were launched in 1994 by The Green Organisation to recognise, reward and promote environmental best practice around the world, and have become well established as one of the most popular global environmental campaigns.