A drive to increase segregation of waste and identify new recycling opportunities is helping one NHS Trust save around £5,300 a month on its waste management costs.
Under the banner Waste Watchers KISS It Better – KISS stands for Keep It Simple, Segregate – staff volunteers spread the word about recycling in their respective workplace areas and encourage their colleagues to embrace new waste streams.
Royal Berkshire NHS Foundation Trust is one of the largest general hospital foundation trusts in the country, providing acute medical and surgical services to Reading, Wokingham and West Berkshire, as well as specialist services, to patients across Berkshire and beyond.
Its centrepiece is the Royal Berkshire Hospital in Reading, where Steve Sellwood, Facilities Manager, works with waste and recycling expert Grundon Waste Management.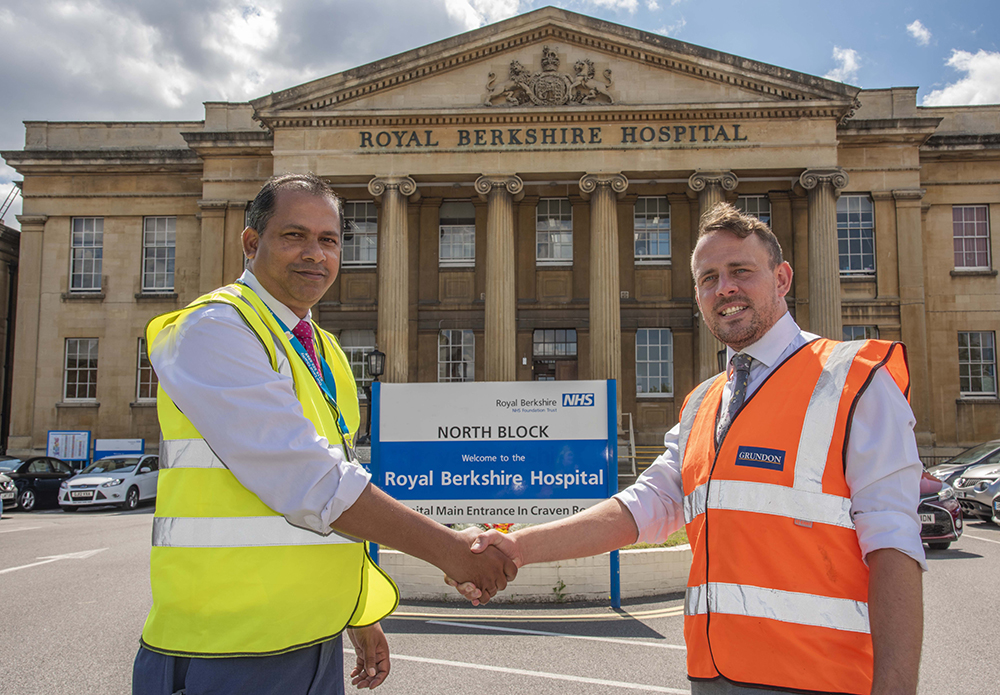 Since 2012, Grundon has provided a total waste management service for the Trust and, among its successes, has achieved zero waste to landfill and an impressive overall increase in recycling.
More recently however, Grundon has been working closely with both Steve's team and clinical staff to implement new waste streams and help save even more money.
As part of the programme, the Trust's Assistant Team Leader for Waste has visited Grundon's waste treatment facilities, giving him an insight into how and where waste is disposed; and he has also been involved in Grundon's pre-acceptance waste audits at the Trust, where different waste streams are analysed to achieve maximum recycling benefits.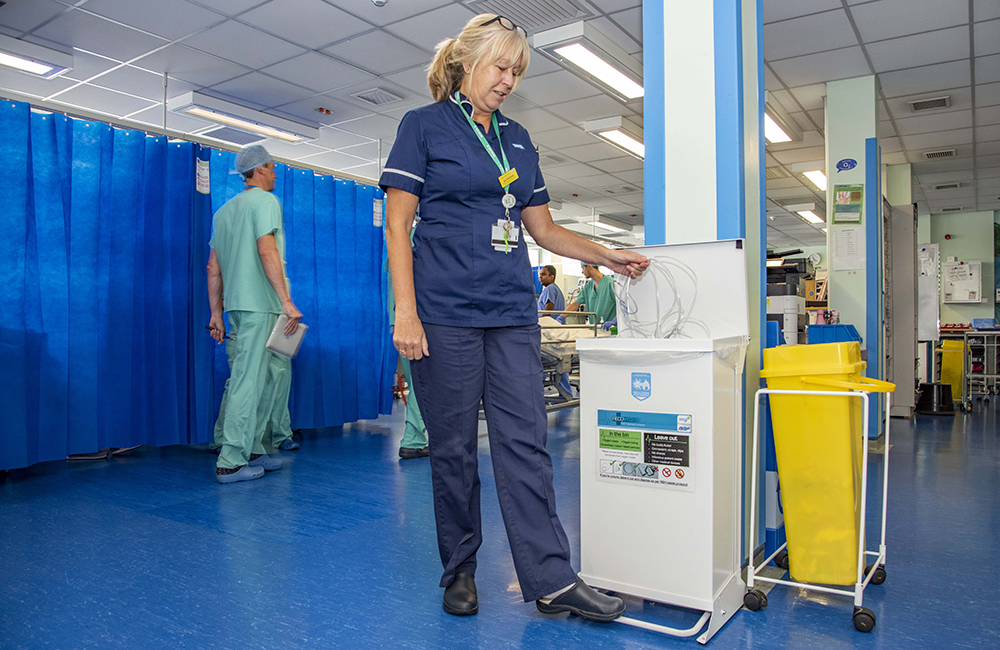 Recycling PVC masks
The first new project has been to encourage theatre staff to segregate valuable single-use medical PVC items, including plastic tubing and oxygen masks, at the point of disposal.
The PVC take-back scheme, known as RecoMed, has been so successful that since May 2017, staff at the Royal Berkshire Hospital have recycled 1.831 tonnes of PVC masks and tubing, saving the Trust over £1,000 in disposal costs and reducing carbon emissions by approximately 2.825 tonnes of CO2.
Leading the clinical team in its recycling drive has been consultant anaesthetist Dr Lauren Williams, who explains: "Patients go to sleep with an anaesthetic mask on and afterwards, when they go into recovery, they have an oxygen mask and tubing. They may only use the items for a short period of time and when they leave the recovery room, the masks and tubing would previously have been thrown into the clinical waste bins for incineration.
"We now have specialist bins with clear sacks for the PVC waste in our four recovery areas. It allows everyone to see what has gone into the bin and it is a credit to the theatre recovery nurses that they are taking the time to stop and do this. It has been a question of changing peoples' habits, and now I think anyone would think twice about putting PVC waste into a yellow clinical waste bin."
A passionate recycler, both at home and at work, Lauren says she first heard about the RecoMed scheme after seeing an article in Anaesthesia News, the official magazine of the Association of Anaesthetists of Great Britain and Ireland.
On talking to both RecoMed and Steve Sellwood, she discovered that as Grundon already had an arrangement to pick up the PVC waste for RecoMed from another Trust, it could also take on separate collections for the Royal Berkshire Hospital.
Both Lauren and Steve are now keen to extend recycling to other items that would normally have gone into clinical waste bins and say IV fluid bags, plastic wrappings for dressings and recyclable plastic trays for drugs – none of which will have been in contact with patients – are now on the target list, as well as rolling out PVC recycling to other departments within the hospital.
Lauren added: "I can't bear to see plastic and other things being wasted, personally for me it is less about the cost savings and more about maximising recycling and that is why I am so passionate about it."
James Killick, Grundon's Compliance Advisor, says: "The Royal Berkshire Hospital is by far and away Grundon's standout performer for collection of this specialist material and Lauren and her clinical team have done a tremendous job in recognising the opportunities to recycle.
"When Lauren approached us, we were very happy to be able to help and with the support of Steve and his team of porters, who collect and store the segregated waste ready for our collection, it is working very well indeed."
RecoMed is operated in partnership with the British Plastics Federation and funded by Vinyl Plus, the voluntary sustainable development programme of the European PVC industry. The segregated material is then recycled into new products, including horticultural tree ties.
Grundon is also now working with Steve to find solutions to recycle some hard to recycle medical plastic bottles from the Renal department.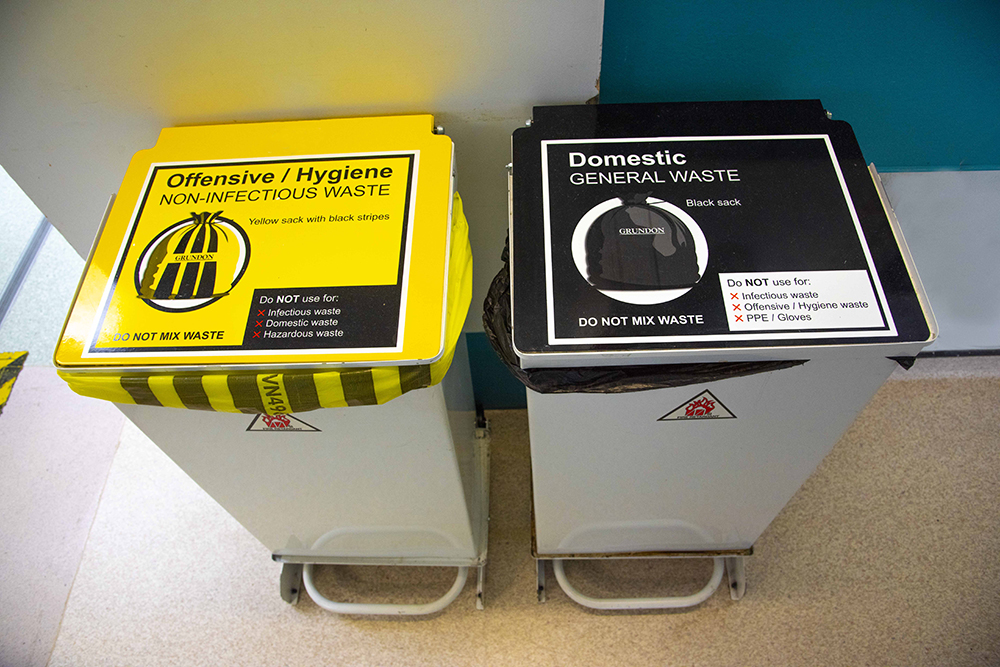 Offensive waste
Steve, who has responsibility for waste management throughout the Trust, has recently been working with Grundon to roll out a programme focusing on segregating offensive waste from clinical waste, and this has also delivered impressive financial savings.
Statistics show that the percentage of offensive waste sent to Energy from Waste in April 2016 was just 13%, whereas 12 months later in April 2017, it had risen to 29%, making a major contribution to the Trust's overall waste management savings of £5,300 a month.
In addition, by not taking the incineration route, carbon emissions are reduced.
Offensive waste includes incontinence pads, nappies, tissues, wipes, dressings and other items contaminated with bodily fluids from non-infectious sources, all of which can be segregated and disposed of in yellow and black 'tiger stripe' sacks, as opposed to the clinical waste and infectious waste sacks, which are yellow and orange respectively.
Because offensive waste is sent to Grundon's Energy from Waste facilities, this offers a much more cost-effective solution for the Trust. Clinical and infectious waste continues to be sent to Grundon's Alternative Treatment facility and/or its High Temperature Incinerator for energy recovery.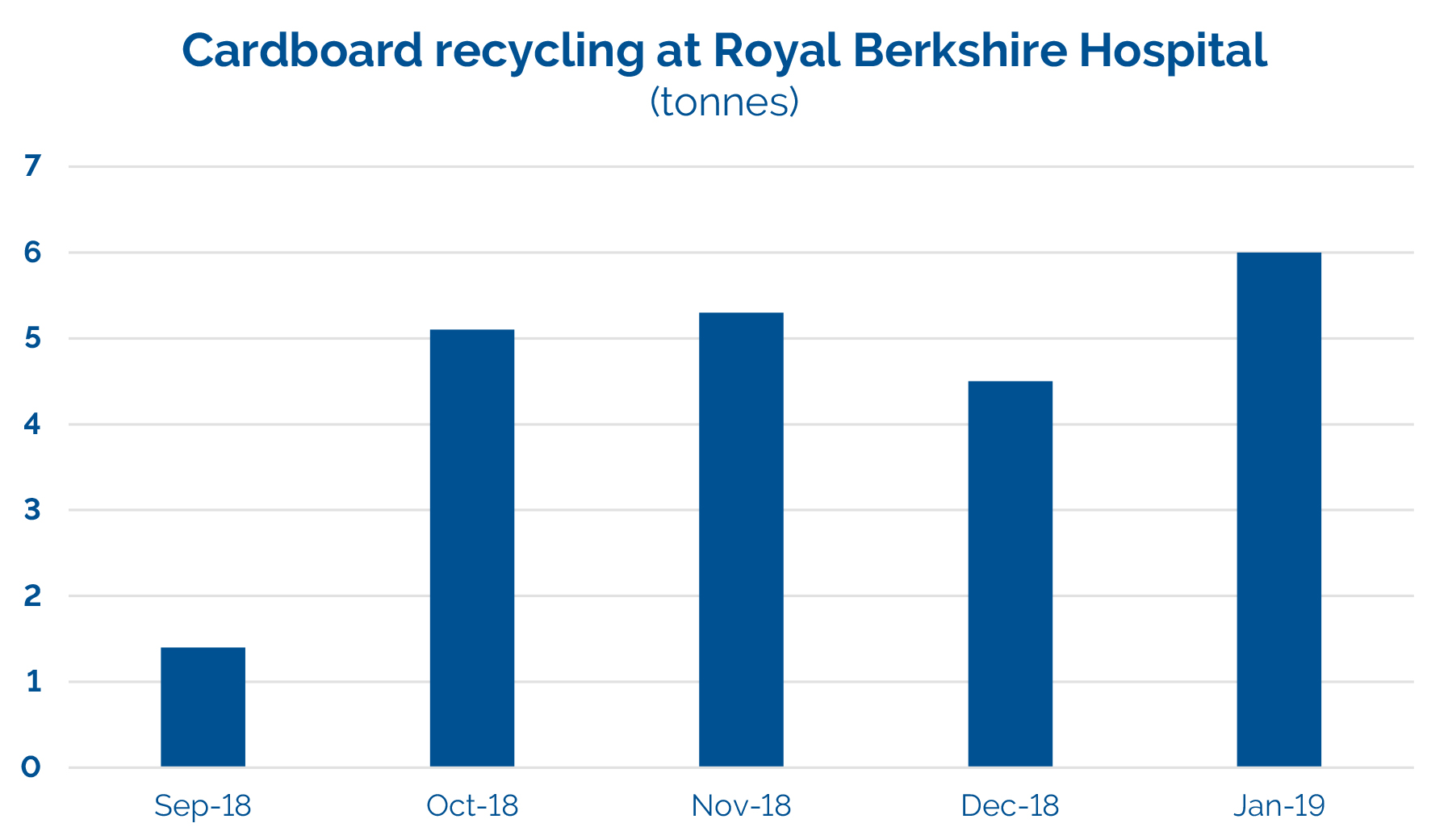 Cardboard recycling
In September 2018, a compactor audit revealed that, mainly due to the location of the cardboard skip, a lot of cardboard was still being put into the general waste compactor.
Grundon implemented a simple change of process to enable greater diversion of cardboard for recycling (see graph above) and as result, tonnage has increased by 400% from just under 1.5 tonnes collected in September 2018 to 6 tonnes in January 2019.
The weight of cardboard being collected for recycling has increased from an average of 1.3 tonnes in September 2018 to 5.7 tonnes by February 2019. As the cardboard is no longer sent to Energy from Waste, carbon emission savings of at least 2 tonnes per month are being achieved.
An added benefit of the increased cardboard segregation and collection is that RBH's general waste has been reduced by almost 10 tonnes per month. As a result, general waste collections have been reduced from three per week to just two, from April 2019.
Staff training and waste awareness
The need to boost staff training and awareness has been critical to the project's success.
"Engaging with our employees about recycling and segregation has been the most challenging element because historically, there has been limited choice when it comes to disposal," said Steve.
"Waste went in black, yellow, or orange bags, so it would be binned and go straight for incineration or alternative treatment. With the introduction of specific plastic item recycling and tiger stripe bags, disposal options have opened up both for recyclables and non-infectious clinical waste."
To help overcome any concerns, a Waste Awareness Day was organised by Steve and his team, together with Grundon. Held in the staff canteen in February, it proved successful in explaining how the offensive waste scheme works and led to 20 new Waste Watchers being signed up.
Adopting the 'KISS It Better' motto works well alongside the theme of Reduce It, Sort It, Bag It, Tag It, Bin It, Lock It – six simple words that Steve says encompass everything he aims to get across about sustainable, safe waste disposal and recycling.
Grundon has also helped by providing simple, easy-to-read signage for the different bins, helping everyone to quickly understand which items should go in which bins.
He continues: "The cost-savings that are already being achieved have been a big driver, but there also needs to be a level of ownership and responsibility amongst all our employees. People are used to recycling at home, but within a hospital environment they are more cautious about different waste streams and treatment options."
Steve says the approach has delivered dividends in terms of increased interest in recycling and cites one maternity ward staff member who went in on her day off to attend the Waste Awareness Day, because she wanted to find out if baby bottles used for new born babies could be recycled. It was, he says, an instant win because Grundon was straight away able to show that by segregating the baby bottles, they could now be recycled.
"Someone else wanted to recycle plastic spoons, but instead they decided to exchange plastic spoons for something more biodegradable instead, so now they will be using wooden stirrers," he adds.
"By recycling the PVC items from theatre, Lauren has been a star and her approach in getting her colleagues on board has been brilliant and our goal is to continue to put more systems in place to allow easier recycling wherever we can."
Steve says Grundon's CarbonNeutral® vehicles are also an added bonus as it means Grundon's collections avoid adding to the Trust's carbon emissions; while monthly waste reviews and statistics enable him to report regularly to senior managers.
He concludes: "I consider Grundon an asset because James and his colleagues are engaged with my services and in a position to give advice and help solve any waste problems and secondly, the fact that they handle all of our waste streams means it is so much simpler for me to manage the contract."
Paying tribute to the Trust's efforts, James added: "There have been some big challenges, not least the lack of space and, as Steve says, ensuring that we engage as many employees as possible in the drive to recycle more.
"Now, there is a really proactive approach and we will be building on that as we look to implement more waste and recycling ideas in the future."
Among those ideas is the potential introduction of Grundon's dedicated Paper Cup Recycling service. Thanks to its partnership with CupCyclingTM by James Cropper, one of the UK's leading cup recycling facilities, this enables the recycling of paper cups and for customers to buy back paper made from cups which have already been recycled.
In addition, the Grundon team is trying to engage with the Trust's Procurement team to source goods that can be easily recycled, rather than (for example) purchasing non-recyclable items such as polystyrene takeaway containers.