As a multi-use sports, events and hospitality complex, Stadium MK regularly attracts thousands of visitors.
Home to a wide variety of prestigious events and tournaments, this July it will be in the spotlight as it plays host to four matches in the UEFA Women's Euro 2022 – including an all-important semi-final – as well as concerts from bands including My Chemical Romance and Imagine Dragons.
However, between the football fans cheering on MK Dons Football Club; those attending events at the adjacent Marshall Arena; guests at the 300+ bedroom hotel DoubleTree by Hilton Milton Keynes, which surrounds the stadium; plus diners at the Marco Pierre White Steakhouse Bar & Grill, and local radio station and offices; the amount of waste created is huge.
Looking after the contract is Grundon Waste Management, which recently extended its partnership with the Stadium MK team by signing a new five-year contract for waste management services across the whole estate.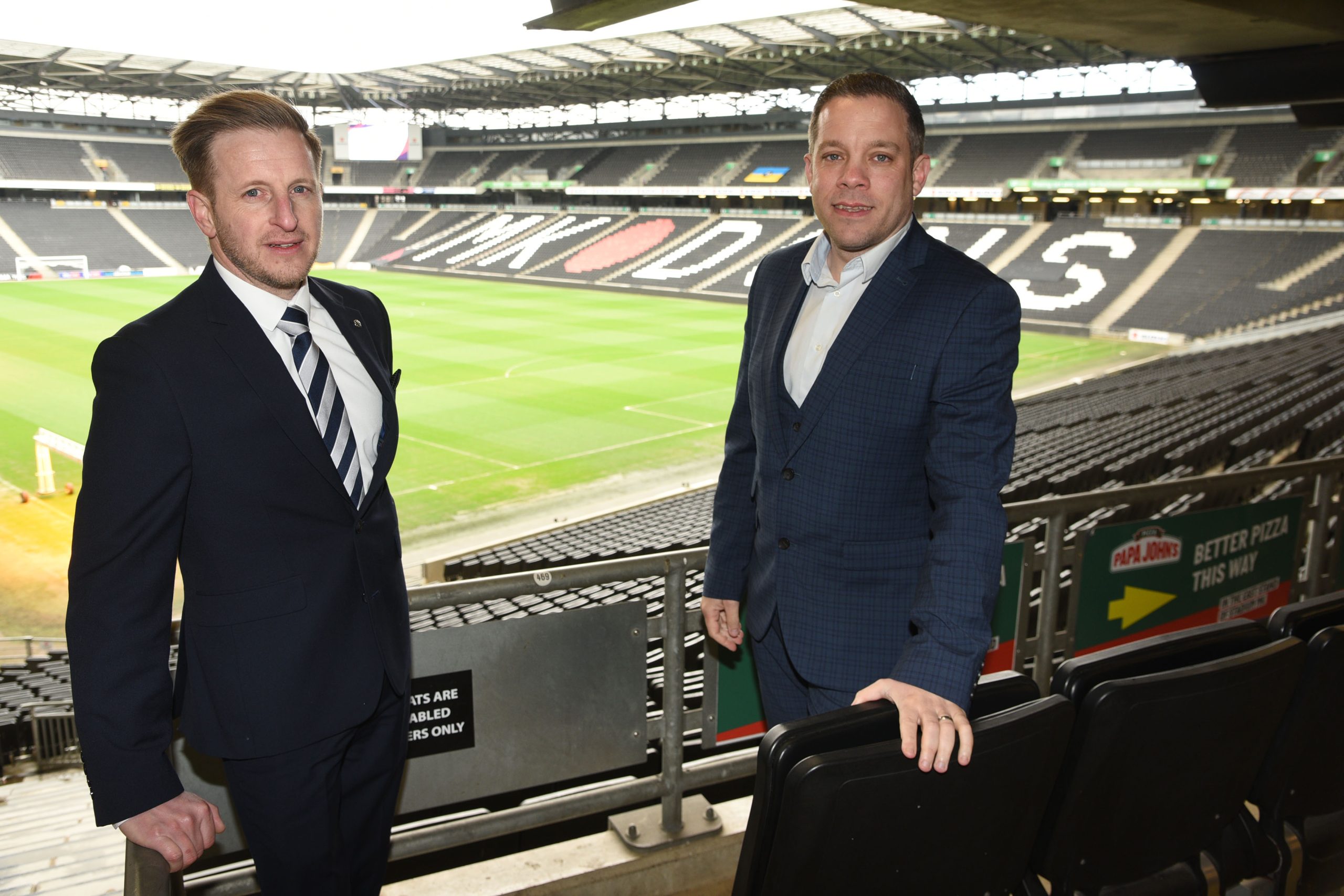 For Stadium MK's management team, a key priority is to manage that waste in a sustainable and compliant fashion; boosting recycling figures and reducing the carbon footprint, whilst ensuring 100% compliance with legislation.
Since the two organisations began working together in 2015, the Grundon team led by James Standen, has implemented a number of new ideas with results including:
Achieving zero waste to landfill
Cutting the carbon footprint
Estimated 20% savings on general waste collections
Generating green electricity for export to the National Grid
Introducing a dedicated food waste collection service
Adding a new hazardous waste collection service
Installing two new, larger compactors
Reduced the number of waste collections and vehicle movements
Installed new colour-coded waste bins in offices and outside concourses
The relationship between the two organisations began back in 2015, when Grundon stepped in at the last minute to provide 25 general waste bins to help Stadium MK manage the influx of waste from visitors attending the Rugby World Cup games it was hosting.
James explains: "I had already been in touch with the Stadium MK team to see if they needed any waste management services and, although at the time they didn't, when a previous supplier let them down, they called us and within 24 hours we gave them exactly what they needed.
"The relationship has grown from there – we started with the hotel and the football stadium and when the Marshall Arena was completed, we took over waste for there too. One of the most important things for the management team is that they have just one point of contact.
"That means whatever their waste issue – whether it's providing extra collections, giving them additional bins or advice on how to introduce new waste streams – they know they can rely on us to provide a good service, to be flexible and to come up with new ideas to continue to help them achieve their sustainability goals.
"Right from the start we could see there were opportunities to implement changes that would help them reach their recycling targets quicker and provide a much more sustainable approach to waste management," he continued.
"One of their goals was zero waste to landfill and we were able to achieve that by installing the larger compactors, which in turn also cut down on vehicle movements and reduced their carbon footprint, as well as saving money, so they were very pleased."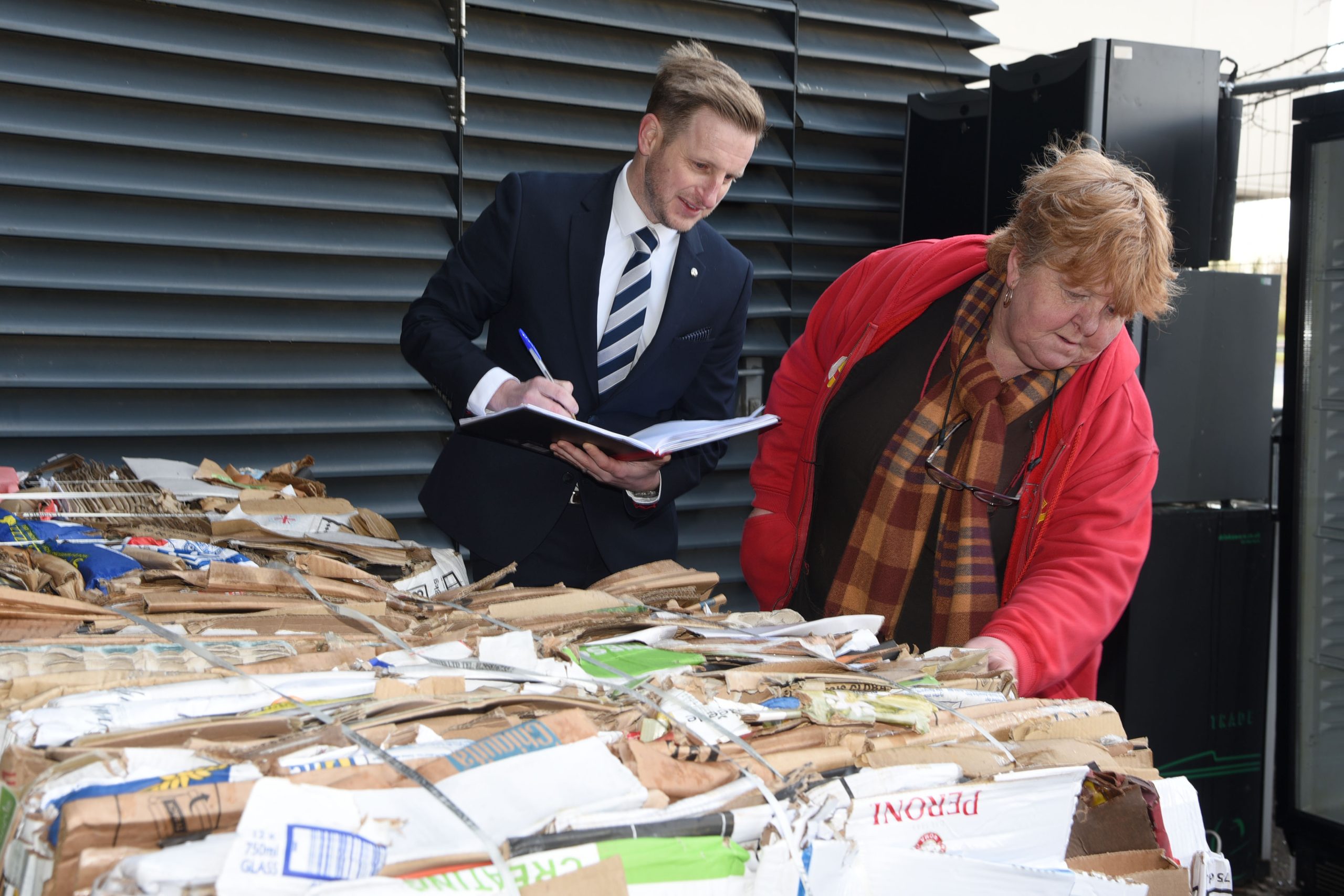 Benefits and data
Debbie Nedley, Stadium MK's Head of Cleaning, says flexibility of collections – especially being able to scale services up or down around major sporting and music events – and having one point of contact with James are just two of the major benefits of working with Grundon.
"I'm proud of what we've achieved here so far, especially the fact that we now recycle so many different waste streams," she said. "Achieving zero waste to landfill was very important to us and we're continuing to work hard to increase our recycling rates.
"We have a really good relationship, I know I can pick up the phone to James and he will be there to help me and make things easier. Whenever I see the compactors are full or we have enough cardboard bales to collect, I call and they are usually here within a day, whereas previously it would take much longer.
"What really helps is having easy access to the data that Grundon provides, it means we can see where all the waste is going, and we discuss as a team what more needs to be done. For example, do we need more waste containers, do we need more collections – we're always looking at ways to improve and Grundon really help us."
Stadium MK's relationship with the wider Milton Keynes community is also really important and Debbie says having statistics to hand helps to further reduce the impact it has on both the local environment and the wider community.
"Outstanding service"
Debbie's comments were echoed by Stadium MK Group Operations Director, Nielsen Stead, who said that Grundon has demonstrated competitive pricing whilst delivering against the Service Level Agreement.
"Grundon has been a great partner to Stadium MK and has provided us with outstanding service levels for all our events and day to day waste management," he said. "We have never been let down by Grundon over the near six-year partnership and it has been a pleasure to see their happy and helpful service team at Stadium MK."
Compliance
Another important part of Grundon's service is advising the Stadium MK team on how to stay compliant with waste regulations. This is especially important when it comes to hazardous waste and WEEE (Waste Electrical and Electronic Equipment), which together range from batteries, aerosols and chemicals; to light bulbs and unwanted fridges and freezers. Larger items are collected by arrangement.
To help, Grundon has installed its Haz-Box containers which are small enough to fit inside a cupboard or under a table and provide the ideal place to store hazardous waste until there is enough to be collected.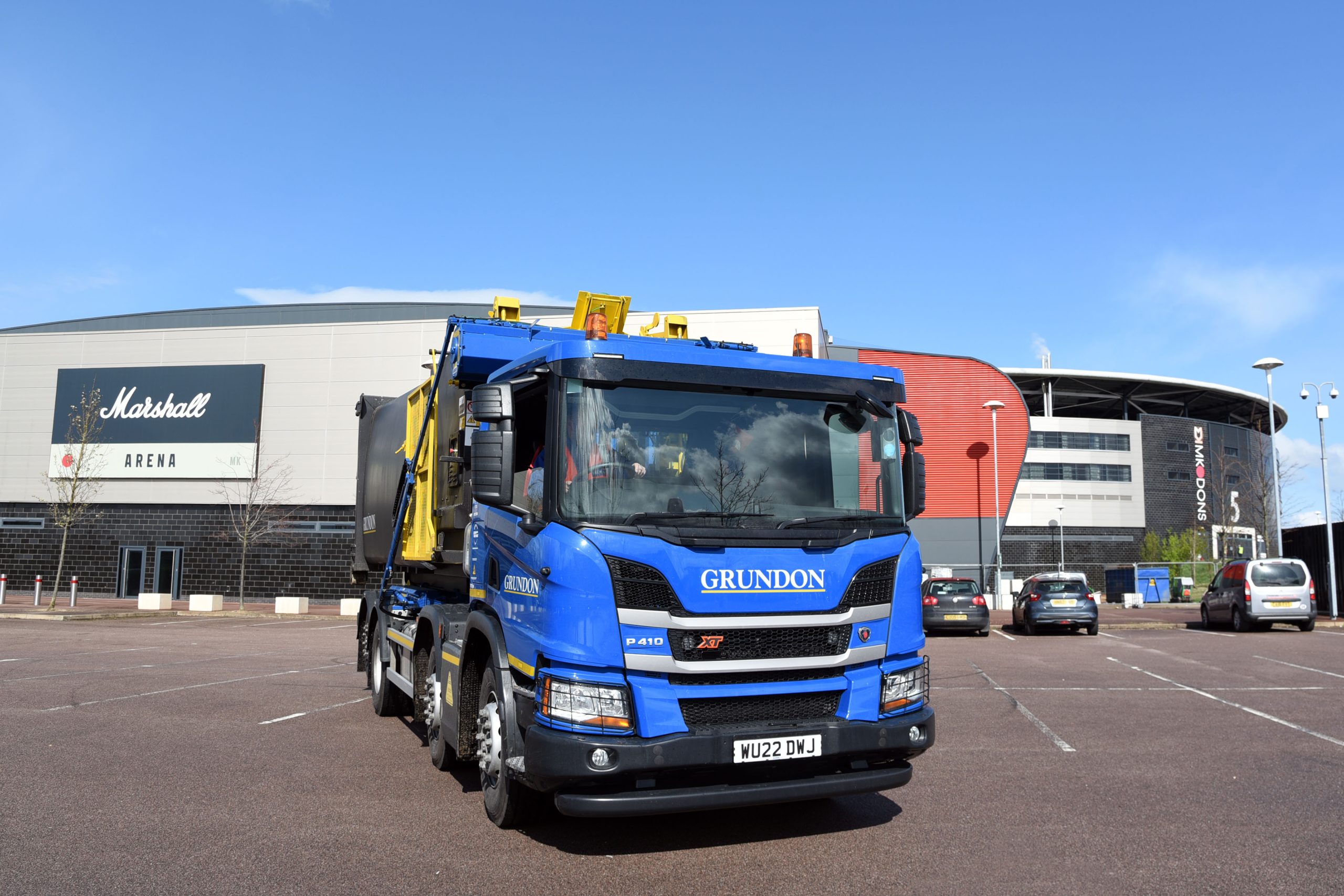 Results
The provision of monthly certification documents enables Stadium MK to demonstrate clear evidence of its approach towards responsible waste management, while annual waste statements show how overall improvements are being made year-on-year.
Although the recent pandemic and cancellation of events and activities make annual comparisons between different waste streams more difficult, figures show the results are clearly heading in the right direction.
The amount of glass recycled from the hotel and bars (no glass is allowed on the stadium concourse) rose steeply from January's 2021 total of 0.6 tonnes to nearly 2.9 tonnes by November 2021 – a figure that continues to increase steadily as the hospitality sector returns to 'normal' capacity.
The baling of paper and cardboard has started to make a big difference too. Grundon's flexible service means bales are only collected and sent for reprocessing when there are enough to make the journey worthwhile. Current collections are usually at least a tonne of paper and cardboard, and these are slowly increasing to the pre-pandemic levels of around three tonnes.
Savings of around 20% on the cost of general waste collections have been achieved, simply by segregating out food waste from general waste. Whereas previously, food waste went into the general waste compactor, it now goes into kitchen caddies which have been installed in the hotel, arena and stadium restaurants, bars and concourse kitchens.
The 120 litre food waste bins fit neatly into the kitchen areas and have clip top lids to avoid any spillage. Their size makes them easy for kitchen staff to move to the central waste collection area where it is swopped for an empty one.
All the food waste bins collected by Grundon every Tuesday and Friday are weighed, providing vital information about how much food is being thrown away.
The savings are achieved because segregated food waste is up to five times cheaper to dispose of per kilo than general waste, with the added benefit that it is sent to anaerobic digestion facilities where it is processed to generate green electricity and bio-fertiliser.
Figures show that segregated food waste collected in November 2020 was 0.8 tonnes, but by November 2021, the figure had risen to just short of three tonnes – roughly the monthly average which Grundon has been seeing since it first introduced the service.
A further benefit since Grundon took over operations has been the arrival of new general waste compactors – one installed straight away in 2016 and the second the following year. Both have an LCD panel to show when they are full, whereas previously operatives had to estimate the remaining space by tapping on the side.
One of the biggest achievements has been the diversion of general waste from landfill to Energy from Waste facilities, where it generates electricity for the National Grid. In 2018 alone, this process generated over 160KWh of power, saving 101,480 kgs of CO2 and saving the equivalent of planting 887 trees.
Looking ahead
James regularly meets with Debbie to review the latest statistics and targets and she in turn discusses these with Nielsen.
One of the current goals is to introduce recyclable paper drinks cups for stadium visitors – a project that the Grundon team is currently advising on, and to look at ways of recycling cardboard pizza boxes from the recently opened Papa John's operation in the East Stand.
Debbie concludes: "We're setting new goals for 2025, by which time we hope to have increased our recycling rate to 50% and with James' help, we're well on the way."
Nielsen added: "With more concerts and events set to return in 2022, it's exciting and reassuring to know that the successful partnership with Grundon will help in sustainably managing the waste of Stadium MK going forward.
"Grundon has been a great partner to Stadium MK and has provided us with outstanding service levels for all our events and day-to-day waste management. It has been a pleasure to see their happy and helpful service team at Stadium MK."