Anyone visiting a hospital from today (Monday 15 June) must wear a face covering while they are there. That means all staff, outpatients, visitors and contractors – although the type of face mask required will vary. Phil Steer, Commercial Manager – Clinical, at Grundon Waste Management, offers expert advice on how (and when) those face coverings should be disposed of.
The news that face coverings will be mandatory for all hospital employees and visitors from Monday has the potential to create confusion in terms of correct disposal of this type of PPE (Personal Protective Equipment).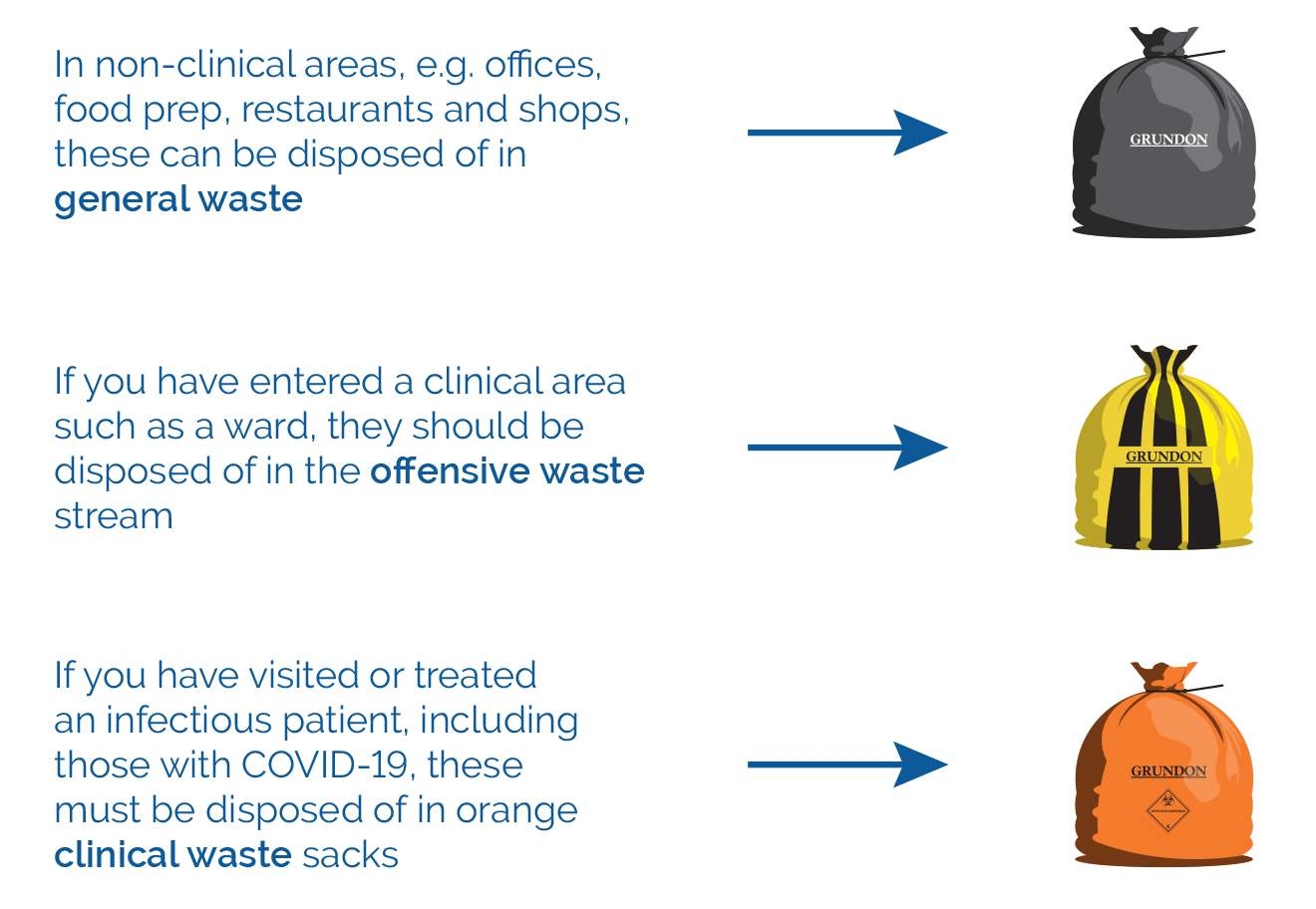 The most important thing to recognise is that unless an individual is wearing a mask, they will not be allowed into the building in the first place. People will not be denied care, if necessary, Trusts will provide face coverings to those who arrive 'unmasked'.
Anyone arriving on public transport should already be wearing a face covering (as they will also be mandatory from 15 June), but those arriving by car or under their own steam, must put one on before entering.
Some entrances and exits will be locked, as hospitals are limiting access points so they can make sure everyone is wearing a mask before going in.
If arriving at hospital with their own face covering, outpatients and visitors must wear it for the duration of their visit. It is then expected that they would continue to wear the face mask until they get home where, if it is disposable, the mask can be placed in their black general waste bag.
Outpatients and visitors are only required to wear a face covering, not a surgical face mask. Reusable masks or coverings that can be popped in the washing machine are ideal and help prevent waste.
When exiting the hospital, if the person does not wish to wear the face mask home, we have advised hospitals to locate dedicated bins at all exit points that are clearly marked 'Face Coverings Only'.
Using these bins means the face coverings/masks can be sent for energy recovery, for example at our Energy from Waste (EfW) facilities.
Healthcare workers, other employees or contractors arriving on site should also already be prepared and by now, most will likely already wear their own face coverings. How they dispose of these items will depend on the job they do, as our guidance explains.
We know from our work with healthcare Trusts that they are doing their very best to help make the situation run as smoothly and safely as possible. Some have brought in the aptly-named 'mask marshals' to check that masks are being worn and are correctly fitted.
Correct disposal is important however, because unless the individual is working in, or has visited, a Covid-19 secure area or is dealing with other infectious patients, then face coverings do not need to be disposed of as clinical waste.
To do so will add to a Trust's waste management costs (disposal of clinical waste is more expensive than general waste) and is totally unnecessary.
As experts in all types of healthcare and clinical waste, we understand it can be tricky to work out what is best, which is why we've issued the following guidance.
Hospital staff
Hospital staff now have to wear surgical masks at all times during their working day, however, where they work depends on the most suitable method for disposal.
When any member of staff leaves the hospital, they should remove and dispose of their surgical masks in the dedicated exit bins and switch to resuable face coverings for their journey home to prevent encouraging the general public to follow suit and wear surgical masks. This ensures that surgical masks will be reserved for NHS staff and other key workers who need them most.
Non-clinical staff working in non-healthcare areas

In the office, kitchen or other non-clinical environment, if a mask needs to be replaced during the working day, the old mask can be disposed of in general waste/black bin bags.
When finished for the day, if the mask is no longer required it should be placed in one of the dedicated exit bins.

Staff working in a clinical, yet non-infectious environment

If a mask needs replacing during the working day, the old mask should go in the offensive waste bin/tiger stripe sack.
When finished for the day, the mask should be placed in one of the dedicated exit bins.
Staff working in Covid-19 wards and critical care areas where infections are present

These must be disposed of in a clinical waste/orange bag.
General public
Members of the general public who enter a clinical area, such as visiting a patient on a ward/attending an outpatient appointment etc

If no longer required, as they leave the hospital, they should deposit the face covering in one of the dedicated bins.
If wearing the mask home, they can dispose of it in the general waste/black bin bag.
Covid-19 visits

Most (if not all) Trusts are not allowing visitors to Covid-19 or surgical care wards, but where patients are nearing the end of their life and visitors are allowed, then those visitors should dispose of their face masks in a clinical waste/orange bin bag before they leave the ward and replace it with a face covering.
For advise on PPE disposal methods, please call 01628 501 591 or email clinical@grundon.com
Back to news