Grundon Waste Management is supporting FareShare South West with a team of volunteers and a new waste disposal contract to help at a vital time for the charity.
With a focus on supporting local charities and community initiatives, Grundon's south west team has committed to 160 hours volunteering for FareShare South West, which equivalates to 20 days, throughout the challenging winter months.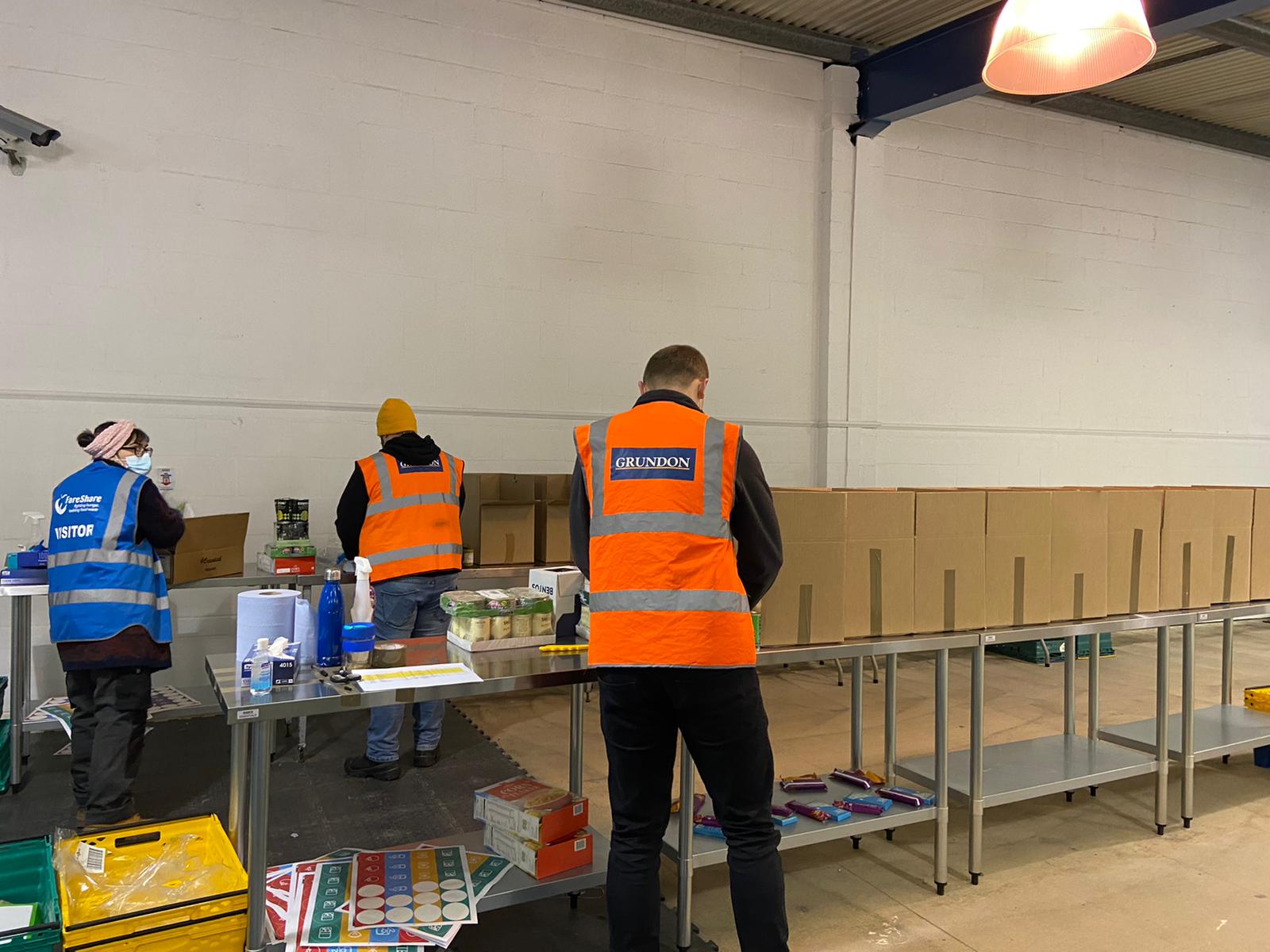 FareShare South West is an independent part of the national charity FareShare. They are the South West's largest food redistribution charity and save hundreds of tonnes of surplus food from the food supply chain, redistributing it to over 300 schools, charities, and community groups across the region.
In response to the soaring need caused by the COVID19 crisis, the charity has been using an additional warehouse space by Ashton Gate stadium, which has allowed them to run their FoodStock 2020 operation – a campaign which has seen extra food for over 1 million meals reach frontline partners in just the three months from November – January. This emergency operation is now set to continue until the end of March.
To help FareShare South West continue its emergency response to the pandemic, Grundon employees have helped to fill the many volunteering shifts required to keep the charity meeting the increased demand across the region.
As part of their volunteering, the Grundon team has helped to lay rubber tiles for the new mezzanine floor at the warehouse, creating extra storage space for packing parcels for those that need food across the difficult winter months. In total, Grundon will complete 160 hours volunteering and volunteers will also pack food parcels ready for them to be distributed to the local community.
As well as completing volunteering days the waste management company is currently collecting recyclable and non-recyclable waste from two FareShare South West Bristol sites.
Daniel Peacey, Regional Sales Manager for the South West at Grundon said; "We want to support our community and the great charities in the SW to make a positive impact in the local area. The work that FareShare South West undertakes to combat food poverty has been even more critical during the current pandemic, and so we wanted to contribute to the brilliant work that they undertake."
Simon Jarvis, Head of Operations at FareShare South West added; "Because of the lockdown many more families and individuals are finding themselves in tough circumstances, and demand for our food has skyrocketed. We are incredibly grateful for the volunteers and organisations, like Grundon, that are helping us to deliver food to those most in need.
"These are tough times for everyone and it's so heartening to see the community and local businesses pull together to support other local businesses and get food out to people who need it during this crisis."