With WRAP's Food Waste Action Week (7-13 March 2022) right around the corner, Grundon's Jack Yarrow draws on his own experiences as he shares advice to help the hospitality sector reduce food waste and save money.
Putting the focus on improving sustainability and ensuring compliance, Jack suggests a menu of activities that will make a real difference.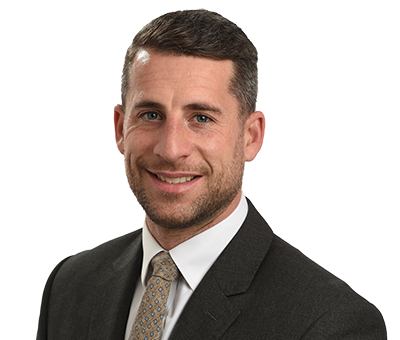 The impact of the pandemic has seen the toughest of times for the hospitality industry. As the UK returns to something like normality, it's pleasing to see people returning to eating out again in their favourite pubs and restaurants.
All this comes however, against a backdrop of rising food prices, supply chain challenges and an ongoing shortage of staff willing to work the long hours often required. Tight margins are a given in the industry, yet there is one way the hospitality sector can save a significant amount of money every day – by better managing its food waste.
It's a topic the Government is keen to tackle too, driven by both a need to increase awareness of the environmental consequences of food waste and reduce it at source.
Come 2023/24, new legislation is set to be introduced which will require businesses producing over 5kg of food waste per week to introduce mandatory separate food waste collections. The target is to achieve a 65% recycling rate by 2035 but, by making changes now, we believe we can help hospitality establishments get ahead of the curve.
Having just spent time helping in a family-owned restaurant, I've gained first-hand insight into how making small, incremental changes can help deliver real benefits – both financial and environmental.
Taking control
When it comes to food waste there is one area where you can really take control.
In the food preparation area of the kitchen there is no excuse for not having a dedicated food waste bin for items such as vegetable and fruit peelings, eggshells and other products that go into all the fabulous recipes.
We recommend a dedicated food caddy for the bulk of preparation waste, which can then be decanted into a larger external food waste bin for easy collection.
Portion sizes
The biggest surprise for me was just how much food is left on diners' plates at the end of a meal. An estimated 80% of the food waste I was seeing was scrapings from plates returned to the kitchen.
It certainly wasn't down to quality – the restaurant has an excellent reputation – rather it was the enthusiasm of the chef in sending out a plate of delicious food that was, perhaps, piled a little too high for some diners' appetites.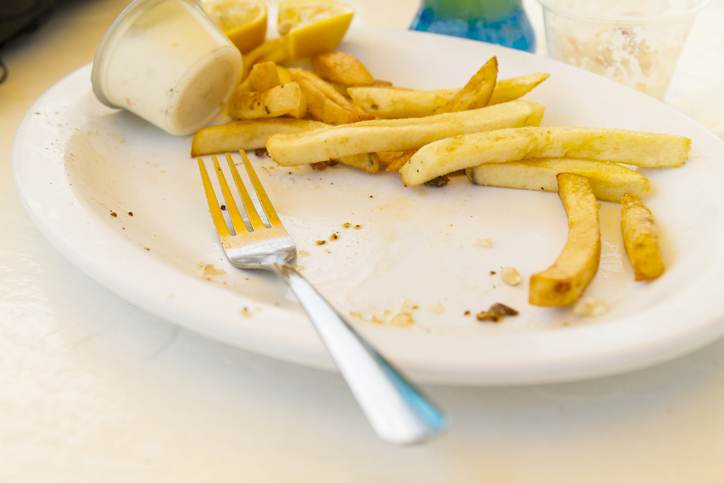 Measure and manage
One way to address food waste is through technology. Providing it is correctly segregated, we can weigh the amount of food waste being thrown away – a valuable tool which enables restaurant owners to measure wastage.
That helps them work with chefs to manage portion control, as well as tracking the popularity (or otherwise) of some of the dishes on the menu. And understanding about food waste also helps to reduce the return of those plate 'extras' – the unexpected garnish or the ubiquitous side salad that seem to appear on every plate.
According to WRAP's Guardians of Grub* campaign, on average, 18% of the food purchased by the UK Hospitality and Food Service sector is being thrown away. Wasted food costs the industry £3.2 billion a year and 75% of the more than one million tonnes of food waste thrown away could have been eaten.
I rest my case.
Don't waste it
On the point of throwing away perfectly edible food, that really should be a last resort.
One great option is to offer any unwanted food to local food banks or other charities who help feed those who need some extra support.
We'd like to see more restaurants offer 'doggy bags' to diners who can't finish their meal – granted it won't work with some dishes, but many people may welcome the chance to take home a meal they can't quite finish.
Similarly, let's not pretend that everyone has a massive appetite – we're used to seeing child's portions on the menu, why not just offer 'half-size' portions to anyone who wants it.
Separating plate scrapings
I'm told that an estimated 90% of places don't segregate food waste plate scrapings, largely because it is seen as 'too difficult'.
How many times have we all finished our meals and piled all the 'waste' onto the plate ready for collection by the waiter or waitress?
The plastic butter containers or foil wraps; the little net that some establishments insist on putting round a lemon; the napkin stuffed in the glass…
Managing food waste better is all about keeping it segregated from other waste, not something that can happen if it is mixed up with other non-food items by the time it arrives in the kitchen.
Left alone, plate scrapings can (and should) be directed into a separate food waste caddy which can then be decanted into a larger food waste bin.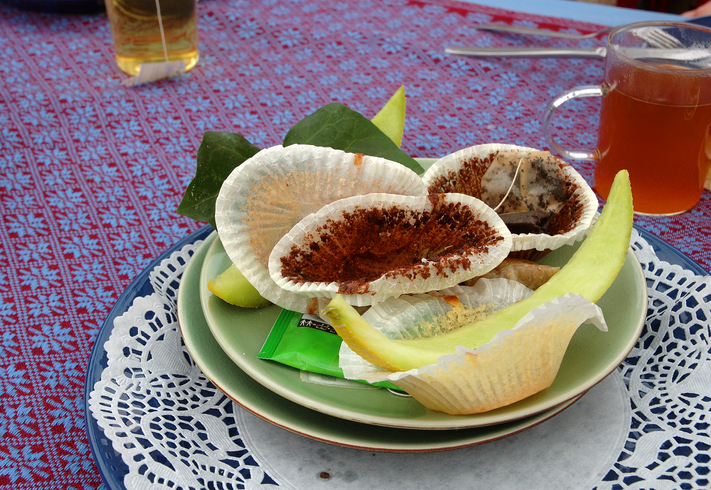 Why it's important to segregate food waste from general waste
In many kitchens, food waste goes straight into a general waste bin. There are several reasons why this is not a good idea:
Food waste is traditionally very heavy. This adds to the cost of disposal and makes the bins heavier to move
The cost of disposing of general waste is generally 5 x more expensive than disposing of food waste
If correctly segregated, food waste can be sent to Anaerobic Digestion facilities where it is produces renewable energy and a nutrient-rich biofertiliser – making it a more sustainable solution than general waste disposal
Practical solutions for all kitchens
I know from my time in the restaurant that fast-service is a priority – diners need quality food served to their table with a smile.
It's a highly-pressurised environment, chefs and their teams are focused on the food; while waiting staff have to clear and turn tables, get the plates in the dishwasher and back out again as soon as possible.
For some establishments, adding food waste segregation into the mix may seem like a tall order. I've often heard that it would take too long to sort out different types of waste into different bins.
Actually, it doesn't – with the right systems in place, it can be very simple and we regularly help customers by undertaking a kitchen audit, using the benefit of our experience to maximise opportunities.
Education and labelling
In an ideal world, we would suggest every restaurant introduce new food waste bins, but we recognise that when budgets and space are tight, it may not be possible.
While we offer a range of bins, we can also advise hospitality customers on how to make the most of the bins they already have.
For example, they may have two existing bins for general waste – something as simple as labelling them Food Waste Only and General Waste Only can start to make a difference.
For those who do want to invest, we offer a range of bins; from smaller food caddies with disposable bin liners to our 120 litre food waste bins. These are designed to fit under-the-counter in the kitchen and food preparation areas and come with clip down, non-spill lids, and these don't need liners or bags as they have rounded bottoms for easy cleaning and maintaining hygiene and are easy to manoeuvre.
We also offer 30 or 60 litre pedal bins and, for smaller establishments, there are 'slim jim' bins, ideal for leftover pastries and cakes, teabags and coffee granules.
It can be useful to have separate bins close to storage areas, such as dry goods cupboards, chillers or freezers – if these are monitored and weighed separately, it can be an excellent guide to help manage stock control levels and avoid future over-ordering.
Plus, our bin exchange service** means when your bin is full, we'll take it away and replace it with a fully-sanitised clean bin.
Grab that glass
And while we're on the topic of hospitality waste, it would be remiss of me not to suggest the benefits of segregating glass from general waste too. Bottles, glass jars, cracked glasses – these can all be recycled or reprocessed – and you don't even need to separate them out into different colours, we take care of that too.
Many hospitality outlets benefit from having a separate glass collection service as it delivers both financial and environmental benefits, helping reduce the cost of general waste collections and diverting waste from landfill too.
Saving pounds and saving the environment
Reducing food waste and improving glass recycling is better for everyone. It's better for the hospitality sector's bottom line and it's better for the planet.
Isn't that food for thought…
**Bin exchange service applies to 120 litre bins only
Back to news