Headquartered in East Grinstead, fulfilment, warehousing and logistics specialist ILG operates a network of warehouse operations across West Sussex.
The company picks, packs and ships items for businesses worldwide, sending thousands of parcels daily to businesses and consumers.
Hand-in-hand with that comes the need to recycle large amounts of cardboard and plastic packaging, as ILG's teams first de-package large shipments and then repackage products en route to their final destination.
On average, ILG produces four tonnes of cardboard every week and now, thanks to a partnership with Grundon Waste Management, at least 90% of it is baled and sent for reprocessing, earning a rebate fee for ILG as well as underlining the company's green credentials.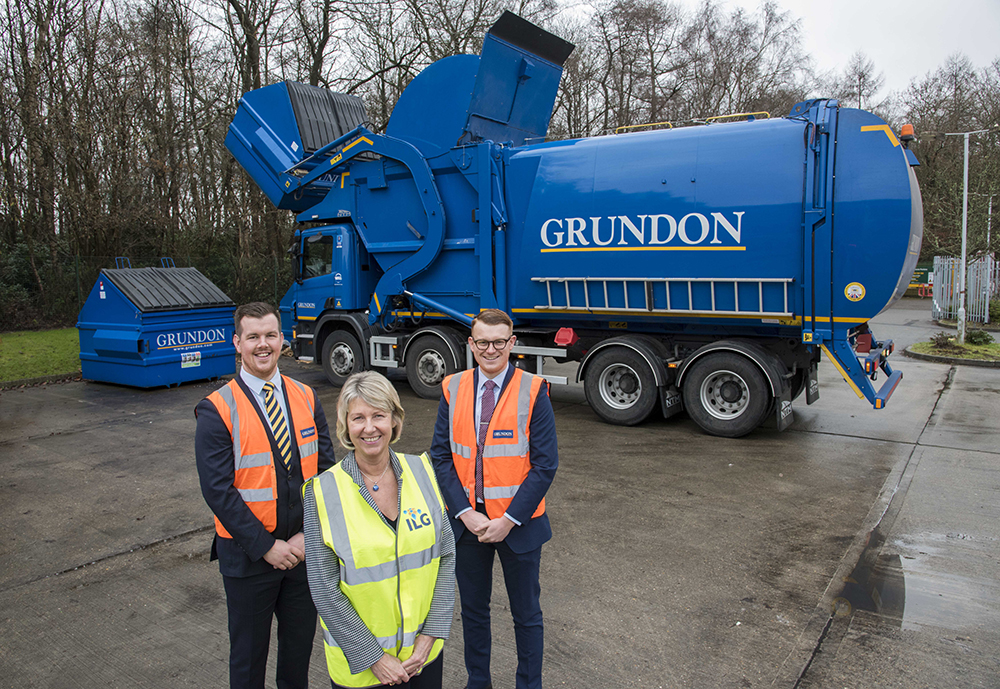 Grundon started working with ILG in October 2016 when it installed the first baler, and in November 2017, it took over the whole waste contract. This means the waste and recycling specialist also handles ILG's other waste streams, including mixed recycling, confidential waste, hazardous waste and general waste, guaranteeing 100% diversion from landfill.
With clients including Olivia Burton, Self Portrait and Charlotte Tilbury, Jane Middlemiss, ILG's Director of Organisational Development, says having a strong environmental approach is important.
"Our clients rely on us to handle their e-commerce fulfilment and warehouse operations. It's important to show we manage waste and recycling in a responsible manner, as this helps them to fulfil their environmental targets as well," she said.
"We worked closely with Grundon's Andy Piasko, who visited all our sites to consider the different requirements for sizes and types of containers, making sure that we had the best solutions for our business."
The Grundon partnership began after a chance meeting at an industry trade show in 2016.
Helen Nichols, ILG's Facilities Manager, picks up the story: "We only had one baler from our previous supplier and we kept having problems with it, so I asked Grundon if they could help and our relationship has grown from there.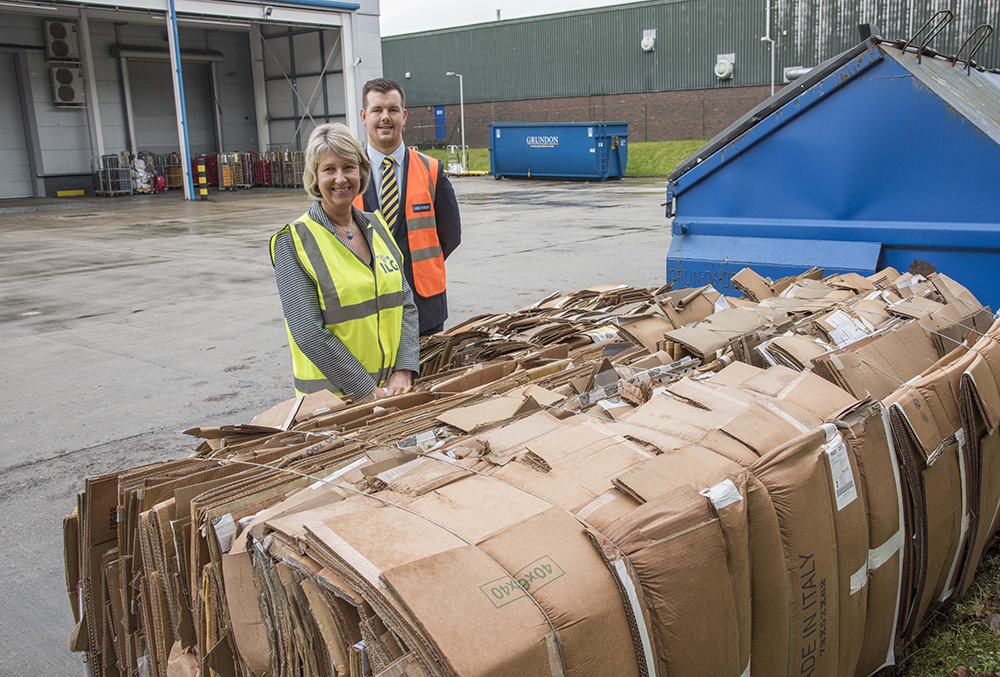 "Grundon now looks after all our waste and give us great customer service, I know that whatever I need I can pick up the phone and someone will deal with it, and they also provide reports and statistics which help us and our clients."
Mixed recycling – mainly paper, plastics and cans – goes to Grundon's Materials Recycling Facilities (MRFs) and Andy explains that with an emphasis on quality not quantity, Grundon operates strict recycling rules.
This means items such as shiny labels and bubble wrap which may previously have been sent to MRFs, are now diverted to Grundon's own Energy from Waste (EfW) facilities, where they generate electricity for export to the National Grid.
Andy Piasko says highlighting the segregation of different waste streams has been one of the biggest achievements.
"We recognised there were issues with correct segregation and contamination in some containers, so we undertook a detailed education campaign to help everyone understand why this is necessary," he said.
"The personal touch has been very important to the ILG team and they liked the fact we were able to provide training and support, as well as having both a positive financial impact on the cost of their waste disposal and delivering environmental improvements."
Activities included inviting Helen to visit Grundon's MRF facilities and organising Waste Awareness Days for ILG employees, where Andy and his team talked about the benefits of good waste management practice and handed out literature and giveaways.
All waste containers now have clear signage highlighting which items go where, and Grundon has also replaced under-desk bins in the offices with internal bin stations.
Helen says the time Andy has taken to explain the benefits of segregation and recycling to employees has been really important: "We have quite a young workforce who are used to recycling at home and therefore they assumed the same items could go into recycling bins here. When Andy explained some things are different in a commercial setting, they were 100% on board with it.
"When we took away the desk bins it didn't go down particularly well to start with, but now they are used to it, the system is going really well and the knowledge that we are not sending anything to landfill is a positive thing to tell current and future clients."
Grundon also provides support for ILG's team of recycling experts in the warehouses, including training the 13 caretakers and cleaners that ILG employs through the Aldingbourne Trust, a charity that supports people with learning disabilities and / or autism to live independent lives.
Jane explained: "Each of our warehouses has a caretaker who helps bale the cardboard and keep the warehouses clean. They often require additional training and if it wasn't for the support given by Grundon and the engineers who look after the balers, then it would be much more difficult for us to provide supported employment.,
Pre-Grundon, ILG had only one cardboard baler, instead putting cardboard into Front End Loader (FEL) containers which had to be emptied multiple times a week. Now balers are installed at all but one location, dramatically reducing vehicle movements and delivering bigger rebates for ILG, who previously had to pay for cardboard disposal.
Helen said: "We produce a huge amount of cardboard and before it took up huge amounts of space, I had to have the FELs emptied every day, which was expensive and also impacted on our corporate social responsibility credentials because we had big lorries going in and out daily. Now we have weekly collections and it is much better in terms of reduced vehicle movements."
Because all Grundon's waste collection vehicles are certified CarbonNeutral® its collections do not add to customers' carbon footprint.
Grundon has also installed new FEL containers across six ILG locations for both mixed recycling and general waste, as well as managing confidential waste through its partner Shred Station, and taking care of wood waste at some units.
Regular statistics are provided by Grundon, enabling ILG to see where improvements have been made and check on environmental benefits, such as the number of trees saved and CO2 emissions reduced, and to give a benchmark for ongoing improvements in future years.
These show that in the first 12 months of the contract there have been:
817 trees saved
52,960 CO2 saved
74.37 MWh power generated
In conclusion, Helen said: "Sometimes I have one-off requests from customers, for example to dispose of out-of-date items; or it may be that popular events such as Black Friday mean we see real peaks in business. I know that I can pick up the phone to Grundon and additional collections can be arranged within two days.
"Grundon might not have been the cheapest when we went to tender, but the money we saved with our previous supplier was wasted because of the time it took to chase them to get results. I know that whatever I need, it will be dealt with, and that's very important to us. It really is almost like a one-stop shop."
Back to news