Grundon drinks to the launch of its new paper cup recycling service
Grundon Waste Management has launched a dedicated Paper Cup Recycling service aimed at helping to tackle the 'mountain' of 2.5 billion cups consumed annually in the UK.
With the cost of the service tailored around the frequency of customer collections and the number of cups to be recycled, rather than membership fees; Grundon also guarantees that all its collections are certified CarbonNeutral®.
And, thanks to a new partnership with CupCycling™ by James Cropper, one of the UK's leading cup recycling facilities, customers will be able to buy back paper made from cups which have already been recycled.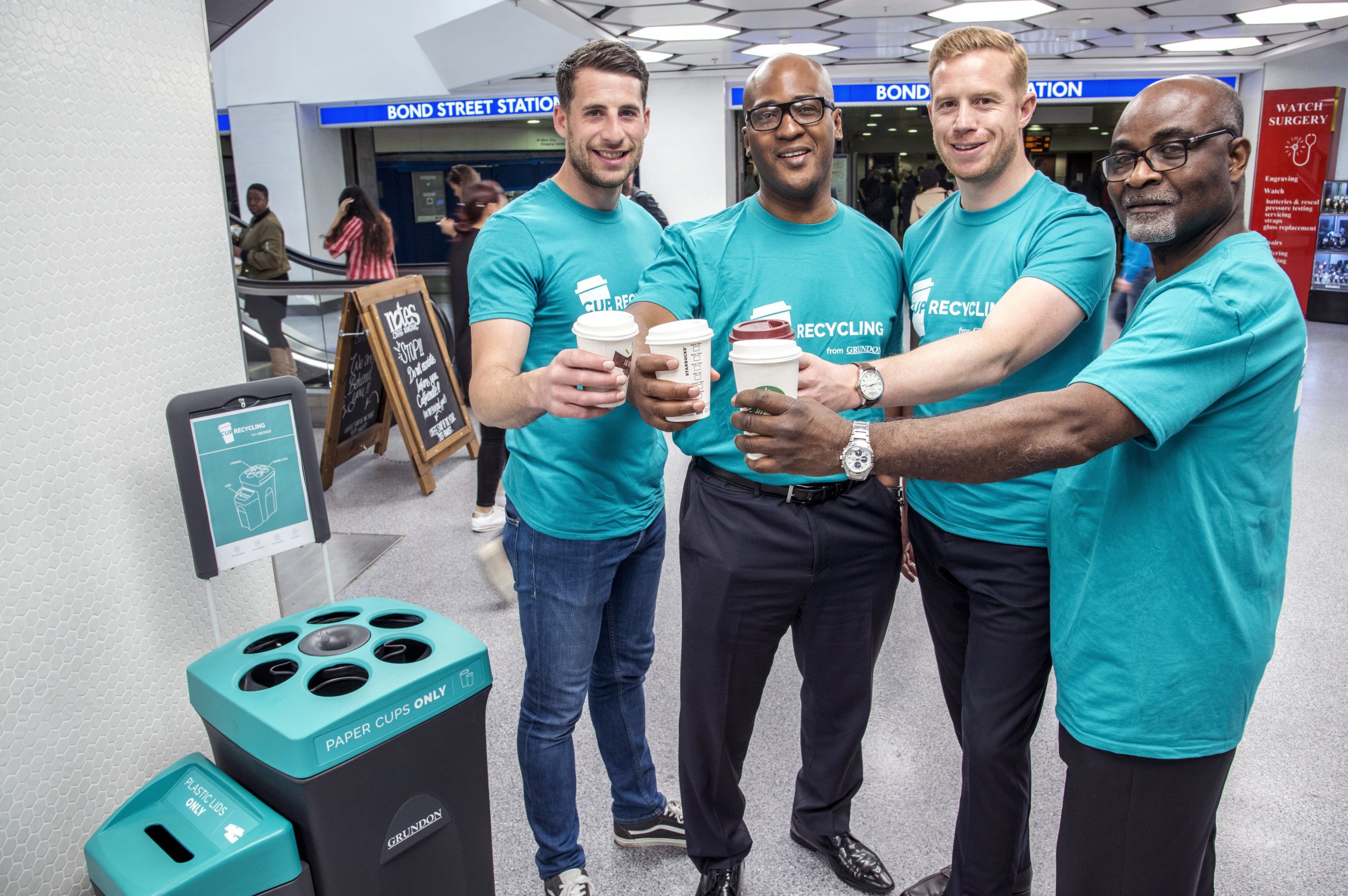 Grundon Director Bradley Smith, a member of the Executive Board of the Paper Cup Recycling & Recovery Group (PCRRG), says the move is an important one for the market.
"Finding the right solution for recycling paper cups has been high on Grundon's agenda for some time and we're confident this new service, which guarantees 100% recycling, provides the most flexible and sustainable offering available today," he said.
"This is a win-win from both an environmental and financial perspective and we see this as appealing to a wide range of businesses and organisations who use disposable paper cups.
"We also know customers like the fact our fleet is certified CarbonNeutral®, which means our collections won't impact on their carbon footprint. This, combined with the fact they have the option to purchase recycled paper products made from paper cups, provides a perfect example of the circular economy in action."
One of the first customers to sign up is West One Shopping Centre, located in the heart of London's West End near Oxford Circus. Centre manager, Cyrus Annan, recently took delivery of six new Grundon paper cup recycling bins.
The newly-refurbished centre, which relies on Grundon for all its waste management and attracts around 27 million visitors a year, is home to such well-known names as McDonald's, Marks & Spencer and Boots, plus a host of coffee and food outlets including Starbucks, Notes and Pret a Manger.
"We are passionate about sustainability and take recycling very seriously," said Cyrus. "We are already zero waste to landfill, we segregate food waste and have a mixed recycling service, so the opportunity to step up a gear and introduce paper cup recycling by Grundon was a no-brainer.
"We have a significant number of outlets who serve coffee and other drinks in disposable paper cups so this move makes complete commercial sense for us and for our tenants.
"Most importantly though, this new service means we divert the thousands of cups that would have ended up in general waste, into recycling, so it really does tick all the boxes."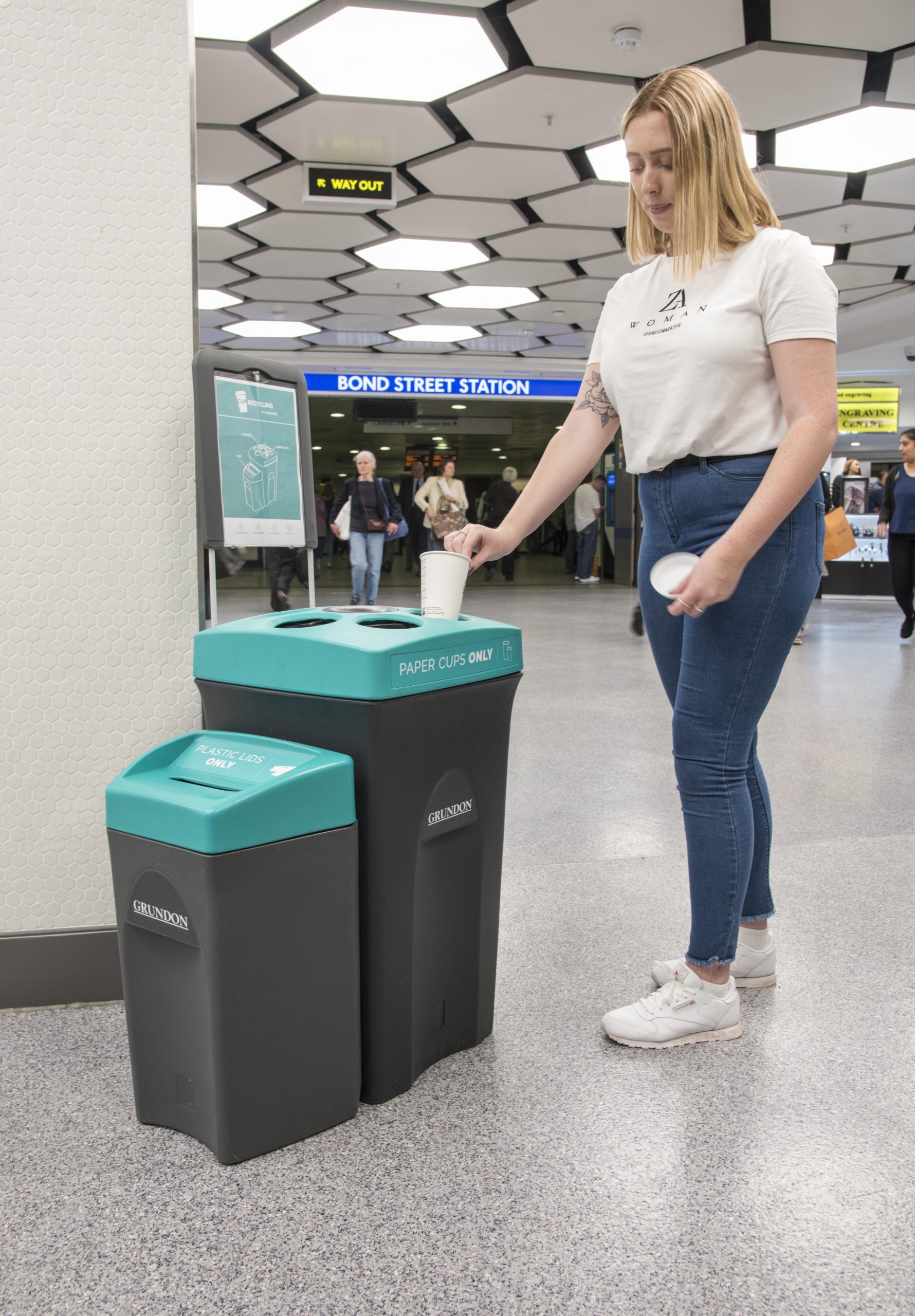 The new service is available as a standalone offering – meaning organisations do not have to be existing Grundon customers – or as part of the recycling specialist's total waste management package.
A key part of the process is to ensure that as paper cups are thrown away, they are separated from other waste streams. To help encourage this, Grundon's new service includes:
Expert advice and support
Delivery and installation of specially-designed colour-coded paper cup recycling bins with a central reservoir to contain excess liquid
A special side pod on each bin for the disposal of lids
A CarbonNeutral® waste sack* liner, which can be easily removed when the bin is full
A selection of different sized external cup recycling containers where cups can be stored to await collection
Easy-to-read signage to encourage responsible disposal
A comprehensive training package for employees and associates, such as cleaning and facilities management companies
Support for Waste Awareness Days to promote the benefits of the programme
Additional posters and marketing materials to create awareness of paper cup recycling
Ahead of the launch, Grundon joined forces with CupCycling™ by James Cropper, the world's first recycling process dedicated to upcycling take-away cups.
Once the clean paper cups are collected by Grundon, they are taken to its Materials Recovery Facilities (MRFs) where they are processed and baled before being sent to James Croppers' own paper mill.
There, the paper – which makes up around 90% of the materials in the cups – is separated and converted back into Forest Stewardship Council (FCS) certified paper fibre. The remaining 10% is made up of the plastic polymers from the polyethylene film, and is sent for reprocessing.
Customers can then buy back paper products made from waste paper cups, including 100% recycled 80gsm premium office paper.
Earlier this year, Grundon was one of the first waste collectors to partner with Costa Coffee when it announced its commitment to recycle half a billion takeaway cups a year.
Paper cup recycling facts and figures
As a nation, the UK disposes of 2.5 billion disposable cups every year – that's seven million a day
Paper cups are problematic to recycle because they are made of two materials – paper and the polyethylene film which is bonded to it. The bonding makes it difficult to separate the paper fibres from the film
It is widely reported that less than 1% of those cups disposed of are currently recycled
Only a few specialist recycling facilities have the technology to accept paper cups for recycling
The majority of paper cups currently go into general waste, which means they are either disposed of via an Energy from Waste (EfW) facility, which generates energy, or they go into landfill
Grundon can now recycle most polyethylene (PE) coated cups, coffee cups used by high street chains such as Costa and Starbucks, and cold cups, such as those used by McDonald's for serving soft drinks and milkshakes
*Grundon's certified CarbonNeutral® waste sacks are made using sugarcane polymers that are created from the waste product of sugarcane extraction. The CarbonNeutral® aspect comes from the natural process of photosynthesis during the growth of the sugarcane
To date, James Cropper has recycled more than 20 million coffee cups through its facility, which has the capacity to upcycle 500 million each year
Waste paper cups are given a new life as a variety of paper products, for example, a ream (approximately 500 sheets) of 80gsm paper contains 46 cups
Back to news