Grundon Waste Management are once again delighted to be supporting Letsrecycle.com's 35 under 35 programme to identify the rising stars of the waste sector.
The 35 under 35 programme is an exciting awards scheme that identifies and recognises the trail blazers in the waste and recycling sector who are striving for professional excellence, promoting industry innovation and are giving back to his or her company or community.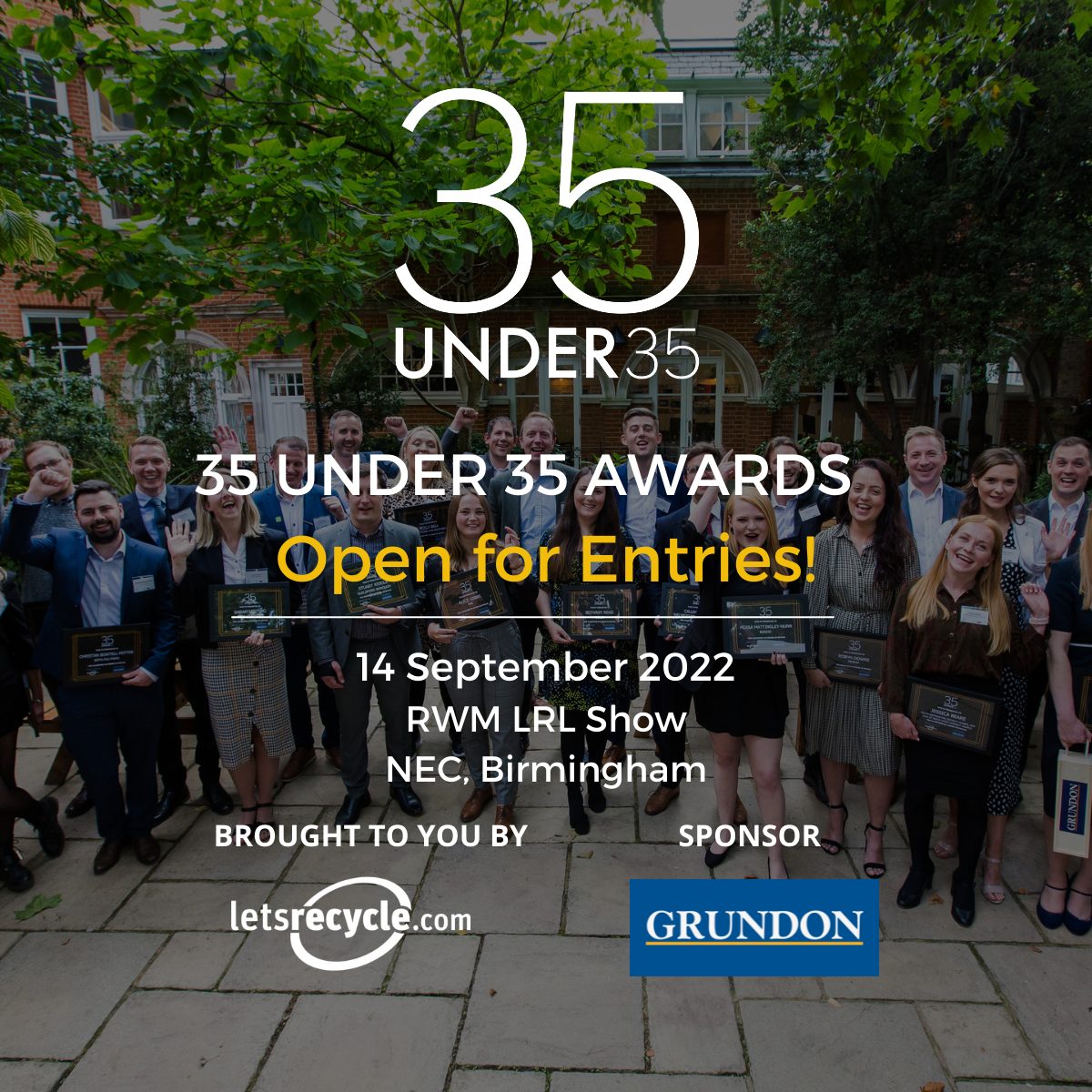 In an exciting development the awards will head to the RWM Letsrecycle Live Show taking place at the NEC Birmingham on Wednesday 14 September 2022, where it will have its very own dedicated awards ceremony and networking area.
As part of the celebrations, as well as recognising the future leaders of the sector, previous rising stars who have already received the accolade of 35 UNDER 35 status will be returning to join a panel discussion where they will share their outlook on the sector over the next decade and beyond.
The 35 UNDER 35 scheme is open exclusively to those who work in the waste, recycling and organics industries, who can either enter themselves or nominate a peer.
The deadline for entries is 1 July 2022. More information on the awards scheme and how to enter can be found at www.35-under-35.com
Making it onto the 35 UNDER 35 shortlist offers the springboard for career progression, giving industry-wide recognition for professional competency while highlighting passion and dedication.​
Speaking about Grundon's ongoing support for the awards, Neil Grundon, Deputy Chairman, said: "We are thrilled to be sponsoring the 35 UNDER 35 awards programme again. Over the past three years which we have supported the scheme it's been great to recognise the incredibly gifted and dedicated young talent within our industry.
"The waste sector faces many challenges over the coming years, along with great opportunities to drive positive change. As an industry it's important that we support and nurture the leaders of tomorrow, as they will be ones charged with taking the reins and driving the innovation, development and change that's needed. We're going to need their ideas, enthusiasm and passion to progress the sector.
"The 35 UNDER 35 awards provides a vital platform for these rising stars to connect with one another, share ideas, gain valuable recognition and develop their careers throughout the coming year."
Back to news