As a leading event and festival staff contractor, DC Site Services is responsible for anything from cleaning to recycling, traffic management to event stewarding for some of the UK's biggest events. Its customers include V-Festival, Taste of London, Kew the Music, Truck, The Royal Welsh Show and the Y-Not Festival.
For company director Matt Hettle, working in partnership with companies he can trust to do a good job is essential, and when it comes to event cleaning and waste management, his preferred supplier is Grundon Waste Management.
The two companies have worked together for around 20 years and he says: "As event and festival contractors, we offer many different services and when it comes to waste management, Grundon understands both our needs and what our customers want.
"It feels very much like a partnership rather than a client customer relationship and in my view, their service is second to none and no-one else can match them."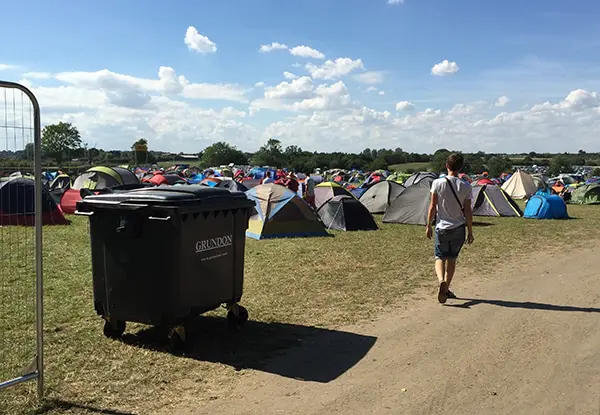 Grundon's dedicated Special Events Services team work in partnership with leading event and festival staff contractor DC Site Services at some of the UK's leading events such as V Festival
One of the biggest benefits, he says, are Grundon's mobile compactors, which allow waste to be compacted on site, especially important if vehicle movement is banned during the day at an event for safety reasons.
In addition, the fact that Grundon supplies 25 cubic metre skips rather than the more traditional 40 cubic metre ones means it is much easier for DC Site Services' employees to continue to throw bags into them as they fill up.
"It's the little things like that, that make a difference," continued Matt. "The compactors mean we can keep going at a site for a couple of days without dustcarts moving around and then everyone's a winner. We can't get that level of service from any other provider.
"If the Grundon team are doing a show then I know I don't have to worry about it. I can always rely on them and their drivers are excellent. In the past, I've had other drivers turn away with their skips rather than go onto muddy fields, but Grundon will always get the job done and ensure everything goes as smoothly as possible.
"Plus, I know I can reach the Grundon team 24/7 if I need to during the event season and if there is a problem, he will sort it out straight away."
Among the events where the two companies work together are The Royal Welsh Show, Truck and the V-Festival in Chelmsford and Matt says it's also very important to have containers and skips which are in good condition.
Grundon's Special Events team takes a great deal of care of its equipment, adding new stock every Spring to ensure bins are in pristine condition for customers and, every time containers return from an event, they are checked and washed by hand before being sent on to the next customer.
As a result, Matt says: "Grundon's equipment is always in very good condition, it fits very well with our logo and we're very proud to have Grundon branding side by side with our own."
With an emphasis on reduce, reuse and recycle, Matt says DC Site Services always does its best to encourage event organisers to take a sustainable approach to waste management. This generally means implementing a two-bin system for recycled and general waste with stickers to help educate the public about where their waste should go.
Once collected, recycled waste is transported by Grundon's CarbonNeutral® vehicle fleet for reprocessing at its Materials Recovery Facilities (MRFs), while the majority of general waste goes to Energy from Waste facilities, where it is used to generate energy for the National Grid.
More recently, thanks to Grundon's dedicated food waste collection service, DC Site Services is also able to offer customers the option of segregating food waste from the many catering outlets at events, providing another opportunity to work towards zero waste targets.
In addition, statistics and reports on the amount of waste either recycled or sent to Energy from Waste are provided by Grundon, providing valuable information for Matt to take to his customers.
"In terms of the other waste providers, Grundon's Special Events team are really the only ones who really do what it says on the tin and that's why we like working with them," concluded Matt.