Carbon8 Aggregates, in which Grundon Waste Management is a major investor, has changed its name to O.C.O Technology Limited with immediate effect.
The move is designed to more accurately reflect the company's core knowledge and expertise in using carbon dioxide to treat various wastes both within the UK and the wider opportunities that are presenting themselves on the world stage.
Over the last month (August), a major rebranding project has seen the O.C.O Technology name and logo appear throughout the business. The new website is now active at www.oco.co.uk.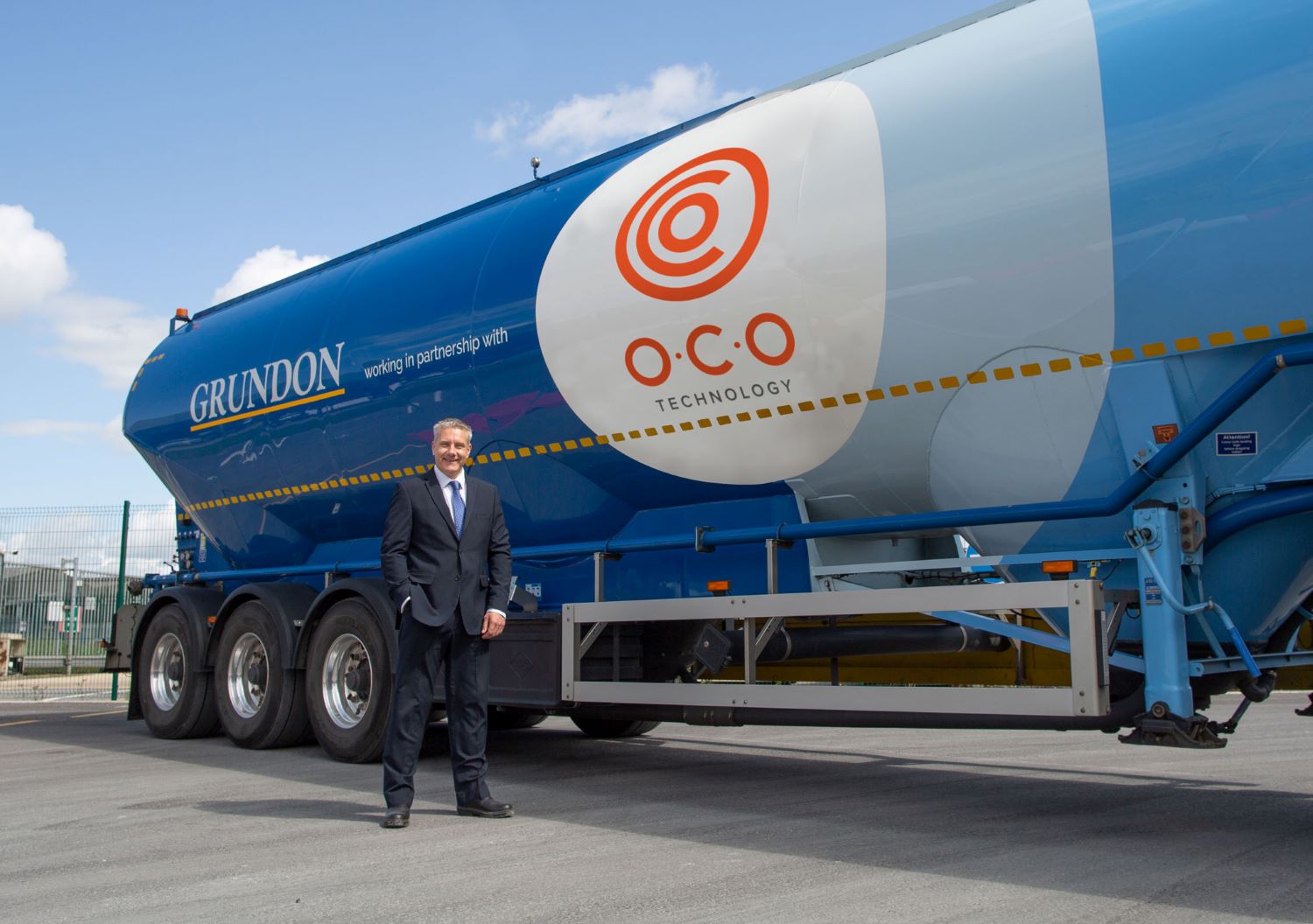 Steve Greig, Managing Director, says it's an exciting time for the award-winning company which, since its launch in 2012, has taken a lab-based technology to a commercial reality producing the world's first truly carbon negative aggregate.
From its network of facilities in the UK, the business now boasts a £15 million turnover and employs over 90 staff. Since its formation it now recycles around 25% of the UK's Energy from Waste APC arisings and has attracted significant international interest in its technology.
"While our old name has stood us in good stead, as our product range develops and our specialist knowledge takes us into new and exciting areas both within the UK and overseas, we needed a new identity and a brand that encompasses the full scope of our expertise in using carbon dioxide as a resource to treat various waste streams," said Steve.
"As innovators and leaders in this sector, we believe the successes achieved so far are only a fraction of the future opportunities available. At a time when the world is demanding new products and new technologies to increase sustainability and minimise impact on our precious environment, the O.C.O Technology name provides the perfect springboard for us to build and expand, whilst also delivering the best possible solutions for our customers."
Grundon has been a major investor in the business since the beginning, and Neil Grundon, Deputy Chairman, says he is proud to be part of a "great British success story".
"This is an idea that was born in a laboratory, designed and engineered in this country and we are very proud that, through our continuing investment, we have seen the business grow to encompass three plants in the UK, the first plant overseas and to explore many more opportunities worldwide," he said.
"Grundon's core principle has always focused on recycling and identifying ways to embrace the circular economy. Thanks to its achievements in the field of carbon capture the Carbon8 Aggregates story – and its new chapter as O.C.O Technology – perfectly complements our own philosophy. We look forward to working together as the business goes from strength-to-strength."
The company's success is built on its Accelerated Carbonation Technology (ACT) process, which uses waste carbon dioxide gas as a resource to treat a wide range of thermal wastes.
The process creates a manufactured limestone. As more carbon dioxide (CO2) is permanently captured than is generated during manufacture, the end result is the world's first truly carbon-negative aggregate.
The process has won numerous industry awards for its green credentials and has been recognised by a United Nations Environment report for making "a demonstrable contribution to the developing European circular economy". The company is one of only a few in the UK to hold the Environment Agency's "End of Waste" agreement, classifying the finished aggregate as a "product".
Principally used in the manufacture of lightweight concrete masonry blocks for the construction industry, the aggregates (previously known as C8Agg) have now been renamed M-LS (short for Manufactured LimeStone).
Key facts
The O.C.O Technology name is derived from the chemical symbols for Carbon and Oxygen which make up carbon dioxide (CO2).
The company is ranked within the top 10 in the world for permanent Carbon Capture from a commercialised process.
Customers include Grundon, Viridor, Cory, Tarmac and Forterra.
The ACT process has captures more than 5,000 tonnes per annum of CO2 – equivalent to 1,500 acres of forest.
Every 1,000 tonnes of aggregate produced captures the same amount of carbon dioxide as planting 4,000 trees every year.
For every tonne of aggregate used, 1.4 tonnes of natural aggregate is saved.
The company has operations at Brandon in Suffolk, Avonmouth (Bristol), and Leeds.
Over 350,000 tonnes of carbon negative aggregate is produced each year.
The company has signed several exclusivity agreements for the deployment of its technology overseas. The first overseas plant is currently in construction.
Back to news