COVID-19 Lateral Flow Test Waste Collection and Disposal service
Fully licensed disposal of lateral flow test waste, ensuring you remain fully compliant with all Government legislation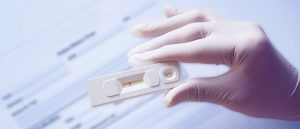 The Government's roll out of Lateral Flow Test Kits has meant that many schools, colleges, universities, councils and workplaces are now undertaking mass community testing, design to help increase regular, rapid testing for people without symptoms of coronavirus.
If you operate a site that is currently undertaking mass testing for COVID-19 it is essential that you have the correct waste disposal procedures in place.
Grundon's dedicated Lateral Flow Test Kit Waste Collection and Disposal service ensures that you are kept fully compliant with all regulations, whilst keeping your employees, students and the general public safe.
Our compliant and reliable scheduled collection service provides businesses, universities, colleges, schools and local authorities with peace of mind that their Antigen Lateral Flow Device Test Kits are being safely, securely and legally disposed of.
Get a quote today
Please complete the form below and one of our expert team will provide you with a quote.
* Terms & conditions apply, please speak to a member of our team for details
Why do Lateral Flow Test Kits need to be disposed of securely?
Government regulations stipulate that any waste that derives from Lateral Flow Test Kits, including the PPE worn by staff at testing centres, cannot be placed in general waste or mixed recycling. Instead they must be segregated into separate dedicated containers/sacks and sent for specialist disposal.
Rapid test kits are classified under EWC 18 01 17 as they contain a small volume of a non-hazardous chemical which destroys any infection present. This means if the test returns a positive result, the waste is non-hazardous. Test kits must be placed in a neutral-coloured bag and then into a dedicated container ready for collection.
PPE is classified as offensive waste under EWC 18 01 04 and must be placed in yellow sacks with at least one black stripe and then into a separate container.
Supporting this guidance, the Environment Agency has authorised the disposal of all waste derived from rapid testing at Energy from Waste facilities using a special Regulatory Position Statement. This is in addition to specialist disposal of this waste at high-temperature clinical waste incinerators.
If you are operating community or mass testing, then your Lateral Flow Test Kits and PPE must be segregated in accordance with the latest guidance and disposed of securely.
Why choose Grundon for the collection and disposal of Lateral Flow Test Kit Waste?
Grundon are fully licensed to securely collect and dispose of Lateral Flow Test Kit Waste, ensuring you remain fully compliant at all times.
We can provide you with a full range of approved sacks, bins and storage containers, as well supporting you with guidance and advice on how many of each would be necessary, based on the number of tests taking place. For example, as a guide, a school testing 1,000 pupils and staff each week would expect to produce two full sacks or used tests and four full sacks of PPE. Therefore, two 360 litre bins would provide adequate storage.
By choosing Grundon to dispose of your test kit waste you can rest assured that you are working with a reliable and trustworthy partner with clinical waste expertise. Grundon have a first-class reputation for the collection, treatment and disposal of a range of healthcare wastes, gained through working with many of the UK's leading NHS Trusts.
Our COVID-19 Lateral Flow Test Waste Collection and Disposal service is:
100% compliant with government legislation, providing peace of mind

reliable, with the scheduled collections available

quick and easy to set up, with a dedicated account manager to provide expert guidance

cost-effective with no hidden costs

simple to use and scalable, making it ideal for businesses and organisations of any size

if you do not already have dedicated sacks we can provide these for you

we can supply dedicated sacks, bins and containers to store the test kit and PPE waste

all waste taken to our specialist facilities for secure and safe treatment

environmentally friendly collections thanks to our certified CarbonNeutral® vehicle fleet
How does our dedicated Lateral Flow Test Kit Waste service work?
Using our Lateral Flow Test Kit Waste Collection and Disposal service couldn't be easier. All you have to do is:
tell us how many test you expect to carry out per day and we'll set up a dedicated scheduled collection service to meet your specific requirements

if required we can deliver coloured sacks, signage, bins and containers to your site

when collecting we'll remove the bagged waste from your bin and transport it securely in our specialist certified CarbonNeutral® vehicles

we'll take the waste to one of our authorised treatment facilities for disposal via incineration

we'll ensure you're kept fully compliant, providing you with all necessary legal documentation