A conservation project on land at MOD Bicester, Arncott, is helping to ensure the best possible breeding conditions are maintained for several threatened species of birds and butterflies.
Already this Spring, nightingales have been recorded singing on the site and volunteers have discovered eggs from the elusive Brown Hairstreak butterfly.
The Bicester Bird & Butterfly Boon project is a partnership lead by Paul Watts, a volunteer ecologist, with the support of Chiltern Rangers, which works with communities to provide practical habitat management.
For the last five years, they have been monitoring breeding bird populations at the site on behalf of the British Trust for Ornithology (BTO), working in partnership with the MOD and groups including Butterfly Conservation Upper Thames Branch, Bucks Bird Club and Bucks University Technical College.
Also helping to support the project has been Grundon Waste Management, which provided £5,720 of funding through the Landfill Communities Fund, and volunteers from Grundon have spent time at the site helping to clear the overgrown plants and shrubs.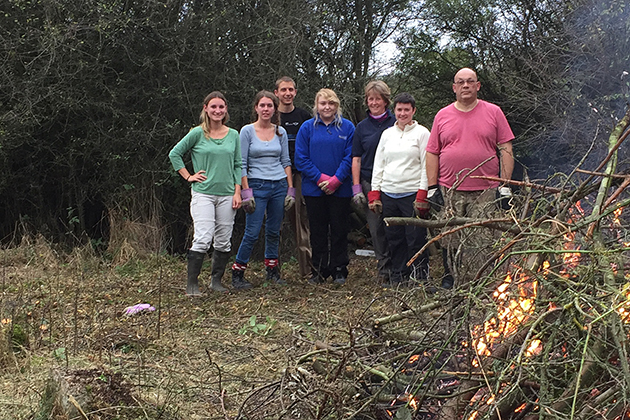 John Shaw, from the Chiltern Rangers, said: "The scrub was not being actively managed and there were concerns that without intervention, it may no longer be suitable for birds such as nightingales and warblers within the next few years.
"Together with our much-needed volunteers, we have been able to clear dense areas of scrub, making sure there is a variety in age and height, so that breeding birds will continue to thrive.
"We're absolutely thrilled that one of our volunteers has already recorded nightingales this year and we're looking forward to an exciting summer of new discoveries."
The Landfill Communities Fund donation was managed through environmental funding charity the Trust for Oxfordshire's Environment (TOE).
Toni Robinson, Head of Compliance at Grundon and TOE Trustee, said: "We were delighted to contribute towards this project and have the opportunity to work at the site, seeing at first-hand how the money is being spent. And of course, success stories such as return of the nightingale make the investment very worthwhile."
The site has a significant amount of rough grass and scrub which is ideal for a wide range of breeding birds, including seven species of warblers, among them the chiffchaff, willow warbler, whitethroat, and grasshopper warbler. It is also home to around four pairs of turtle dove and is one of the last remaining local strongholds for the nightingale.
As well as more easily recognisable butterflies, a number of less common species were recorded last year such as the Purple Emperor, Purple, Black and Brown Hairstreak, White Admiral, Dingy and Grizzled Skippers.
A 10-year management strategy plan has been put in place for the site and John Shaw says the group is also keen to attract more volunteers.
"We'd like to hear from people of all ages, abilities and backgrounds, who would like to become involved in the project, and also from community organisations, charities, social enterprises, schools, colleges and other partners," he said. "They can all play key roles and the more support we receive, the more work we can do to protect this very important site."
Another organisation that has also been lending the help of volunteers through its Corporate Social Responsibility Programme is design, engineering and project management consultancy Atkins Global.
Back to news