Jan Sheward is a woman on a mission – combining exercise and music to make a difference to people whose lives have been affected by a cancer diagnosis.
The driving force behind the charity Cancer United, Jan, from Angmering, recently received a boost in the shape of a £3,000 donation from local company Grundon Waste Management to help kit out both the OUTKICKCANCER walking football team and the OUTSINGCANCER choir.
And last Thursday (April 25th), walking football team members had the chance to show off their new strip for the first time when they participated in a local seven-a-side tournament at Arun Sports Arena at Ford, where they train every week.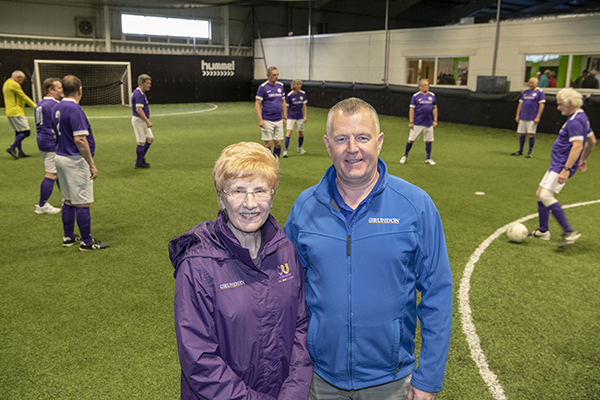 Although they take part in other tournaments, this is the first one they have organised themselves and Jan says the support from other walking football teams was amazing, with many local teams signing up to play.
The OUTKICKCANCER mixed team plays in the Sussex Disability Football League and Jan believes it may be the first such team in the country.
"To have sponsorship from Grundon is immense something we sincerely appreciate," said Jan. "Everyone is very proud to wear the football kit and our aim is to both build the team itself and regularly run our own tournaments, so looking the part is very important."
As well as supporting the football team, Grundon provided branded jackets and music folders for the Cancer United OUTSINGCANCER Choir, which was launched in February 2018.
The charity attracted a professional musical director who has inspired and motivated the choir and is now undertaking a PhD in the impact singing in a choir has on the mental and physical well being of cancer patients.  The choir already has around 50 members at Worthing, Angmering and Bognor Regis, with regular performances at different venues and Jan is keen to build its profile and attract new members.
Graham Wells, Grundon's depot manager at Ford, said: "We are delighted to support such a worthwhile cause and Jan is clearly making a real difference to the lives of those with cancer in and around our local community.
"We congratulate her on her achievements and look forward to seeing the Cancer United walking football team and choir going from strength to strength."
It was after being diagnosed with breast cancer that Jan, who is also a trained life coach, first set up a support group in 2012. Always a keen fitness fan, she said: "As more people came along, I could see that they felt they were being defined by their cancer and by what they couldn't do, rather than what they could do.
"I understood how they were feeling because after my surgery I had been told I would never go back into the gym again."
Working alongside Dwayne Clevett, her CU Fitter lead coach, Jan went on to develop cancer specific exercise classes aimed at helping patients with different types of cancer. The cancer specific rehabilitation CU Fitter Gym in Angmering was launched in October 2015 and now offers a raft of exercise classes every week, as well as delivering exercise 'on the go' via a pop-up gym that visits other locations across the region.
In 2017, The CU Fitter Award in Applied Delivery of Cancer Exercise a training programme for Personal Trainers, Exercise Specialists and Physio was launched, the aim is to train these exercise specialists to deliver CU Fitter to those people who cannot get to the gym.
Jan's dream is to rollout the C U Fitter cancer exercise programme nationwide and recently her team of trainers and cancer specialist lecturers provided instructor training for the Herts Sports Partnership, something she hopes will be the next step in a network of venues offering access to cancer specific classes  to all those with a cancer diagnosis.
In addition, she also runs various other activities, including Active Recovery support groups, she has just formed the OUTRUNCANCER running club, and hopes to launch OUTSWIMCANCER later this year.
For more information, visit www.cancerunited.org.uk
Back to news