Three drivers from Grundon Waste Management swopped steering wheels for pedal power recently when they cycled up Mount Snowdon to raise funds for Child Bereavement UK.
And now later this month (June 17) they are part of a team tackling the famous 54-mile London to Brighton Bike Ride. Shaun Wormald, Karl Barnes and Matt Thompson are all based at the company's Colnbrook operation, near Slough, and together their mountain exploits managed to raise well over £1,500.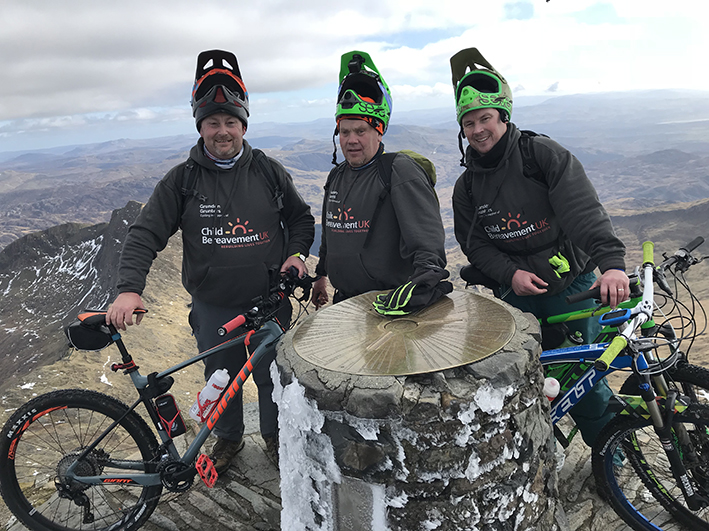 The idea came after the three amateur cyclists decided they wanted to get fitter and, when one of them suggested Snowdon, the highest mountain in Wales at 1,085 metres above sea level, the challenge was on.
Their team became known as the 'Grundon Grunters' – based on the noises they make when the going gets tough.
"Our training included cycling up Box Hill in Surrey, which we thought wasn't too bad, but then we realised Snowdon was about 3.5 times higher," said Shaun. "Our only target was to get to the top of the mountain, which we achieved, but it was very tough.
"There was still quite a bit of snow and it was very cold. We had to be very careful not to lose our footing on the rough terrain and as soon as we got to the top and took a few photos, we were straight back down again."
Although the ascent took three hours five minutes, the return journey was just 40 minutes, travelling at speeds of 30-35mph over the uneven ground, making them more than ready for a cup of tea at the end.
Having been bitten by the cycling challenge 'bug', there will be plenty more grunting and groaning later this month as they take to the roads for the Brighton ride.
And, concludes Shaun: "We must be mad, we're already talking which challenge we can do for next year. We've set the bar pretty high and Ben Nevis might feature in there somewhere."
The trio chose Child Bereavement UK because it's a charity close to the hearts of the Grundon family. Company chairman Norman Grundon and his wife Frances became involved with the charity after their two-year-old twin grandchildren, Betsy and William, were killed in an accident in 2004. Their daughter and son-in-law, Louise and Paul Woodbridge, were supported by Child Bereavement UK.
Since then, the Grundons, including son Neil, deputy chairman of Grundon Waste Management, have held many fundraising events, including cycle rides, clay pigeon shoots and Memorial Planting Days for bereaved families.
Back to news